Is there is anything Three Chimneys' premier stallion Dynaformer can't do? Well, jumping over the moon does come to mind, but as a sire, he has left little to be desired. The massive near-black son of Roberto and grade I winner Andover Way has earned his way up from being just another $5,000 stallion to becoming one of the nation's top sires on sheer merit, not to mention a touch of versatility. He has gotten Classic winners on both sides of the Atlantic, has sired grade I winners on both dirt and turf, and has sired a son that nearly could jump over the moon in three-time champion steeplechaser McDynamo. And it looks as though Dynaformer may have just added a champion juvenile to his resume. His daughter Rainbow View is a leading candidate for a Cartier Award as Europe's champion 2-year-old filly following a scintillating victory in the Meon Valley Stud Fillies' Mile (Eng-I), and her victory locked up a "Win and You're In" slot in the inaugural Grey Goose Breeders' Cup Juvenile Fillies Turf.
Rainbow View, who races as a homebred for George Strawbridge, is from the fine old family of Flambette, who won the 1921 Coaching Club American Oaks for Belair Stud. A good broodmare as well as a good racer, Flambette is perhaps best known as the dam of 1927 Gazelle Stakes winner Flambino (by Wrack), whose produce included 1935 Triple Crown winner Omaha and 1938 Ascot Gold cup winner Flares. Flambette also produced Gallette (by Sir Gallahad III), dam of 1946 champion handicap mare and Hall of Fame member Gallorette and, through her, was ancestress of 2005 Horse of the Year Saint Liam.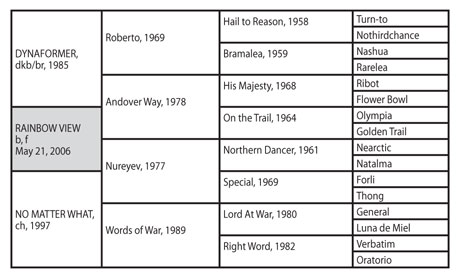 La France, Flambette's 1928 daughter by Sir Gallahad III, never raced, so it is impossible to say how her talent might have stacked up against Flambino's. As a broodmare, however, she was only slightly behind her elder half-sister. Her son Johnstown (by Jamestown) won the 1939 Kentucky Derby and Belmont Stakes in commanding fashion, while her daughter Jacola (by Jacopo) became the champion 2-year-old filly of 1937 on the strength of a victory in the important Selima Stakes and a runner-up finish against males in the Pimlico Futurity. La France also produced French Vamp (by Stimulus), third dam of 1962 Kentucky Derby winner Decidedly.
Jacola's best runner was 1947 champion 3-year-old male Phalanx (by Pilate), whose victories included that year's Belmont Stakes and Jockey Club Gold Cup. Her 1941 daughter by 1925 Prix du Jockey Club winner Belfonds, Jaconda, was much less successful as she won but twice from 19 starts, and she did not particularly distinguish herself as a broodmare with only one of her nine foals, the minor stakes winner King Jolie (by Platter), earning any black type. Jaconda's daughter Lysistrata (by Palestinian) was a fine producer, however, throwing 1967 Flamingo Stakes winner Reflected Glory (by Jester) and 1971 Poule d'Essai des Pouliches winner Bold Fascinator (by Bold Lad).
In the United States, Jaconda's female line continued through her 1953 daughter by 1945 champion handicap male Stymie, Classic Music, whose produce included the good stakes horse B. Major (by Summer Tan) and Classicist (by Princequillo), dam of grade III winner Proponent (by Gallant Man). Classicist also produced Gaebale (a full sister to Proponent and dam of 1985 Widener Handicap (gr. I) winner Pine Circle) and Gdynia (by Sir Ivor), dam of 1986 Belmont Stakes (gr. I) winner Danzig Connection and 1989 Dwyer Stakes (gr. II) winner Roi Danzig.
Oratorio (by Fleet Nasrullah) did not match her half-sisters Gaebale and Gdynia as a producer but did come up with the minor stakes winners Visto (by Transworld) and Spruce Song (by Verbatim). Neither of these fillies carried on the line, however, and it was left to Spruce Song's full sister Right Word to carry on by producing multiple stakes winner Word o' Ransom (by Red Ransom); 1996 Miesque Stakes (gr,. IIIT) winner Ascutney (by Lord At War (ARG)), dam of 2008 Queen Elizabeth II Stakes (Eng-I) winner Raven's Pass; and multiple listed stakes winner Words of War (a full sister to Ascutney). Words of War, in turn, produced 2000 Del Mar Oaks (gr. IT) winner No Matter What (by Nureyev), the dam of Rainbow View, and multiple grade II winner E Dubai(by Mr. Prospector) as her first two foals. The last-named horse is bred along very similar lines to Raven's Pass, who is by Mr. Prospector's grandson Elusive Quality.
A complete outcross within five generations, Rainbow View comes of stout lines on both sides of her pedigree, and there is every reason that she will stay Classic distances as a 3-year-old. But in the meantime, Strawbridge has two interesting decisions to make: first, whether to ship her to Santa Anita for the Breeders' Cup; and second, which of the two juvenile filly races to run in if she does contest the Cup. She would probably be a hot favorite for the Juvenile Filly Turf, but should she contest the Breeders' Cup Juvenile Fillies, an impressive victory would stand a good chance of making her a juvenile champion on both sides of the Atlantic, a feat previously accomplished by the colts Arazi (1991) and Johannesburg(2001). These have to be tough decisions for Strawbridge to make, but it must be nice to have dilemmas like these on one's hands.