by Alan Porter
A few weeks ago we focused on Bernstein, the Castleton Lyons stallion currently enjoying an outstanding "rebound year" -- fueled by the first crop of juveniles out of the mares attracted by the bright showing of his freshman crop. This week we are going to look at Sky Mesa, who is out of a full sister to Bernstein, and who is making a major comeback with his second crop of 2-year-olds this year.
A member of the second crop sired by Pulpit, Sky Mesa was his sire's first grade I winner. He achieved this feat on only his second outing: winner of a six-furlong maiden event at Saratoga, he returned in the Hopeful Stakes (gr. I) to tally by 1 3/4 lengths over Pretty Wild and Zavata. With that triumph followed by a four-length win in the Lane's End Breeders' Futurity (gr. I), Sky Mesa looked the horse to beat in the Breeders' Cup Juvenile (gr. I). Unfortunately, the day before the race Sky Mesa wrenched a right fore ankle, an injury that not only kept him out of the Breeders' Cup but also off the Triple Crown trail. In fact, it wasn't until the Dwyer Stakes (gr. II) the following July that Sky Mesa was able to return to the races. Considering his lengthy absence he made an encouraging return, prompting the early pace, before tiring to finish third, 3 1/4 lengths behind the winner Strong Hope. In the Haskell Invitational Handicap (gr. I), Sky Mesa produced another good effort, taking second to Peace Rules, with the Kentucky Derby and Preakness (both gr. I) winner Funny Cide back in third. However, he failed to fire in the Travers Stakes (gr. I), and his connections decided that it was time to end his career.
Retired to Three Chimneys Farm to stand at $30,000, Sky Mesa's excellent juvenile form, good looks (he was the third most expensive yearling of his crop for his sire), and pedigree saw him in great demand. His popularity continued with his first crop yearlings, 61 selling for an average of $128,586.
When it came to running, however, that first crop initially failed to live up to expectations, especially given Sky Mesa's own grade I 2-year-old success. He did have 12 winners from 43 starters, but the only one to earn black type was the Tremont Stakes third, Twenty Eight Hours. That crop, however, has considerably redeemed itself in 2008. So far three from Sky Mesa's first crop have earned stakes wins this year: Storm Mesa has taken the San Clemente Handicap (gr. II), Iowa Oaks (gr. III), and Cinemine Stakes; Skylighter won the Indiana Oaks (gr. II); and Sky Mystic captured the California Oaks. Even better has been the performance of Sky Mesa's second crop of juveniles, five of whom are already black type performers. They are led by Sky Diva, making only her second start when swooping to claim the Frizette Stakes (gr. I); Terrain, winner of the Arlington-Washington Futurity (gr. III) and runner-up in the Lane's End Breeders' Futurity (gr. I); and the black type-winner Sky Haven. These efforts have propelled Sky Mesa to the head of the leading sires of 2-year-olds table, one place above his "uncle" Bernstein, and the pair are also first and second by individual 2-year-old winners, Sky Mesa with 19 and Bernstein on 18 (tied with Songandaprayer). Interestingly enough, Sky Mesa's sire, Pulpit, is also represented on the table by fourth-placed Tapit (a freshman whose 15 winners include multiple grade I winner Stardom Bound), and surprisingly by the 25th-ranked Stroll (another freshman, and sire of three first-crop stakes winners including early October graded scorer Van Lear Rose).
Sky Diva is a member of a family whose record has improved dramatically over the past four years or so. She is the fourth foal of her dam, the Unbridled mare Swift Girl, and was preceded as a stakes winner by Quick Little Miss, daughter of Freud (a New York-based brother to Giant's Causeway), who won the Moccasin Stakes and Barretts Debutante Stakes, as well as running second in the Hollywood Starlet Stakes and third in the Oak Leaf Breeders' Cup Stakes (both gr. I). Swift Girl was unplaced in only one career start, but her value as a broodmare received a shot in the arm when her half-brother, Greater Good, established himself as one of the better 2-year-olds of 2004. Sired by the New York stallion Intidab (a graded stakes-winning sprinter by Phone Trick), Greater Good took the Kentucky Jockey Club Stakes (gr. II) and Kentucky Cup Juvenile Stakes (gr. III) at 2, and returned at 3 to add the Rebel Stakes (gr. III) before his career was interrupted by injury. As talented as Greater Good was, his achievements have been surpassed by his half-sister Pure Clan. A daughter of Pure Prize, Pure Clan was unbeaten in four starts at 2 in 2007, including the Golden Rod Stakes (gr. II) and Pocahontas Stakes (gr. III). This year, she has added the American Oaks Invitational (gr. I) and Regret Stakes (gr. III) to take her earnings to over $1 million.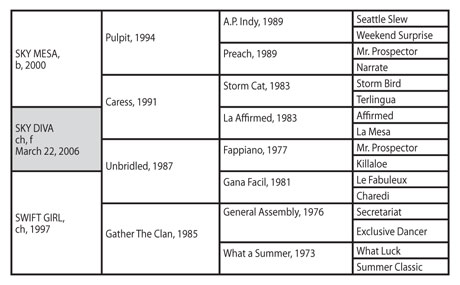 Sky Diva's third dam, Gather the Clan, (IRE) won the Violet Handicap (gr. IIIT) in the colors of Diana Firestone, and was a Firestone homebred by their Travers Stakes (gr. I) victor, General Assembly, out of champion sprinter What a Summer. Despite her pedigree and her race record, before coming up with Greater Good and Pure Clan, Gather the Clan had been a disappointing producer, with only one black type-placed horse from eight foals sired by such illustrious stallions as Seattle Slew, Unbridled, Deputy Minister, A.P. Indy, Halo, and Relaunch.
In tail-female line the family goes back to Jaconda (third dam of What a Summer), a half-sister to Phalanx, the champion 3-year-old colt of 1947. What a Summer's granddam, Classic Music, produced the Everglades Stakes winner B. Major (a sister to the dam of What a Summer) and is also ancestress of Belmont Stakes (gr. I) victor Danzig Connection; of recent Queen Elizabeth II Stakes (Eng-I) victor Raven's Pass; of Rainbow View, the leading English juvenile filly of 2008; of other group and grade I winners Pine Circle and No Matter What; and of Darley sire E Dubai.
Looking at the pedigrees of the recent stakes winners from this family, it is worth observing that Quick Little Miss and Pure Clan are by sons of Storm Cat, while Sky Diva's sire, Sky Mesa, is out of a Storm Cat mare (thus three of the four stakes winners descending from Gather the Clan have Storm Cat in the sire). The most notable effect of introducing Storm Cat here is to give a duplication of Storm Cat's broodmare sire, Secretariat, who appears in the pedigree of Gather the Clan through her sire, General Assembly, a son of Secretariat.
There are at least two more areas of interest concerning inbreeding and linebreeding specific to Sky Diva: Firstly, Sky Mesa's second dam is by Affirmed, whose sire, Exclusive Native, is a similarly-bred half-brother to Exclusive Dancer, the dam of General Assembly (giving Sky Diva 5 x 4 inbreeding to the cross of Native Dancer over Exclusive). Secondly, Sky Mesa has four crosses of La Troienne, through the similarly-bred half-sisters Striking, Busher, and Busanda. Sky Diva's broodmare sire, Unbridled, is inbred to Dr. Fager's dam, Aspidistra, a daughter of Better Self (by La Troienne's son, Bimelech, and closely related to Striking, Busher, and Busanda).
On the subject on Unbridled, it is worth recording that Sky Mesa's best two winners to date, Sky Diva and Storm Mesa (dam by Pleasant Colony) are out of mares whose sires are tall, leggy horses. In closing, we should also note that Sky Mesa's sire, Pulpit, sired Tapit out of a mare by Unbridled, and that Sky Mesa's grandsire, A.P. Indy, is responsible for Bernardini out of a mare by Quiet American, a Fappiano son with a similar background to that of Unbridled.