by Alan Porter
As a rule of thumb, targets for inbreeding should be: superior performers and/or producers, should be sound, and should own good temperament and conformation. There is no doubt that Danzig was a superior producer, in fact he undoubtedly ranks as one of the best stallions of the last 50 years. As a runner, he showed considerable brilliance, although his undefeated career saw him run only three times, never in stakes company. However, as the brevity of his race record indicates, he was not the soundest of individuals, and even his staunchest supporters would also have to admit he was not beyond criticism on the score of conformation and temperament.
Despite these shortcomings, it appears that inbreeding to Danzig is becoming quite successful, with another example appearing last weekend in the shape of Strait of Mewsina (IRE), who got best of a four-way photo finish for the Hawthorne Derby (gr. III). Irish-foaled Strait of Mewsina began his career in his native country where he won a maiden at Limerick on the second of two juvenile outings. He was then shipped to the U.S. to finish off his 2-year-old campaign, where he took a Keeneland allowance race before ending his year finishing off the board behind Cowboy Cal in the Laurel Futurity. Since then, Strait of Mewsina's only placed effort in seven starts had been a third in an Arlington Park allowance event.
Strait of Mewsina is from the first crop of the Danehill stallion, Spartacus, who was a surprise winner of the Independent Waterford Wedgwood Phoenix Stakes (Ire-I), the fourth fancied of four Aiden O'Brien runners. He was well-beaten by Hold That Tiger — who had finished unplaced in the Phoenix Stakes — when off the board in the Grand Criterium-Lucien Barriere (Fr-I), but gained a group one win when sent to San Siro, Italy, for the Gran Criterium (Ity-I). That proved to be his last victory, as he ran dead last in his only two starts at three. His only black-type winner prior to Strait of Mewsina is Rastignano, winner of two listed races in Italy.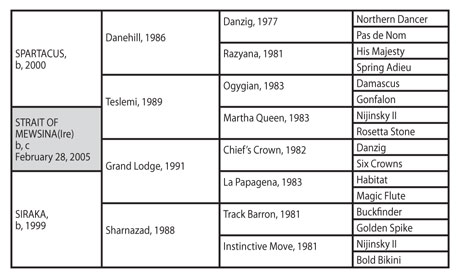 Strait of Mewsina is out of Siraka (FR), an unraced half-sister to the Italian listed winner Splendida Idea (IRE). Their dam, Sharnazad (IRE), a daughter of the Buckfinder stallion Track Barron, was conceived in the U.S., but foaled in Ireland, and raced in Italy, where she won once. She was a half-sister to the Ahonoora (GB) filly Feminine Wiles (IRE), who gained a listed win in the Ballymacoll Stud Stakes, and was also runner-up in the Sun Chariot Stakes (Eng-II) and May Hill Stakes (Eng-III), and third in the Steinlen Handicap at Gulfstream Park. The family improves dramatically under the third dam, the Nijinsky II mare Instinctive Move. She won just once, but was half-sister to several stakes caliber siblings: the Joe McGrath Irish Sweeps Derby (Ire-I) winner Law Society; to Strike Your Colors, who defeated Spectacular Bid in the Dover Stakes, and also won the Breeders' Futurity (gr. II); to Legal Bid (ironically by Spectacular Bid), winner of the Highland Spring Derby Trial (Eng-III); to U.S. listed winner and graded-placed Cerada Ridge; and Australian stakes winner and group-placed Alfarazdq. Instinctive Move's dam, the Jersey Belle Handicap victress Bold Bikini, is ancestress of numerous other stakes winners, the most notable of which is the Oaks d'Italia (Ire-I) heroine Nicole Pharly (GB), although they also include New Zealand Trophy winner Satono Progress (JPN), and group and graded winners Contract Law, Denmars Dream, Tariq (GB), and Keiki (AUS).
Bold Bikini was a half-sister to a very good horse called Top Knight, winner of the Champagne Stakes, Flamingo Stakes, Futurity Stakes, Florida Derby, and Hopeful Stakes, all later grade I events. Bold Bikini's dam was a minor winner, as was her granddam, the Aga Khan-bred Mehrabi, who was half-sister to the Epsom and Irish Oaks heroine Masaka, and a full sister to Gallant Man, a member of the same crop as Bold Ruler and Round Table, and winner of such contests as the Belmont Stakes, Jockey Club Gold Cup, Metropolitan Handicap, and Hollywood Gold Cup. Mehrabi and Gallant Man had an intriguing pedigree, as they were by Migoli, whose dam, Mah Iran, was a similarly-bred half-sister to Mahmoud, the broodmare sire of Mehrabi and Gallant Man.
We mentioned in the beginning that inbreeding to Danzig appears to be working well. We haven't done a systematic study by contrasting the production of the sires and dams of all stakes winners inbred to Danzig when compared to their offspring by all other stallions, but we can say that there are already more than 30 stakes winners with Danzig inbreeding. Oddly enough, in view of the fact that male line/male line crosses generally have a lower-than-opportunity stakes production rate, no less than 20 stakes winners have been bred on a Danzig/Danzig cross, 11 of them group and graded winners. In Strait of Mewsina's case, the Danzig strains come in through Danehill in the male line of the sire, and Chief's Crown in the dam (who is by Chief's Crown's son Grand Lodge). The Danehill/Grand Lodge cross is actually turning into a very positive one, having already produced graded winners Zipping (AUS) and Marching (AUS), and Strait of Mewsina is rated A++ by TrueNicks. Perhaps in this case the key is that Danehill is out of a mare by His Majesty, a son of Ribot, while Grand Lodge is inbred to Somethingroyal, a daughter of Princequillo. Ribot and Princequillo have important pedigree ties and work well together.
Strait of Mewsina has another particularly unusual factor in his pedigree, as both his sire and his dam are from the Danzig male line, with second dams by another son of Northern Dancer, Nijinsky II.