Whether Whobegotyou (AUS) is a superstar in the making has yet to be seen, but there is no doubt in most observers' minds that he turned in a superstar-level performance Oct. 11 in winning The Age Caulfield Guineas (Aus-I). The question now is whether the L. Eales color-bearer will be as devastating when stretched out to distances longer than a mile as he has been over the shorter routes.
Bred by Lockyer Thoroughbreds, the gelding is the first group I winner from Street Cry (IRE)'s sojourns in Australia, which appear to have come to an end following the equine influenza outbreak of 2007, and the stallion's own rise in value in the North American market. Since standing for a relatively modest $30,000 in 2003, Street Cry has seen his fee rise to $100,000 thanks to the exploits of his first two crops, which include 2006 champion juvenile male and 2007 Kentucky Derby Presented by Yum! Brands (gr. I) winner Street Sense, 2007 Kingdom of Bahrain Sun Chariot (Eng-I) winner Majestic Roi, dual Peruvian Classic winner Tomcito, 2007 Oak Leaf Stakes (gr. I) winner Cry and Catch Me, multiple grade I winners Zenyatta and Street Boss, and 2008 President's Cup (Tri-I) winner Storm Street. Given that Zenyatta and Street Boss did not become grade/group I winners until this year, and that the stallion has also sired Norfolk Stakes (gr. I) winner Street Hero from this year's juveniles, Street Cry may be one of the few North American stallions to see his fee rise still higher in 2009.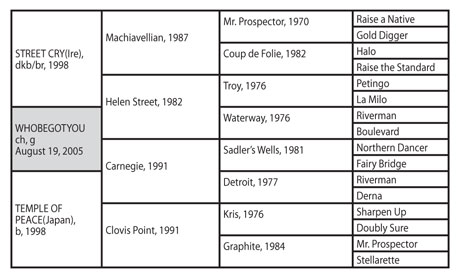 Street Cry's career to date has had something of a roller-coaster quality. While his first North American crop of 88 foals has so far produced 14 stakes winners (15.9%), the 86 named foals of his second North American crop include only two, a total already surpassed by the 74 named foals of his third North American crop. A little patience, however, may see more good results from the stallion's second and third crops, for Street Cry himself improved markedly at 4 after being graded stakes-placed at 2 and 3. At 4, Street Cry won the Dubai World Cup (UAE-I), earning Horse of the Year honors in the United Arab Emirates, and also showed high-class form in the United States by winning the Stephen Foster Handicap (gr. I).
In Australia, Street Cry has not fared as well as he has in North America; to date, his 213 Southern Hemisphere-sired foals have yielded just four stakes winners, of which Whobegotyou is easily the best so far. This appears to reflect the general experience of North American shuttle stallions over the past two decades and suggests a substantial divergence between the genetic pools and ideal conformational types of the Australian and North American breeding populations. It is a possibility that continued success by Whobegotyou and others from Street Cry's Australian crops may result in enough demand at a high enough price for Darley to consider shuttling him again, but for now, the stallion seems to be quite comfortably at home in Kentucky.
Fourteen of Street Cry's 17 graded/group stakes winners return Northern Dancer through their dams, and Whobegotyou is no exception to this rule. He was produced from Temple of Peace (JPN), a stakes-placed daughter of the Sadler's Wells horse Carnegie (IRE). Highweighted in France over 11 to 14 furlongs as a 3 year old in 1994, Carnegie won the 1994 Forte Prix de l'Arc de Triomphe (Fr-I) (a race that his dam Detroit (FR) also won) and the 1995 Grand Prix de Saint-Cloud (Fr-I) before being sent to Japan. Carnegie has shuttled between Japan and Australia/New Zealand during his career and is the sire of the New Zealand-bred group I winners Amalfi, Carnegie Express, and Tuesday Joy.
Clovis Point (GB), the dam of Temple of Peace, won only once from 15 tries but is a very well-bred mare, being by English champion miler Kris (GB) out of the Mr. Prospector mare Graphite, a winning full sister to 1990 Hollywood Starlet Stakes (gr. I) winner Cuddles. The dam of Graphite and Cuddles, 1983 Barbara Fritchie Handicap (gr. III) winner Stellarette (by Tentam), is, in turn, one of four stakes-winning fillies produced by the marvelous Canadian matron Square Angel (by Quadrangle), winner of the 1973 Canadian Oaks. Of the others, 1987 Beverly D. Stakes winner Dancing On a Cloud (by Nijinsky II) produced only one minor stakes winner, but 1986 Apple Blossom Handicap (gr. I) winner Love Smitten (by Key to the Mint) produced three stakes winners headed by English and Irish champion Swain(IRE), while Kamar (a full sister to Love Smitten) emulated her dam as both a Canadian Oaks winner and as the dam of four high-class stakes winners.
Whobegotyou is the latest of 30 grade/group I winners who combine Mr. Prospector and Riverman (exclusive, of course, of those horses that carry the combination solely through sire or dam). While this is not a particularly huge number given the merits and popularity of both stallions, Whobegotyou is unusual in that his pedigree features inbreeding to both within four generations. In addition, he sports a 5 x 5 cross to Natalma, with an additional cross of Natalma's half-sister Cosmah thrown in at the fifth generation for good measure, which should please fans of the Rasmussen Factor. Overall, this is a pedigree showing good balance between strains that could stay at least 10 furlongs and those whose stock in trade leaned more towards brilliance; it remains now to be seen which part of his ancestry Whobegotyou most favors.