- by Kristin Bednarski
For artist Merritt Finnell, painting horses was never his thing. Horses were his twin brother Michael's territory, and like many twins Merritt was different from Michael.

"My brother was the twin that stood up in the front, smiled and waved," Merritt said. "I was the one in the background who was wondering how everything worked."

Born in Lexington, the Finnell twins lived in the middle of horse country and were influenced by their mother, Alice Hamilton Simcox, to begin painting at a young age. As a horse trainer she also exposed the boys to the industry.

"I have a memory of about 8 years old doing my first painting." Merritt said. "And my twin brother did one, and it was always a competition, we would paint a subject and compare it to each other."

When Michael took an interest in equine painting, Merritt let him. Michael pursued equine art and painted many great racehorses while Merritt took a different direction. He became an airbrush artist, did CD artwork, painted famous singers, and created wall murals for fitness centers.

However, when Michael died in 1999, Merritt left his hometown of Corpus Christi, Texas and returned to Hot Springs, Ark., where Michael had lived. He wanted to paint at Oaklawn Park, the place where Michael had done most of his work.

"I had mixed emotions," Simcox said about Merritt's decision. "His brother was so well known, and Merritt had never done horses, but he wanted to get into it and I thought, 'well it might be a good memorial to his brother'."

Although he said he felt awkward at first and people sometimes confused him with his brother, Merritt soon discovered the reason Michael loved the industry so much.

"It gets in your blood," Merritt said. "There is something so charming and beautiful everyday at the track, from the sun up to the late night. With grooms kicking around the stalls telling stories, to three saddles that have just be cleaned and polished, sitting in a row waiting."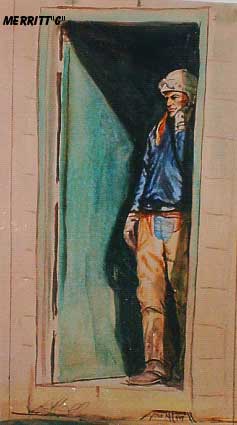 But where Michael had painted the excitement of the sport, horses crossing the finish line or winner's circle photos, Merritt found his own niche, focusing on the sport behind the scenes.

"Everywhere you go on the backside, whether it is hot walkers, going out to the track, washing (the horses), everybody is so deeply into their job," Merritt said. "It is not this romantic two minutes people think of on the track, it is really a labor, and a labor of love for people on the backside."
Merritt has done many paintings from the backside of Oaklawn Park. He often walks around with a camera shooting things he will later paint. He has done paintings of Curlin, Indian Charlie, Larry Jones, Jonesboro and many more, using watercolors and oils.

"He has done a wonderful job," said Simcox. "I thought that he needed to do his own thing, but still follow in Mike's footsteps. You usually don't see two twins so talented."

Merritt continues to paint at Oaklawn Park and has made equine art a specialty of his own. Not only has he found a new passion painting in the industry, but he has also found inspiration by painting something his brother loved so much.

"Every time I get through painting a horse I step back, flip my brush, and say 'How am I doing Mike?' that is my tribute to Mike every time I finish." Merritt said.