by Alan Porter
The victory of Acoma in the Oct. 17 Pin Oak Valley View Stakes (gr. III) served as a reminder that the initial offspring of the stallion crop that retired in 2004 have nearly completed their first 3-year-old season. A review of this group reveals some fairly dramatic reshuffling in the pecking order since these horses first retired, and even something of a shake-up in the order in which they completed their freshman season.
The stud fee-leading triumvirate of that stallion crop is comprised of Acoma's sire, Empire Maker , along with Mineshaft and Vindication. The trio all retired with exciting credentials. Empire Maker won the Florida Derby, Wood Memorial Stakes (over Funny Cide), and the Belmont Stakes (all gr. Is), and was by Unbridled out of the great producer Toussaud. Horse of the Year Mineshaft was a son of A.P. Indyout of a multiple grade I winning and producing daughter of Mr. Prospector. Vindication, an undefeated champion 2-year-old, was by Seattle Slew out of a graded stakes-winning mare.
Remarkably, just over four years since they covered their first mares, only one of this trio is among the top 10 leading second-crop sires of 2008, and none among the top five. Empire Maker — who currently sits in 12th on that table — has sired six first-crop stakes winners. They include County Star, winner of the Hollywood Starlet and Alcibiades Stakes (both gr. Is), Demoiselle Stakes (gr. II) victress Mushka, and Acoma, who was winning her second grade III stakes — and her first on turf — when taking the Valley View. His second crop includes the grade I-placed Pioneerof the Nile. Incidentally, he already has one apparent affinity with two of his six stakes winners, including Acoma, being out of mares by Danzig. With regard to Empire Maker's long-term prospects, it's worth remembering that his (now deceased) half-brother Chester House started relatively quietly, but really came to life this year with six stakes winners, including grade one scorers Ventura and Divine Park.
One place above Empire Maker on the second-crop list is Mineshaft. He obviously hasn't yet fulfilled the highest hopes of his supporters, but he has shown that he can get a good horse with four first-crop stakes winners, including Casino Drive — clearly an extremely talented individual — graded stakes winner Cool Coal Man, and Coal Play, a stakes winner who ran a fine race in defeat when second to Big Brown in the Haskell Invitational (gr. I).
Vindication is unfortunately no longer with us, having died this summer. As a racehorse, he managed only four starts, and some of that fragility seems to have been passed on to his offspring, as several of them have run races that suggest tremendous potential, but then failed to build on that bright beginning. To date, Vindication has been represented by four first-crop stakes winners, with only Adirondack Stakes (gr. II) victress More Happy gaining a graded victory. We should also mention that he does have a somewhat promising 2-year-old in Royal Vindication, winner of a maiden and the Trapp Mountain Stakes at Belmont Park on his last two starts. One hopes either he, or another colt from Vindication's remaining crops, might be good enough to continue this alternative branch of the Seattle Slew line.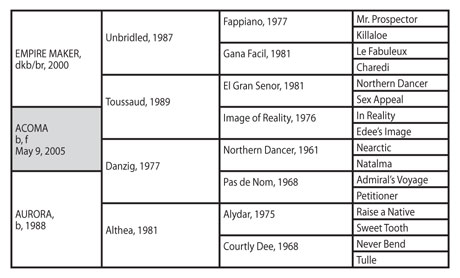 So, if the crop's original "big three" are not at the head of affairs, who is? Well, as of Oct. 31, the leaders are the Airdrie duo of Proud Citizenand Harlan's Holiday, who are separated by the resurgent Sky Mesa . Proud Citizen — another feather in the cap of Gone Westas a sire of sires — has three first-crop stakes winners, headed by the Eclipse Award hopeful Proud Spell, and the European group-winning and classic-placed colt River Proud. He also has stakes-winning juvenile Proud Jefe in his second crop. It is worth noting that Proud Citizen's third dam is a sister to Northern Dancer and that the predictable formula is working as Proud Spell is out of a mare by Northern Dancer's grandson Langfuhr .
Hopeful Stakes (gr. I) winner Sky Mesa didn't make the start that many breeders expected last year, but he has recovered in dramatic style. Having shown relatively little at 2, his first crop came through this year, with three of them winning stakes, Storm Mesa and Skylighter capturing graded events. His second crop has already produced three juvenile stakes winners, including Sky Diva, making only her second start when swooping to claim the Frizette Stakes (gr. I), and Terrain, winner of the Arlington-Washington Futurity (gr. III) and runner-up in the Lane's End Breeders' Futurity (gr. I). Prior to the Breeders' Cup, the son of Pulpit sat atop the list of overall leading sires of 2-year-olds (through Oct. 31, he is placed third, behind Stardom Bound's sire, Tapit , and Midshipman's sire, Unbridled's Song).
A Storm Catgrandson, by the short-lived Harlan, Harlan's Holiday has seven first-crop stakes winners. Last year the way was led by Cashcall Futurity (gr. I) winner Into Mischief, while this year revealed another star in Denis of Cork, winner of the Southwest Stakes (gr. III), runner-up in the Belmont Stakes (gr. I) and third in the Kentucky Derby Presented by Yum! Brands (gr. I). The crop also has a talented filly in two-time graded winner and grade-I placed Tasha's Miracle.
A pair of Adena Springs stallions, Milwaukee Brew and Macho Uno , have quietly worked their way into fourth and fifth on this table. A two-time Santa Anita Handicap (gr. I) winner by Wild Again, Milwaukee Brew is the leading second-crop sire in Florida. As one might have anticipated, his runners have improved with time, and his quartet of stakes winners gained their black-type victories this year. The most notable of these is the Woodbine Oaks heroine Ginger Brew. Champion 2-year-old Macho Uno — a Holy Bullhalf-brother to Awesome Again — is shaping as if he might be able to continue the near-extinct Plaudit branch of the Himyar line .
To read more about the Good Night Shirt and the Domino branch of the Himyar line,
click here.
Last year Macho Uno's star was the grade I-winning 2-year-old Wicked Style, and this year he has a pair of smart 3-year-olds in Macho Again (winner of the Jim Dandy Stakes (gr. II) and runner-up in the Preakness (gr. I)) and Harlem Rocker (who took the Withers Stakes (gr. III) and Canadian classic Prince of Wales Stakes). Originally standing in Florida, Macho Uno's promising start saw him make the move to Kentucky for the 2008 season.
Another who makes the Florida-to-Kentucky journey, this time for the 2009 season, is Vinery's Repent. A son of Louis Quatorze(by the Northern Dancer horse Sovereign Dancer), Repent captured four graded stakes at 2 and 3, and also took second in the Bessemer Trust Breeders' Cup Juvenile and Travers Stakes (both gr. I). He already has six stakes winners from his first Florida crop, headed by Crown of Thorns, who captured the Robert B. Lewis Stakes (gr. II) and looked a genuine classic prospect before being sidetracked by injury.
Ninth on the second-crop list, Repent is sandwiched by a pair of Storm Cat sons, Van Nistelrooyand Yankee Gentleman . Van Nistelrooy seems to be able to get runners just about anywhere. His first crop has supplied group and graded winners in Europe and the U.S., and he's also made a flying start with his shuttle crops sired in New Zealand. So far his Northern Hemisphere crops have provided eight stakes winners, including Del Mar Debutante Stakes (gr. I) victress Set Play; European juvenile group winners Strike the Deal (also group I-placed) and Raymi Coya; and Tempted Stakes (gr. III) scorer Elusive Lady. The speedy Yankee Gentleman has eight black type-placed horses from his first two crops, in addition to a trio of first-crop stakes winners led by the Oklahoma Derby winner Golden Yank and California Derby winner Yankee Bravo.
Outside of the top 10 on the second-crop sires table, there a couple of other horses worth a mention. Posse, the leading freshman sire of 2007, when represented by seven stakes winners, has slipped down the standings, but what is important to note is that his two best from last year — Canadian champion 2-year-old Kodiak Kowboy and graded winner Lantana Mob — have both trained on to win graded events this year, Kodiak Kowboy also being grade I-placed. Posse will have covered his best-ever book of mares in 2008 — like one or two others on the list who exceeded expectations — and could be a good risk to use in the next year or two.
New York's Hook and Ladder, a sprinting son of Dixieland Band, started his stud career at just $3,500, but has quickly established himself as the Empire State's brightest young star. He's already sired five stakes winners in his first two crops, and while most have gained their black type against state-bred opposition, in open company he's been represented by the Tampa Bay Derby (gr. III) winner Big Truck and I Promise, who was beaten inches in the Schuylerville Stakes (gr. III) as a juvenile.