Buyers at the 2008 Fasig-Tipton November select sale held Nov. 2 had a rare opportunity to buy a proven broodmare of the highest class—no less than 2007 Broodmare of the Year Better Than Honour.
Although she was not in foal, she was expected to draw tremendous interest, and she did. When the dust cleared in the sale pavilion, Michael Moreno's Southern Equine Stables had posted the high bid of $14 million—the highest price ever paid at auction for a Thoroughbred broodmare or broodmare prospect.
Granted, Moreno had an advantage over other bidders in that he already owned 70% of the mare, meaning that some $9.8 million of Better Than Honour's purchase price came right back to him. Nonetheless, the amount of money involved still reflects a substantial gamble. How likely is it that Better Than Honour, who will be 13 when next bred, will prove worth the risk?
There is no question of Better Than Honour's credentials. A grade II winner in her own right, the daughter of two-time leading sire Deputy Minister is one of three graded/group stakes winners produced from 1982 Kentucky Oaks (gr. I) winner Blush With Pride (by Blushing Groom), herself a daughter of 1982 Broodmare of the Year Best In Show.
She is also a half-sister to Maryinsky (by Sadler's Wells), dam of 2007 European champion 3-year-old filly Peeping Fawn (by Danehill) and 2007 Criterium International (Fr-I) winner Thewayyouare (by Kingmambo). Pedigrees just don't get any better than that. Nor do produce records, with Belmont Stakes (gr. I) winners Jazil(2006, by Seeking the Gold) and Rags to Riches (2007, by A.P. Indy) and Peter Pan Stakes (gr. II) winner Casino Drive (by Mineshaft ) already to Better Than Honour's credit.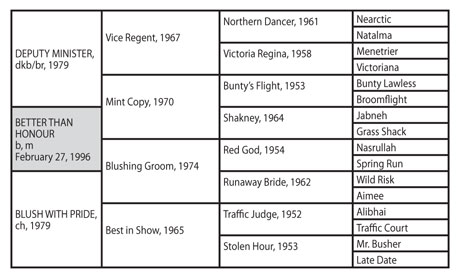 But other excellent proven broodmares have passed through the ring in earlier years, and their records have been mixed. While they cannot predict the future success of Better Than Honour, a review of their histories is nonetheless interesting.
Korveya (Riverman–Konafa, by Damascus) was 16 when she was sold for a then-record $7 million at the 1998 Keeneland November mixed sale. At that time, the French group III winner had produced three classic winners and two champions in Hector Protector (1990 French champion 2-year-old male and 1991 Dubai Poule d'Essai des Poulains, Fr-I winner), Shanghai (1992 Poule d'Essai des Poulains), and Bosra Sham (a multiple champion and winner of the 1996 Pertemps One Thousand Guineas Stakes, Eng-I).
The six foals she has produced since her sale—all by top sires, and including two full siblings to Hector Protector and Bosra Sham—have won just one race between them. It is too early to tell if any of the fillies in this group will prove important producers.
Multiple grade I winner Windsharp (Lear Fan–Yes She's Sharp, by Sharpen Up) went for $6.1 million at the 2003 Keeneland November sale following the dead-heat John Deere Breeders' Cup Turf (gr. IT) victory of her son Johar(by Gone West) and the Del Mar Oaks (gr. IT) victory of her daughter Dessert (by Storm Cat) — her first two foals. None of Windsharp's subsequent foals have won, including the Gone West filly she was carrying at the time of sale. As with Korveya, Windsharp's daughters are too young for their value as producers to be judged.
Priceless Fame (Irish Castle–Comely Nell, by Commodore M.), a full sister to 1976 Kentucky Derby (gr. I) and Belmont Stakes winner Bold Forbes, was only 9 when she went through the ring at the 1984 Fasig-Tipton Select Fall mixed sale, fetching $6 million.
At the time, she was the dam of 1982 William Hill Futurity (Eng-I) winner Dunbeath (by Grey Dawn II) and 1984 Del Mar Futurity (gr. I) winner Saratoga Six (by Alydar). There were no stakes winners among the seven foals Priceless Fame produced after her sale, but two of her daughters--Milliardaire (by Alydar) and Headline (by Machiavellian) — produced grade/group I winners, while two more daughters produced listed stakes winners.
Winglet (Alydar–Highest Trump, by Bold Bidder) brought $4.6 million at the 1999 Keeneland November sale. A grade II winner in her own right and a half-sister to two other graded/group winners, Winglet was 11 years old and the dam of 1997 champion 3-year-old filly Ajina. In 2000, her Theatrical colt Rob's Spirit became a multiple grade III winner, but that was probably small consolation to the mare's purchaser, John Magnier. The Storm Cat filly Winglet was carrying at the time of her sale (later named Winged Cat) never raced or produced a foal, and Winglet had no further produce.
Space does not permit a listing of all the high-priced proven broodmares that have passed through the sale ring over the last 25 years, but the few already named illustrate the concept that even with a broodmare that has produced top runners, future success is by no means guaranteed.
Still, there are several ways in which success can be measured: in production of more good runners; in production of a colt that turns out to be an important sire, or in production of daughters who prove to be good broodmares. Time will tell whether the millions spent on Better Than Honour will be well repaid, or whether she will go down as one of the great disappointments of auction history.