Edited press release
Thirty-five years ago, Penny Chenery commissioned longtime friend and renowned Thoroughbred portraitist Richard Stone Reeves to paint her champions, 1972 Kentucky Derby and Belmont Stakes winner Riva Ridge (at left) and 1973 Triple Crown winner Secretariat (below). These masterful portraits adorned Chenery's home for years and have never been seen by the general public.
But in 2004, Reeves agreed to authorize the production of these paintings as limited-edition prints to generate funding for Chenery's charitable work in the Thoroughbred industry. The limited-edition "Meadow Champions" folio set is now available for purchase and are the first and only posthumous release of Reeves' work since his death in October 2005.
"Richard's artistry in these portraits is profound," said Chenery. "He truly captured the inspiring strength, spirit and beauty of both Riva Ridge and Secretariat. I have always cherished both of these paintings and was delighted and honored when Richard said he would allow their release as prints. Sadly, the project was postponed after his death, but he would be pleased that we are proceeding with their production according to his wishes."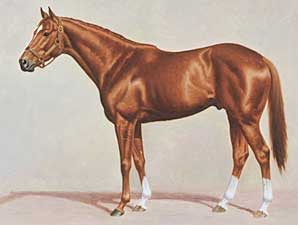 The "Meadow Champions" sets have been printed with the identical high-quality production standards that Reeves' used in his previous publications. The prints include a narrative listing the breeding, earnings, and racing accomplishments of each champion and Meadow Stable's heralded blue and white silks are embossed in the corner of both prints.
"Meadow Champions" is limited to a hand-numbered edition of 350 folio sets with the individual prints measuring 19 inches by 19 inches hand-signed by Chenery. They are available for purchase through www.secretariat.com for $800.