by Alan Porter
I must admit, when looking at the freshman sire class of 2008, I did not pinpoint Candy Ride (ARG) as a horse to watch. However, events have shown that was something of an oversight, a point emphasized recently when Candy Ride's daughter Evita Argentina took the Moccasin Stakes at Hollywood Park, and his son El Brujo claimed runner-up spot in Canada's top juvenile contest, the Coronation Futurity.

Any hesitance over Candy Ride's prospects certainly didn't stem from his efforts as a runner. Indeed, his brief career suggested that he might in fact have been a phenomenon. He ran just three times in his native Argentina, winning a 1200-meter (a few yards short of six furlongs) maiden race on dirt by 12 lengths on his debut, in 1:09.31. Switched to the turf for the San Isidro (Arg-I) at 1,600 meters (about 11 yards short of a mile), he scored by eight lengths in a time of 1:32.16, despite the going being labeled heavy. Returning over the same distance, he took the Joaquin S. de Anchorena (Arg-I) by a similar margin, his time on fast turf being an extremely impressive 1:31.01 (which would translate to 1:31.57 for a mile). These final two efforts were sufficient to earn Candy Ride a title as Argentina's champion miler.

Brought to the U.S. by Jenny and the late Sydney Craig, Candy Ride began his U.S. career by taking an 8 1/2-furlong dirt allowance race at Santa Anita by three lengths over grade I-placed Primerica. Switched to the turf for the nine-furlong American Handicap (gr. II), Candy Ride pressed the early pace, then prevailed by three-fourths of a length over grade I winner Special Ring. Back on dirt for the Pacific Classic (gr. I), and trying 10 furlongs for the first time, Candy Ride put up a spectacular display to score by 3 1/4 lengths over Medaglia d'Oro – runner-up in that year's Breeders' Cup Classic (gr. I) – in a track-record time of 1:59.11. This effort earned him an off-the-charts Beyer speed figure of 123, the highest of 2003. In this form, Candy Ride looked as if he might well be the best horse in training, but trainer Ron McNally elected to send him to the sidelines. The logic behind this decision was that Candy Ride – whose owners would have had to pay an $800,000 supplementary entry fee for the Breeders' Cup Classic – had been in training continuously for a year; had only passed his actual fourth birthday in the month of the Pacific Classic; and had rather small feet that needed time to grow out and spread. Candy Ride returned to training that December, but attempts to bring him back to the track proved unsuccessful, and after an ankle ligament injury, the decision was taken to retire him stud. Thus the bay embarked on a stud career at John Sikura's Hill 'n' Dale Farms in Lexington, Ky., standing his initial season at a fee of $10,000.

While Candy Ride's racetrack form was outstanding, what caused my initial reservations about his prospects as a stallion was his pedigree. His sire, Ride the Rails, was U.S. born and raced, winning the Foolish Pleasure Breeders' Cup Stakes at 2, and finishing second in the Florida Derby (gr. I) and third in the Fountain of Youth Stakes (gr. II) at 3. In Argentina, Ride the Rails has been a solid, rather than spectacular sire, and is responsible for 14 other stakes winners, including other grade I winners Good Report (ARG) and Inca Noble (ARG). Ride the Rails' sire, Cryptoclearance, was a very useful stallion whose best runners included the champion older horse Victory Gallop; upset Breeders' Cup Classic (gr. I) winner Volponi; Canadian champion Cryptocloser; and grade I winners Millennium Wind, Strategic Maneuver, and Traitor, but never seemed a particularly strong candidate to extend his branch of the Fappiano line. Candy Ride's dam, Candy Girl (ARG), is a daughter of the Blushing Groom (FR) horse Candy Stripes. An outstanding stallion in Argentina, Candy Stripes proved generally disappointing during his relatively brief sojourn at stud in the U.S., but from subsequent South Ameircan crops sired back-to-back Eclipse award winners in the Argentine-born pair of Leroidesanimaux (BRZ)and Invasor (ARG).

This background not withstanding, Candy Ride's first-crop yearlings were met with a good reception at the sales, 42 of them selling for an average of $48,561, or nearly five times his initial stud fee. So far, they have lived up to that bright beginning with their performances at the track, 15 of his first 34 runners winning. Four of them have earned black-type, three are stakes winners, and two of them graded stakes winners.

His two graded stakes winners – Evita Argentina (TrueNicks rated A++) -- who presaged her Moccasin Stakes victory with a score in the Sorrento Stakes (gr. III) -- and the Iroquois Stakes (gr. III) victor Capt. Candyman Can (TrueNicks rated A++), are rather similarly-bred. Evita Argentina is out of the Forest Wildcat mare Jealous Wildcat. Her second dam, Jealous Sword, is out of the Valid Appeal mare Jealous Appeal, also the dam of graded winners Trippi and Appealing Skier. Capt. Candyman Can is out of Stormy Way (winner of the Explosive Red Stakes at Fort Erie, and third in the Colleen Stakes), a daughter of Storm Creek. Her dam is by Proud Appeal, a son of Valid Appeal.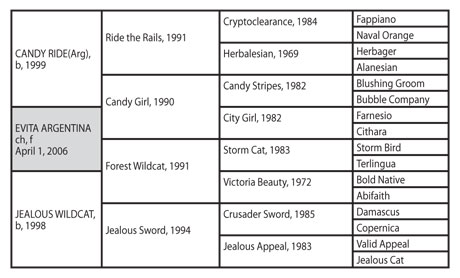 Of course the maternal grandsires of this duo, Forest Wildcat and Storm Creek, are both by Storm Cat, and both shaping as promising young broodmare sires, but the similarities in their pedigrees extend further than that. Storm Creek is out of a mare by Mr. Prospector, and Forest Wildcat's dam is by Bold Native, a Raise a Native son who is closely related to Mr. Prospector. Looking at the pedigrees of Candy Ride with Storm Creek and Forest Wildcat, there are some things we can pick up. Firstly, Cryptoclearance himself sired a stakes winner out of a Storm Cat mare, and his son Victory Gallop has two stakes winners out of Storm Cat-line mares, including graded winner Kettleoneup, so there appears to be a broad affinity. Secondly, Candy Ride's broodmare sire is a Nasrullah/Northern Dancer cross, where Storm Cat is a Northern Dancer/Nasrullah cross. Thirdly, Candy Ride is a Mr. Prospector-line horse, and with Storm Creek, this doubles Mr. Prospector -- and also through the dam of Candy Ride brings in Good Manners, whose dam is bred on similar lines to Mr. Prospector. In the same way, with Forest Wildcat, the match gives the similarly-bred Mr. Prospector and Bold Native. In this light, it might pay to try Candy Ride with mares by other stallions bred on the Storm Cat/Mr. Prospector cross, such as Tale of the Cat, Storm Boot, and Sea of Secrets.

There is little mystery about the second commonality between Evita Argentina and Capt. Candyman Can: the presence of In Reality through Valid Appeal. Cryptoclearance's sire, Fappiano, had a strong affinity for In Reality (as do many of his descendents), Fappiano being out of mare by Dr. Fager (by In Reality's broodmare sire, Rough'n Tumble). Cryptoclearance himself had at least five stakes winners out of mares with In Reality in the dam, two through Valid Appeal.

Candy Ride's third stakes winner is Chocolate Candy (TrueNicks rated B), who took the $100,000 Real Quiet Stakes at Hollywood Park earlier this month. Chocolate Candy is out of the Santa Ysabel Stakes winner Crownette, who is by Seattle Slew out of In Memory, an Alydar half-sister to Affirmed. Given the pedigree of Candy Ride's sire, Ride the Rails, the introduction of Seattle Slew was always going to be worth considering. Ride the Rails is inbred 4 x 3 to the important mare Alablue (third dam of both Cryptoclearance and Ride the Rails himself). Seattle Slew's grandsire, Boldnesian, is out of Alablue's daughter Alanesian, and is half-brother to the dam of Ride the Rails.