Deja vu? It may feel that way for Paul Pompa, Jr. Last year, he sold a 75% interest in Big Brown to IEAH Stables after the colt broke his maiden at Saratoga by over 11 lengths. Now the phones are ringing with offers again thanks to his 2-year-old colt Well Positioned, who cruised to a visually impressive 14 ¼-length maiden victory Nov. 22 at Aqueduct.
How impressive was Well Positioned's victory? Well, this was just a maiden special weight. But the field held a number of well-regarded prospects, and the colt ran the mile in 1:38.68. In the previous race, an allowance/optional claiming event at the same distance, 4-year-old Golden Age went the mile in 1:39.72. Later on the same card, 3-year-old Wishful Tomcat went the mile in 1:40 en route to a final time of 1:53.28 in the nine-furlong Discovery Handicap (gr. III). For a colt making just his second lifetime start, those figures look pretty good.
On paper, Well Positioned certainly looks like an attractive prospect for the Triple Crown trail, with an option for the Canadian classics as well. Bred in Ontario by Adena Springs, the colt is by Awesome Again , best remembered for his upset of Silver Charm, Swain (IRE), and Skip Away in the 1998 Breeders' Cup Classic (gr. I). A good 3-year-old who won the classic Queen's Plate in Canada and the Jim Dandy Stakes (gr. II) in the United States in 1997, Awesome Again was actually unbeaten in six races in 1998, five of them graded stakes, but was passed over for honors as champion older male and Horse of the Year thanks to what was perceived as a weak schedule compared to Skip Away's. (In fairness to Skip Away, the 1998 Breeders' Cup was run at Churchill Downs, a track which he clearly detested, and the voters probably took this into account as well.)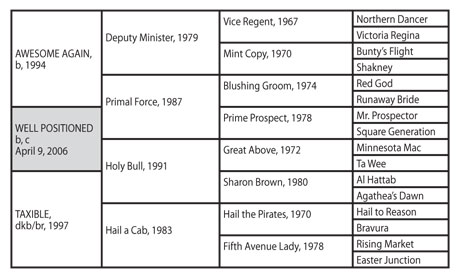 A half-brother to 2000 champion 2-year-old male Macho Uno (by Holy Bull), Awesome Again is by two-time leading sire Deputy Minister out of Primal Force, a winning daughter of Blushing Groom (FR) and the stakes-winning Mr. Prospector mare Prime Prospect. While not quite as consistent as one might like to see a top stallion – to date, he has 226 winners (43.9%) and 31 stakes winners (6.0%) from 515 foals of racing age – there is no question of Awesome Again's ability to get the "big horse." His best runners include 2004 Horse of the Year Ghostzapper, 2007 champion older female Ginger Punch, and multiple grade I winners Round Pond, Toccet, and Spun Sugar. Currently 19th on the general sire list, Awesome Again stands at Adena Springs Kentucky.
The mating that produced Well Positioned is a reverse cross to that which produced Macho Uno, as he is sired by a son of Primal Force out of a daughter of Holy Bull. His dam, Taxible, won just two of 38 starts but is a half-sister to Peruvian group I winner Islam (by Carson City). Well Positioned is her second foal and second winner, following the Greatness gelding Great Deduction.
Taxible is out of 1988 Spinster Stakes (gr. I) winner Hail a Cab, the best of three stakes winners produced from the Rising Market mare Fifth Avenue Lady. The sire of Hail a Cab, the Hail to Reason horse Hail the Pirates, was a multiple group II winner in Ireland and captured the 1976 Gulfstream Park Handicap (gr. I) in the United States. His 11 stakes winners also included Wayward Lass, winner of the 1981 Mother Goose Stakes and Coaching Club American Oaks (both gr. I).
Fifth Avenue Lady descends from a lesser branch of the family of Padua (GB), which served Colonel E. R. Bradley's Idle Hour Stud farm well in the first half of the twentieth century. Padula (GB), a daughter of Laveno (GB) and Padua imported to the United States in 1915 at a cost of just 100 guineas, produced Black Servant, a useful racehorse and sire whose best son was the 1929 Belmont Stakes winner Blue Larkspur.
Blue Larkspur, a first-rate sire and broodmare sire, is descended from Padua twice over, for his granddam is Vaila. From the immediate family of Bill and Coo (by Helmet), ancestress of 1963 co-champion juvenile male and important sire Raise a Native, Vaila was sired by Fariman (IRE) from Padua's daughter Padilla (GB) (by Macheath (GB)) and was imported by Colonel Bradley in the same draft of mares that included Padula. Though she cost the Colonel just 80 guineas (plus shipping costs), Vaila proved an invaluable broodmare, her progeny including five stakes winners. Among them were Miss Jemima (by Black Toney), generally considered the co-champion juvenile filly of 1919, and 1922 Pimlico Futurity winner Blossom Time (by North Star III, dam of Blue Larkspur. Vaila also produced Bridal Colors (by Black Toney), dam of 1947 Hopeful Stakes winner and important sire Relic, and Blind Date (by Black Toney), great-great-granddam of Fifth Avenue Lady.
Padua's pedigree and racing career were both quite modest, and why Colonel Bradley decided to import not one but two mares from her immediate descendants is a mystery that went to the grave with him. His instincts were sound, however, and American breeding would look much different today had Blue Larkspur and Raise a Native never been born. If Well Positioned indeed turns out to be a good one, American racing will have one more reason to be grateful to the master of Idle Hour.