If earning $120,000 were as easy as Old Fashionedmade it look in the Remsen Stakes (gr. II), we'd all be millionaires. The Fox Hill Farms colt was never challenged as he led throughout to win the nine-furlong test for juveniles. Granted, his rivals, while a well-bred group, were not particularly accomplished. Only two besides Old Fashioned had even two wins to their credit, and none of the field had any previous black type. Still, the ease of Old Fashioned's victory was visually impressive, and trainer Larry Jones would be something other than human if the race didn't have him starting to think about the colt's potential for next spring.
Bred in Kentucky by Ron Rodriguez and Lorraine Rodriguez, Old Fashioned is from the ninth crop of Unbridled's Song, who is having an excellent year. Besides Old Fashioned, he is the sire of leading juvenile championship contender Midshipman, now in Dubai after emulating his sire with a win in the Bessemer Trust Breeders' Cup Juvenile (gr. I); Thorn Song, winner of the Shadwell Turf Mile Stakes (gr. IT); First Defence, winner of the Forego Handicap (gr. I); and the ill-fated Eight Belles, runner-up in the Kentucky Derby Presented by Yum! Brands (gr. I). Currently 10th on the general sire list, Unbridled's Song has been represented by 14 individual stakes winners in 2008, which between them have captured 21 black type events.
A tall, lengthy, handsome gray, Unbridled's Song has sired 475 winners (49.4%) and 72 stakes winners (7.5%) from 961 foals of racing age. These percentages are a little lower than one might like to see from a top sire, but there is no question about Unbridled's Songs' ability to get a quality horse. To date, he has eight grade I winners to his credit, headed by the multiple grade I-winning fillies Octave and Splendid Blended. He has also been a successful commercial sire with a lifetime yearling average of $328,364. Unbridled's Song has stood throughout his career at Taylor Made Stallions.
One future problem for Old Fashioned may be maintaining soundness should he grow into the size promised by his pedigree. At 17 hands, Unbridled's Song is distinctly larger than the average Thoroughbred, and Old Fashioned's broodmare sire Meadowlake was also a big one. A strapping horse who also stood 17 hands, Meadowlake retired unbeaten but lasted only three starts, his big score coming in the 1985 Arlington-Washington Futurity (gr. I). Large size is not a flaw in and of itself, but the laws of physics dictate that a big horse will put more stress on its legs with every stride than will a smaller one, and the wear and tear often catches up.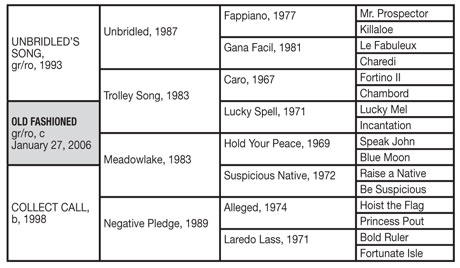 Still, there have been some real monsters that went on to distinguished racing careers — Hall of Fame sprinter Roseben, Triple Crown winner Omaha, and champion handicap female Conniver all stood 17 hands or better, to name a few — and Old Fashioned has the advantage of having two fine racehorses as sire and dam. He is out of Collect Call, whose three wins from 17 starts include the 2001 British Columbia Breeders' Cup Oaks and Santa Ysabel Stakes (gr. III). Collect Call also placed in three grade I and two grade II races and ended her racing career with $434,000. Her first foal, a 2004 Fusaichi Pegasus filly named Kauai Calls, won two of her four starts. After Old Fashioned in 2006, Collect Call produced a colt by Ghostzapperin 2007.
Collect Call is the only stakes winner produced from Negative Pledge, a daughter of Alleged and the Bold Ruler mare Laredo Lass. Although she failed to win or place in two starts in England, Negative Pledge is a half-sister to 1985 La Canada Stakes (gr. I) winner Mitterand. As Mitterand was sired by Hold Your Peace, also the sire of Meadowlake, Collect Call was produced by crossing sire and dam lines that had enjoyed previous success with one another.
Collect Call descends from a branch of the family of Maggie B.B., a good race mare in her day and a notable producer whose foals include three Classic winners: Harold (1879 Preakness Stakes), Iroquois (1881 Derby Stakes and St. Leger Stakes), and Panique (1884 Belmont Stakes). Various branches of this old American family have produced champions Whisk Broom II, Crusader, Blue Peter, Idun, Bald Eagle, Sunny's Halo, Timber Country, and Dubai Millennium, to name just a few of its many fine representatives.
How much Old Fashioned will add to the family's reputation is a question yet to be answered. Although he ran his final three furlongs in a solid :36.15 and bettered Springside's time one race earlier in the Demoiselle Stakes (gr. II) by well over a second, his good finishing run came off dawdling fractions; had he run the same fractions in the Demoiselle, he would have been about seven lengths off the lead after six furlongs. He is not likely to get away with such an easy pace on the lead in any of the major spring prep races, let alone in the Triple Crown events. But he is bred to stay, and if he matures as his connections doubtless hope, he may not need that kind of pace scenario a second time.