Clever Allemont, a 26-year-old stallion, has been rescued from the road to slaughter and will be shipped to Kentucky to spend the rest of his days at Old Friends near Georgetown.
A stakes winning son of Clever Trick who stood at Double D Farm in Illinois during the 1990s, Clever Allemont was acquired in mid-December by Kristin Chambers, executive director of Winding Road Equine Rescue & Retirement near Waverly, Kan., from a local kill buyer.
When Chambers went to the property of the kill buyer to inspect a Quarter Horse palomino mare who was said to be "too pretty" to be sent to the slaughterhouse, she discovered that Clever Allemont was also stabled there.
"I knew a one-eyed 26-year-old stallion didn't have any hope whatsoever of making it out the front door," said Chambers, who rescues horses from the kill buyer on a regular basis. "(The kill buyer and I) have a strange working relationship. He showed me Clever Allemont and asked if I could do anything with him, and pulled his Jockey Club papers out of his overalls. I recognized the owner's name, and there wasn't any way I wasn't going to leave him there."
Chambers posted pictures of the stallion on the equine welfare Web site Alexbrownracing.com, and within 24 hours, individuals had donated funds to purchase the stallion from the kill buyer, pay his transportation fees, and acquire food and blankets for him during his travels.
Chambers said Clever Allemont had been breeding Quarter Horses in Kansas before being sent to the kill buyer and had even sired a successful dressage horse. Currently boarded at Jeanne Mason's Donegal Ranch Quarter Horses near Williamsburg, Kan., he will be sent to Old Friends in the next few days.
"I remembered this horse—he raced around the same time that a lot of (our other stallions) raced," said Old Friends founder Michael Blowen. "So I said we've got room…everybody involved in the whole story has really been great about this; it has been an amazing deal.
"It would be nice to get him down here now while the weather is still good for travel, so I'm hoping he'll get here at least before the New Year."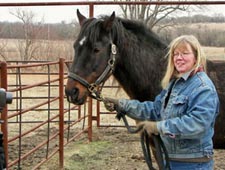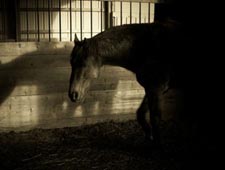 Clever Allemont's racing career got off to a fast start; he won his first six consecutive races. His major scores came in the 1985 Rebel and Southwest Stakes at Oaklawn Park, and he placed in three other graded-stakes contests, including the Arlington Classic (gr. I).
Trained by Lynn Whiting and D. Wayne Lukas, he was ridden frequently by jockeys such as Pat Day, Angel Cordero, and Mike Smith. Clever Allemont retired from racing with a record of 8-7-7 from 47 starts and earnings of $316,329.
"It was just such a chain of miracles," said Chambers, who was overjoyed when she discovered that just hours after posting Clever Allemont's story online he had been invited to reside at Old Friends.
"I went racing up the hill to the barn saying, 'He's going to Kentucky, he's going to Kentucky!' That was within 24 hours of the time I found him. It's an amazing story. It makes me feel good every time I think about it."