Empire Maker is a sire who has been a little difficult to evaluate during the planning of next year's matings. The Juddmonte Farms sire certainly retired to stud with all the credentials for a successful stallion career. He was an outstanding racehorse, almost certainly the best 3-year-old of his crop. He defeated eventual 3-year-old champion Funny Cide in the Wood Memorial Stakes and Belmont Stakes (both gr. I) and was second to the Sackatoga Stable-owned gelding in the Kentucky Derby (gr. I), even though a bruised foot caused him to miss two gallops the week before the race. Empire Maker's pedigree is beyond reproach. He is a son of Unbridled and out of Toussaud, an El Gran Senor daughter who was not only a grade I winner but the dam of other grade I winners Honest Lady, Chester House, and Chiselling. She is also the dam of grade II stakes winner Decarchy. Honest Lady, winner of the Santa Monica Handicap and runner-up in the Breeders' Cup Sprint (both gr. I), is the dam of Empire Maker's close relative, First Defence, a son of Unbridled's Song and winner of the most recent renewal of the Forego Handicap (gr. I). First Defence now stands alongside Empire Maker at Juddmonte.
There really was very little to quibble about regarding the efforts of Empire Maker's first crop. Country Star— an Eclipse award nominee — took both the Darley Alcibiades Stakes and Hollywood Starlet Stakes (both gr. I), while Mushka captured the Demoiselle Stakes (gr. II), and the speedy Miss Red Delicious, won the Anna M. Fisher Debutante Stakes, bringing his total of first crop juvenile black-type winners to three. This was a very satisfactory start for a horse whose offspring would generally be expected to improve with age. That stakes-winning trio failed to add luster to their reputations in the first half of 2008, but Empire Maker still enjoyed a bright spring, with two new stakes winners in May: Roman Emperor, who won the Barbaro Stakes at Pimlico, and Acoma, who won the Dogwood Stakes (gr. III) at Churchill Downs on May 31. The momentum, however, began fading. Empire Maker added another minor stakes winner in July, the gelding Deal Making, but many breeders weren't sure what to make of him by late summer, when the planning season started for 2009 matings. On one hand, the total of six first crop stakes winners was certainly more than respectable, and he had proved he could get a top-class horse. Against that, not only had things been quiet for a couple of months (which can seem like eons where the perception of a horse's commercial standing is concerned), it also wasn't quite clear what direction he was heading. Was it significant that his three graded winners were all fillies? Of course the real answer is that it was far too early to fairly judge Empire Maker. One only needs to consider the career arc of Empire Maker's prematurely-deceased half-brother, Chester House. The 1995 son of Mr. Prospector made a slow start to his stud career, but this year he's been represented by 18 individual stakes winners, the majority from a remarkable third crop that produced no less than 15 black-type scorers.
While the "too early to judge" caveat still applies, recent events have seen the pendulum swing very much in favor of Empire Maker — whose 2009 fee was recently dropped from an advertised $100,000 to $75,000. First, Country Star returned to form to take a Saratoga allowance race in August. She appeared to have a good shot in the Gazelle Stakes (gr. I) but reared backward in the starting gate and suffered a cut on her belly that required stitches. Empire Maker's other first-year juvenile graded winner, Mushka, returned in October to take a Keeneland allowance race and was then sold to Elizabeth Moran's Brushwood Stable for $2.4 million as a racing or breeding prospect at the Keeneland November sale. Meanwhile, Acoma switched to the turf and on that surface captured the Pin Oak Valley View Stakes (gr. IIIT) and Mrs. Revere Stakes (gr. IIT).
More recent promising developments for Empire Maker have come on the juvenile front. In October, his son Daiwa Prevail (JPN) won the Fuyo Stakes in Japan. On Dec. 13, another son Summer's Empirewon his third straight race, earning black-type with a win in the Jim Edgar Illinois Futurity at Hawthorne. A week later, a third Empire Maker colt, Pioneerof the Nile , advertised his potential as a 2009 classic contender, with a brave victory in the CashCall Futurity (gr. I) at Hollywood Park.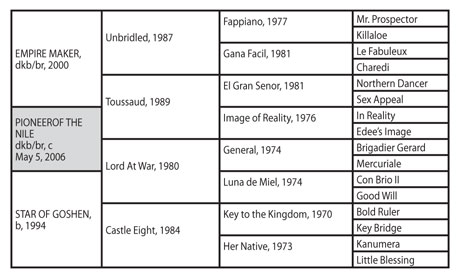 Pioneerof the Nile is the sixth foal of the Lord At War (ARG) mare, Star of Goshen, but only the third of her foals of racing age to start. Star of Goshen won her first three starts, the third of which was an 11-length victory in the 1997 La Troienne Stakes at Churchill Downs. Unfortunately, the promise of that performance was not fulfilled. Beaten into second at odds of 1-20 in the Edgewood Stakes, she was then eased before the finish of the Hollywood Oaks (gr. II). Although she subsequently had surgery for a displaced palate, this effort proved to be her last public outing. At stud, Star of Goshen has already produced a very talented runner in the shape of the Gone West colt, Forefathers. He has yet to win a black-type event, but has taken seconds in the Jerome Handicap and Swale Stakes (both gr. II) and third in the Bold Ruler Handicap (gr. III).
Star of Goshen is a half-sister to the smart and speedy Powis Castle (by the Mr. Prospector grandson Rare Brick), who earned $569,518 and won seven of 27 races, including the Malibu Stakes (gr. II) and Vernon O. Underwood Breeders' Cup Stakes (gr. III). The majority of the black type under the next two dams is mostly fairly modest. The fourth dam, Little Blessing, is also the fourth dam of the Ancient Title Breeders' Cup Stakes (gr. I) victor Bordonaro.
Pioneerof the Nile follows Argentine grade III winner Swift Shift (ARG)as the second stakes winner bred on a Fappiano/Lord At War cross. Although it is a complete outcross, the broad Mr. Prospector/Lord At War cross has also been very successful, producing such top runners as Ravens Pass, War Emblem, and Citronnade.
We think the key connections in the pedigree of Pioneerof the Nile are in his tail-female line. He goes back to an English-bred mare called Clonaslee. She was imported by the Idle Hour Farm of Col. E. R. Bradley (who also imported La Troienne). Clonaslee won 16 of 73 starts and subsequently became an important broodmare. One of her daughters, stakes winner Blessed Again, is the seventh dam of Pioneerof the Nile. Another Clonaslee daughter, We Hail, a similarly-bred half-sister to Blessed Again, appears as the third dam of In Reality, whose dam, champion 2-year-old My Dear Girl, has Bull Dog and Man o' War in the third generation of her pedigree. Bless Pat, the fifth dam of Pioneerof the Nile has Bull Dog and We Hail's half-sister Blessed Again in the second generation and Man o' War in the third generation. If we look at Empire Maker's pedigree, we see that he has In Reality 4 x 3. Coincidently, Unbridled's Song, who has been Unbridled's most important stallion son, also has a link to this background. His dam, Trolley Song, is a Nasrullah-line mare, whose dam combines the stallion Olympia with a half-brother to Bless Pat. Castle Eight, the second dam of Pioneerof the Nile, is likewise by a Nasrullah-line stallion, and her granddam is by Olympia out of Bless Pat.