2008 was a stellar year for top fillies and mares. In Europe, Zarkava (IRE) crowned an unbeaten career with a win in the Qatar Prix de l'Arc de Triomphe (Fr-I) and a title as Cartier European Horse of the Year. In the United States, unbeaten Zenyatta is a certain choice as champion older female and a strong contender for Horse of the Year honors off her win in the Breeders' Cup Ladies' Classic (gr. I). And in Japan, Daiwa Scarlet (JPN) staked out a place among racing's queens with a victory in the prestigious Arima Kinen (Jpn-I). Just the fourth female to win the race, her victims included just about every top Japanese male still in training, including 2007 Arima Kinen winner Matsurida Gogh (JPN); 2008 Japan Cup (Jpn-I) winner Screen Hero (JPN), and 2006 Japanese champion 3-year-old male Meisho Samson (JPN).

The Japanese champion 3-year-old filly of 2007 for owner Keizo Oshiro, Daiwa Scarlet appears to have sealed a sire championship for Agnes Tachyon (JPN) according to statistics kept by Japan Bloodstock Ltd. The first son of legendary Japanese sire Sunday Silence to occupy the top spot in his own right, Agnes Tachyon was a brilliant but fragile runner whose four victories from as many starts included the Satsuki Sho (Jpn-I), a race won this year by his son Captain Thule (JPN). Other top runners by Agnes Tachyon in 2008 include Deep Sky (JPN), winner of the Tokyo Yushun (Jpn-I) and NHK Mile Cup, and Little Amapola (JPN), winner of the 2008 Queen Elizabeth II Commemorative Cup (Jpn-I).

Agnes Tachyon's emergence as Japan's leading sire is a fitting conclusion to the long reign of the late Sunday Silence as Japan's leading sire. The 1989 U.S. Horse of the Year, Sunday Silence led the Japanese general sire list for 13 consecutive seasons (1995-2007). Eighth this past year as members of his last crop, foals of 2003, pass into retirement, Sunday Silence is also the sire of leading 2008 Japanese sires Fuji Kiseki (2nd), Dance in the Dark (4th), and Manhattan Cafe (9th).

Like so many other top Japanese horses, Daiwa Scarlet is a product of Shadai Farm's breeding program. She is out of Shadai's homebred stakes winner Scarlet Bouquet (JPN), whose 2001 son Daiwa Major (JPN) (by Sunday Silence) was Japan's champion sprinter in 2006 (when he was also champion miler) and 2007.

Scarlet Bouquet was sired by another great Japanese sire in Northern Taste, who led the Japanese general sire list all but one year between 1982-1992. A compact chestnut son of Northern Dancer and Lady Victoria (a half-sister to Nearctic, sire of Northern Dancer), Northern Taste has been an important broodmare sire as well. Given that both Sunday Silence and Northern Taste stood at Shadai Farm, it is not surprising that their bloodlines have frequently been combined, and with success.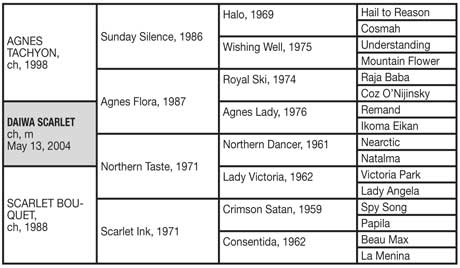 Scarlet Bouquet is from a female family that is no stranger to racing's highest level. Her fifth dam is Boudoir II, whose best runner was 1950 Santa Anita Derby winner Your Host. "Old Sidewinder," as he was known to his many fans, not only won 13 of 23 starts, but survived a horrific breakdown to sire the immortal Kelso.

Boudoir also produced two high-class broodmares in Flower Bed (by Beau Pere) and Your Hostess (by Alibhai and so a full sister to Your Host). Flower Bed produced three stakes winners, the most important of which was Flower Bowl, dam of two-time U.S. champion filly Bowl of Flowers and the fine sires Graustark and His Majesty.

Your Hostess was not as good a racer as her half-sister, placing in one stakes. But as a producer, she went Flower Bed one better, producing four stakes winners. Among them were 1974 Ladies Handicap (gr. I) winner Coraggioso (by Gallant Man) and 1967 Arlington-Washington Futurity winner T. V. Commercial, a useful sire.

Your Hostess was also a notable producer of broodmares, with eight of her nine daughters producing at least one stakes winner. The best of them was Gay Hostess (by Royal Charger), who produced 1969 Kentucky Derby and Preakness Stakes winner Majestic Prince and is the ancestress of 1974 Prix du Jockey-Club winner Caracolero and 1998 Derby/Preakness winner Real Quiet.

La Menina (a full sister to Gay Hostess) was the only one of Your Hostess' daughters not to produce a stakes winner, and her daughter Consentida (by Beau Max) produced only five minor winners from 11 foals. That lack of production probably helped explain why Consentida's daughter Scarlet Ink (by Crimson Satan) was sent to Japan in 1974 after finishing unplaced in her only start. In repeated matings to Northern Taste, Scarlet Ink not only produced Scarlet Bouquet (her best runner) but also Scarlet Blue (JPN), granddam of multiple Japanese stakes winner Tosen Jo O (JPN), and Scarlet Rose, granddam of 2007 Japan Cup Dirt (Jpn-I) winner Vermilion (JPN).

While Daiwa Scarlet could certainly be retired to the breeding shed with honor at this point, Oshiro and trainer Kunihide Matsuda are seriously considering an international campaign in 2009 for their star filly. That may not be good news for other international hopefuls, but it is surely good news for fans of international racing.