Some young racehorses catch on to what is expected of them right away. Some don't. In the case of Friesan Fire , understanding was a little slow in coming, but Larry Jones' patience seems to be paying off. Racing for Vinery Stables and Fox Hill Farm, the bay colt stalked the pace, moved on cue around the far turn, and came home a nice winner of the LeComte Stakes (gr. III), the first in the Fair Grounds' series of Triple Crown preps.

On pedigree, Jones had every reason to be confident that Friesan Fire would eventually come around. Bred by Grapestock LLC, the colt is a son of two-time leading sire A.P. Indy, the primary heir to the legacy of his sire Seattle Slew. Now 20 years old, the 1992 Horse of the Year is still going strong, finishing ninth on the 2008 general sire list. A. P. Indy has six champions to his credit, and his daughter Music Note is a finalist for an Eclipse Award as 2008 champion 3-year-old filly.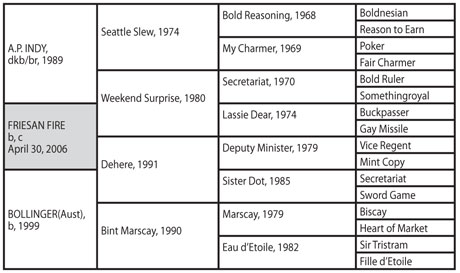 Friesan Fire is out of the Australian-bred Bollinger (AUS), who comes from a branch of Bruce Lowe family 2-c that had been laboring in relative obscurity in New Zealand since the importation of Moonshine (GB), an 1853 daughter of The Libel (GB), and had not produced an important runner close up to Friesan Fire's female line since the 1887 Great Northern Derby winner, Nestor (NZ), until the emergence of Classic Mission (NZ). The son of Persian Garden II (GB) and the Sabaean (GB) mare Angelet (NZ) won the 1971 Victoria Derby (Aus-I) and the 1972 AJC Derby and was followed by Hyperno (NZ), a great-grandson of Angelet and a first-rate runner that won Australian Horse of the Year honors in 1981, along with multiple group I races in 1978-1981.
Angelet's successes may well have influenced the acceptance of Fille d'Etoile (NZ), a daughter of Angelet's half-sister Ascalon (NZ), to the court of Sir Tristram (IRE) in 1980. Aside from her relationship to Angelet, Fille d'Etoile did not have much going for her, for her sire (Prince Bright) and broodmare sire (Jekyll [GB]) were undistinguished and her dam and granddam were both non-winners. Had she been presented later in Sir Tristram's distinguished career, after he had won one or more of his six Australian sire titles, the mating might or might not have been approved.
But in the early 1980s, Sir Tristram's star was only beginning to rise, and the mating did not hurt his reputation as the result, a filly named Eau d'Etoile (NZ), became a group III winner in New Zealand and group I-placed in both New Zealand and Australia.

As successful as she was on the race course, Eau d'Etoile was still better as a broodmare. Her 1989 foal, Kenny's Best Pal (AUS), a son of three-time Australian leading sire Bletchingly (AUS), won the 1993 Cadbury Australian Guineas (Aus-I) and the 1992 BMW Vase (Aus-III). Her 1992 foal by Star Way (GB), Filante, was better still, winning the Epsom Handicap (Aus-I) at age 4 and the Yalumba Stakes (Aus-I) at age 5 before retiring to stud in Australia, where he is still active as of this writing. Eau d'Etoile is also the dam of the listed stakes winner Eau d'Scay (AUS) (by two-time leading Australian broodmare sire Marscay (AUS)) and of stakes-placed Temple Fire (AUS), a full sister to Kenny's Best Pal and dam of 1998 Sunicrust Baker Australia Stakes (Aus-I) winner Stella Cadente (AUS) (by Centaine (AUS)).

Bint Marscay (AUS), Eau d'Etoile's 1990 daughter by Marscay, was perhaps the best of them all, and has certainly had the most influence in the breeding shed. Australia's champion juvenile filly of the 1992/1993 racing season, she won the prestigious Tooheys Golden Slipper Stakes (Aus-I) before settling down to produce three stakes winners of her own. Sheraton (AUS) (by Woodman) and Mannington (AUS) (by Danehill) both became group III winners in Australia, and Mannington has proven her worth as a broodmare by throwing 2005 AAMI Victoria Derby (Aus-I) winner Benicio (AUS) to the cover of More Than Ready . Benicio is now standing at Vinery Australia.

The best of Bint Marscay's foals to race has been Bollinger, who annexed the 2003 Coolmore Classic (Aus-I), Surround Stakes (Aus-II), and South Pacific Classic (Aus-III) before retiring to the paddocks. Friesan Fire is her second foal, following a winning 2005 filly by Gone West named Grande Annee.

Bollinger is by Dehere, who has been a useful sire in the United States, Japan, and Australia and appears to be a rising star in the broodmare sire ranks. Dehere's daughters have so far accounted for nine graded/group stakes winners, among them 2007 champion male sprinter and 2008 Eclipse contender Midnight Lute, 2007 Golden Slipper Stakes winner Forensics (AUS), and 2008 AAMI Victoria Derby winner Rebel Raider (AUS).

The American champion juvenile male of 1993, Dehere fractured a hind leg after winning the 1994 Fountain of Youth Stakes and so was never able to show his prowess over routes longer than 8 1/2 furlongs. He was bred to go longer, however, being by two-time leading sire Deputy Minister out of the Secretariat mare Sister Dot. As A.P. Indy is also out of a daughter of Secretariat, Friesan Fire is inbred 3x4 to the 1973 Triple Crown winner. So far, there are 51 other graded/group stakes winners inbred to Secretariat within five generations, including 2004 champion sprinter Speightstown, and 11 of those are by A.P. Indy or his sons and grandsons. The closest in pedigree to Friesan Fire is 2005 Peter Pan Stakes (gr. II) winner Oratory, by A.P. Indy's son Pulpit out of the Dehere mare Arrested Dreams.

According to Jones, Friesan Fire will now be moving on to the Risen Star Stakes (gr. II) on February 7. On paper, the added sixteenth of a mile in distance should be no problem at all, and if the colt's maturity continues to progress, he should be a legitimate contender for the Kentucky Derby Presented by Yum! Brands (gr. I).