Kentucky native William "Buff" Bradley has spent a couple of winters racing in New Orleans, but with three children and a modest breeding operation, he prefers to stay home.
He acknowledged, however, it's getting harder to do so with each passing year. Thoroughbred racing in Kentucky is far from dead, but it's getting harder and harder to ignore the cracks in the foundation.
Bradley was one of about 80 trainers with horses in Feb. 7 at Turfway Park, the Northern Kentucky racetrack that offers about five months of racing, or more than 40% of the total number of dates in the state. About 900 horses are stabled there from December through March, and more than 50 ship in each day from area training centers.
Bradley was asked what would happen to his operation if there was no racing between the Churchill Downs fall meet in November and the Keeneland spring meet in April.
"I'd probably be out of business," Bradley said. "I hate to say it, but I've had to think about it a lot recently. I made my home here, and my clients in the area like to be able to watch their horses run. The racetracks Kentucky needs above all are Turfway and Ellis Park, but it's not even affordable (to race anymore)."
There are no plans to close Turfway, which is owned by Keeneland and Harrah's Entertainment. But track president Bob Elliston said the current state of Kentucky racing coupled with the poor condition of the national economy could bring major changes.
"The ability to fund losses at the track has gone away from our partners," Elliston said. "Does that mean we're going to quit racing? No. But it will be a different kind of racing."
"Different," he said, could mean even lower purses, a reduction in winter racing dates, and fewer employees. And all that adds up to damage to the racing and breeding infrastructure in Kentucky and less revenue for the state and local community.
The Kentucky horse industry is lobbying hard at the grassroots level for support of legislation that would authorize video lottery terminals at racetracks. The bill, sponsored by Democratic Speaker of the House Greg Stumbo, has been discussed in committee but has not yet come up for a vote.
An immediate budget crisis is said to have delayed action on the measure, but horse industry officials said they don't believe the bill is dead. Should the House, Senate, and Gov. Steve Beshear agree on a budget by mid- to late February, there still will be about a month left in the 2009 General Assembly session.
The horse industry has tried to sell lawmakers on the concept it can raise revenue for state programs. Interestingly, as the General Assembly haggles over increases in tobacco and alcohol taxes, a $20-million VLT licensing fee for each of the seven racetrack licenses, for example, would have produced $140 million.

Lawmakers often resist voting on gambling measures unless they have political cover. And despite the prominence of the horse industry in Kentucky and repeated efforts to show its economic value, many legislators don't seem to get it, observers said.
"My sense is most every legislator (in Northern Kentucky) sees Turfway as a valuable part of the community," Elliston said. "They're generally pretty happy we're here. Beyond that, however, I'm not totally convinced they understand the severity of the situation without us crying wolf."
The Kentucky Equine Education Project, Kentucky Horsemen's Benevolent and Protective Association, and Kentucky Thoroughbred Association sprang into action in January with an e-mail campaign lobbying for support of the VLT legislation. The Kentucky HBPA circulated a petition.
Kentucky HBPA executive director Marty Maline said horsemen were disturbed to hear that two Northern Kentucky legislators are leaning against supporting the bill. Turfway has arranged a Feb. 16 meeting with several local lawmakers, and Maline said horsemen have been urged to attend to voice their concerns.
Kentucky is a different animal
The merits of year-round racing can be debated even with revenue from video gaming machines, but Kentucky is a different animal because it produces by far the largest number of Thoroughbreds each year. According to The Jockey Club, the registered foal crop in Kentucky in 2006 was 10,401, 30.4% of the national total, and about 6,000 more than Florida, which ranked second.
Those numbers have declined a bit, but no matter the total, only a small percentage of horses become stakes winners. Kentucky has plenty of modest-level stock that's bred and owned locally, as well as thousands of people who live in the state year-round and work in the Thoroughbred business. That's where the roughly 145 days of racing at Turfway and Ellis Park come into play.
Kentucky-bred horses at the maiden special weight, allowance, and stakes levels race for Kentucky Thoroughbred Development Fund purse supplements. In 2008, Turfway horses earned more than $2.3 million in KDTF money. The KTDF gets smaller, however, as on-site pari-mutuel handle declines; that has been the case in Kentucky each year.
Most races at Turfway and Ellis Park are claiming events with purses of $6,000 to $12,000, so many Kentucky-breds are shut out of the KTDF bonus money. Their options are limited.
"If this place closes down," Bradley said of Turfway, "where are these horses going to go?"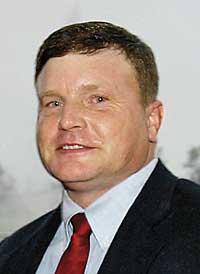 Trainer William Bradley
That's a question with no answer. The industry nationally is struggling to develop solutions for unwanted horses, or those that are through racing. And public scrutiny of the way the industry cares for its horses never has been higher.
Richard Finucane, a Kentucky-based trainer, said there are plusses to staying in Kentucky in the winter. Money isn't one of them.
"I run here in the wintertime because the racing surface is pretty decent," Finucane said. "But more and more, about 60% of my money comes from Mountaineer."
Finucane, particularly during good weather, ships to Mountaineer Casino, Racetrack & Resort in West Virginia, which is located about six hours from Lexington. Purses there are supplemented by revenue from VLTs.
Finucane said his horses win about 15% of the time and overall earn about $1,700 per start. But it costs him $2,000 per start to keep them.
"I'm relatively successful, but I'm losing my ass," Finucane said. "Nobody has a better answer (than racetrack gaming). Slots would generate new revenue, and chances are somebody will say, 'Why give it to the Thoroughbred horsemen?' But we've got to have it here to survive."
Like Bradley, Claude "Chip" Brownfield is a homebody. Brownfield, based year-round at Turfway, said he doesn't have the stock to race in Arkansas, Florida, or Louisiana in the winter as do other trainers with larger stables.
"If this placed closed, I'd have to go somewhere else to make a living," Brownfield said. "I think it's very important, because everybody doesn't have the horses to go to Gulfstream Park or Fair Grounds. It's also pretty expensive to do that."
Long way from home this winter
David Banks, a longtime trainer with a farm in Central Kentucky, had to bite the bullet this winter. Banks has 17 horses at the Evangeline Training Center in Lafayette, La., and ships to two nearby tracks, Delta Downs Racetrack & Casino and Fair Grounds Race Course & Slots.
Shipping horses to Louisiana and finding places to live for himself and his help "is a significant amount of cost," Banks said. Still, staying in Kentucky wasn't a viable option.
Winter racing at Turfway can be dicey because of weather-related cancellations, but Banks would rather be home. His wife, Ann, has five horses at the farm this winter.
"It's primarily economics," Banks said. "Fair Grounds and Delta Downs are both slots-fueled tracks, and at Delta Downs, the horses are just average, but the bottom purse is $13,000. I have a farm in Kentucky and don't want to leave, but I had owners last year who said, 'If you don't leave, we'll have to leave.' "
Banks was among the first Kentucky-based trainers to capitalize on the six-fold purse increase at Mountaineer in the late 1990s. He regularly shipped horses from Lexington to West Virginia, but still had a solid presence at Kentucky tracks.
It wouldn't take that much to bring him back. Banks said a bottom purse of $12,000 to $13,000 at Turfway would have a substantial impact.
On the breeding side, the Banks' four mares won't be bred in Kentucky this year. Two are going to Indiana, and two to Pennsylvania. And that, Banks said, is a bad sign for Kentucky.
"As these horses leave, the people who care for the horses leave," Banks said. "The trickle-down effect is just enormous. I don't understand—and forget the fact the amount of new revenue created for the state (from racetrack gaming) would alleviate the budget crisis—why there is a problem with having a subsidy for an industry. It's intervention to keep alive an industry that is so key to the state."
Western Kentucky impacted, too
Like Turfway, Ellis Park, located in Western Kentucky, has experienced a steady decline in purses. In 2008, purses averaged $134,235 per day for 39 racing days, according to The Jockey Club Information Systems, down from $195,257 for 41 days in 2002.
The silver lining for winter racing at Turfway is lack of direct competition. Ellis Park can't say the same.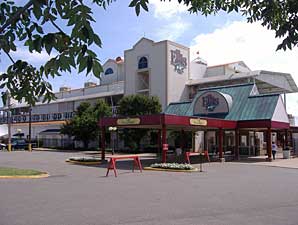 Ellis Park
Ellis Park owner Ron Geary has predicted a rough 2009 meet, primarily because of competition from neighboring Indiana. Revenue from slot machines at Hoosier Park and Indiana Downs will be evident in condition books this year, and both tracks have expanded their Thoroughbred meets, leaving Ellis Park without a competition-free window in the summer.
Indiana Downs, which opens in mid-April, will do more than hurt Ellis Park. Indiana Downs has a quality turf course, and should purses approach $180,000 a day—double the 2008 figure—Churchill Downs will have competition for bread-and-butter stock that helps fill its race cards.
Maline said he has been told Indiana purses will increase only 15%-20% this year. In 2010, however, Kentucky will feel the full force, he said, as Indiana purses increase dramatically.
Ohio can't be written off yet, either. There are indications the cash-strapped state is exploring an expansion of the Ohio Lottery to add video gaming machines that would be located at seven tracks, including River Downs, which is located about 20 minutes from Turfway and in years past has drawn a fair number of Kentucky-based horses in the summer—even with purses that average only about $50,000 a day.
There is a cluster of Thoroughbred horsemen who live and train horses in Western Kentucky year-round. They patronize Ellis Park from early July through Labor Day, but otherwise must ship hours to race or lay up their horses for 10 months.
Ellis Park was granted 48 days of racing this year, but officials with the track and Kentucky HBPA are discussing their options. Last year, the track averaged 7.61 horses per race, lowest among the five Thoroughbred tracks in Kentucky.
Ellis Park last summer was impacted by a racetrack located 10 hours away near Erie, Pa. The standings at Presque Isle Downs & Casino, which has slot machines, were dotted with the names of trainers who traditionally race in Kentucky: Merrill Scherer, Glenn Wismer, Tom Amoss, and Wayne Mogge.
Scherer won the training title with 36 wins and $871,186 in purse earnings. Wismer's horses won 22 races and $414,989, Amoss 20 races and $626,677, and Mogge 10 races and $194,593.
"This isn't Chicken Little saying the sky is falling," Maline said. "The sky is falling."
Jobs are on the line
The VLT plan offered by Stumbo comes at a time of economic hardship in Kentucky. Jobs are being lost in most sectors. The bill calls for 25%-35% of VLT revenue to go toward various programs and tax cuts in the state.
Legislators usually embrace job-creation measures—unless they are tied to gambling. The debate lingers whether racetrack VLTs are an expansion of gambling or merely a new game that could be offered by the Kentucky Lottery Corp.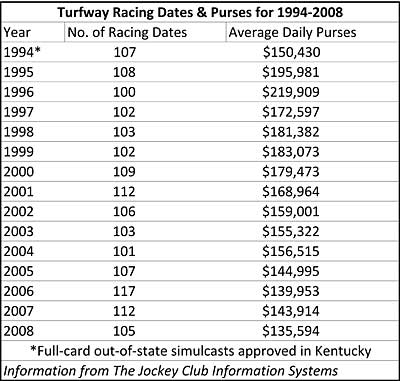 Turfway is home to 50-60 trainers in the winter, along with 180 grooms, 90 hotwalkers, 10 farriers, and seven or eight veterinarians. The facility has about 150 full-time employees and a payroll of $5.4 million, Elliston said.
On the drawing board should gaming legislation pass is a plan for $150 million in construction. With VLTs, the number of employees would jump to 800, payroll would rise to $40 million a year, purses would more than double to about $35 million a year, and total revenue would increase about 10 times to $300 million, according to projects prepared by the track.
Once surrounded by farmland just off Interstate 75, Turfway helped fuel creation of what Elliston called the "entertainment corridor" in Florence. Nearby is about 25 restaurants; 10 hotels, with more under construction; and expansive retail development.
Turfway in 2008 handled about $58 million on site and paid about $2.5 million in taxes, more than $1.7 million of which was related to pari-mutuel operations. Total handle on its races in 2008 was more than $240 million, which makes it a major player in the simulcast market in the North America.
Reaching the 'boiling point'
Bill Denzik Jr., who operates a stable at Highpointe Training Center northeast of Louisville, said it hasn't been uncommon in recent years for trainers in Kentucky to say they plan to move on. But this winter has been different. Denzik said the mood in the receiving barn at Turfway on racing days is sour.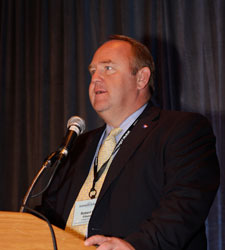 Turfway's Bob Elliston
"This year, I think it finally hit a boiling point where everybody is just fed up," Denzik said. "There's a negativity I've never seen in this business; it's really noticeable this year. Many of the trainers and owners I've spoken to said this is their last year, but you'd hate to leave and then all of sudden get slots (at racetracks)."
Owners and breeders are anxious. Denzik said he's getting three 2-year-olds from one of his owners this year on the premise that, if they show they can compete in New York, they'll be gone after about five months because of the purse structure in the state.
"That's how it affects you," he said. "Owners already are mentioning racing somewhere else. Most of us trainers have children and families. It scares the hell out of every trainer."
Denzik and other trainers at Highpointe can save money even though they pay stall rent because of adjustments they make on staffing. It costs about $250 to ship a horse to Turfway compared with $1,000 for a trip to Mountaineer unless trainers are able to "van pool" with other trainers with horses in that night.
At this point, it wouldn't take much additional purse money to make racing at Turfway worthwhile, horsemen said. The track's synthetic surface is only so much of a draw given the economic climate.
"I feel like Polytrack is safer, and people who run at Beulah Park (in Ohio) and Mountaineer say the tracks are horrible in the winter," Denzik said. "Knock on wood, I haven't had any horses come back bad at Turfway. I haven't had any problems up there—just the lack of money."
He's not alone. Maline told the story of David England, a one-time leading owner at Turfway who got his training license and formed racing partnerships. He recently left the business.
"David said his partners called him and said they don't mind breaking even, but they hate to lose money all the time," Maline said. "He realized his cheaper horses would have to win seven or eight races a year to make it even. He sold his horses to people at Mountaineer.
"Right now, it just doesn't work here (financially)."
Horsemen are doing what they can in light of the economy and state of racing. Bradley, whose father, Fred, is a former Kentucky legislator, said he sold nine horses in January because of cost issues. There is less interest in partnerships, he said. And business-related costs such as hay and feed are increasing as purses decline.
"It has really gotten serious around here," Bradley said. "I think more people have seen it recently because (of 40% declines at auctions in Central Kentucky). I've spoken to representatives in Frankfort. It's hard to see the opposition when gambling is already (at the tracks).
"It's looking bleak, but we'll keep fighting. I don't want to stop (training), and I want to stay here."