In the metal-working technique called "brazing," two metals with disparate properties are joined by a third that is sufficiently similar to both to create an effective union.

Believe it or not, we see some "brazing" going on in the pedigrees of successful Thoroughbreds, and we've actually had some recent examples on the Triple Crown trail. The Gotham Stakes (gr. III) was taken in dominating style March 7 by I Want Revenge , a son of Stephen Got Even (by A.P. Indy) out of the Argentine-bred Meguial (ARG), a stakes winner and classic performer in her native country. Meguial is out of an Argentine-bred mare with bloodlines primarily drawn from Europe. However, I Want Revenge's broodmare sire is a son of Fappiano, a strain that has been working very well under A.P. Indy and has combined extremely well with South American strains. Therefore, here, Roy is a perfect "brazing" element.

Just seven days after I Want Revenge's victory, Friesan Fire leapt to the top of many Triple Crown trail lists, completing a sweep of the Fair Ground's principal 3-year-old stakes with a decisive victory in the Louisiana Derby (gr. II). The construction of Friesan Fire's pedigree is similar to that of I Want Revenge, as he is by A.P. Indy, from a Southern Hemisphere family, with a broodmare sire line that has demonstrated an affinity both for A.P. Indy and for mares from the region of the Southern Hemisphere where he served.

Bred by Grapestock LLC (owned by Vinery principal Dr. Tom Simon), Friesan Fire was a $725,000 buyback at the 2007 Keeneland September yearling sale and now races for the partnership of Vinery Stables and Fox Hill Farm (which campaigned the last two Derby runners-up, Hard Spun and Eight Belles). This family first came under the Vinery umbrella in 2000, when Vinery Australia took over the bloodstock of Victoria nursery Roseland Park. Among the mares acquired with that purchase were Australian champion 2-year-old filly Bint Marscay (AUS) and her daughters Mannington (AUS) and Bollinger (AUS).

By the Golden Slipper (Aus-I) hero Marscay (AUS), a two-time champion broodmare sire in Australia, Bint Marscay was out of Eau d'Etoile (NZ), a graded stakes-winning and grade I-placed daughter of the magnificent New Zealand stallion Sir Tristram. From a female line that had developed in New Zealand since the mid 1800's, Eau d'Etoile turned out to be an exceptional producer. All seven of her foals to reach the races won, and four of them were black-type winners. Both Kenny's Best Pal (AUS) (by Bletchingly (AUS)) and Filante (by Star Way (GB)) scored at grade I level, Kenny's Best Pal taking the Cadbury Australian Guineas (Aus-I) and Filante the Epsom Handicap and Yalumba Stakes (both Aus-I). In addition, black type-placed Temple Fire, another Bletchingly mare, is dam of the Sunicrust Baker Australia Stakes (Aus-I) victress Stella Cadente (AUS).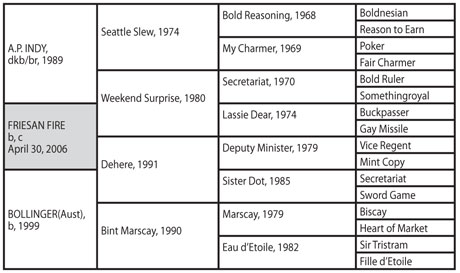 Offered at the 1992 William Inglis Easter yearling sale, Bint Marscay was purchased for AUS$100,000 by Sheik Rashid Bin Hamdan Al-Nahyan. At 2, she won three of four starts with one second, taking the Kindergarten Stakes, the Magic Night Stakes (Aus-II) in race-record time, and the Tooheys Golden Slipper (Aus-I). In the Golden Slipper, she overcame being drawn widest of all in 16 horse field to win by 2 1/4 lengths in a then-race record time of 1:08.88 for 1,200 meters (just a few yards short of six furlongs). Bint Marscay found wins harder to come by at 3, but did add the 1000-meter. (approximately five-furlong) Chirnside Stakes (gr. II) in course record time, and took third in the Doomben 10,000 (Aus-I).

Bint Marscay's first foal, Beam (AUS) (by the Sadler's Wells horse Scenic (IRE)), never ran, but her next three were all graded stakes winners. First came Danehill's daughter Mannington (AUS), who captured the Blue Diamond Prelude (Aus-III) and was several times graded stakes-placed, including when third in the Blue Diamond Stakes and Rosemount Estate Newmarket Handicap (both Aus-I). Bint Marscay's third foal, Sheraton (AUS), was a son of Woodman. In general, the progeny of Woodman proved not to be well-suited to the Australian racing environment, but Sheraton was an exception, capturing the AAMI Blue Diamond Preview (Aus-III). Next came Bollinger, a daughter of Dehere. She didn't run until she was 3, but then took five of her eight starts – four in succession – including the Coolmore Classic Stakes (Aus-I), Surround Stakes (Aus-II) and South Pacific Classic (Aus-III).

Unfortunately, Bint Marscay then missed to Red Ransom and Flying Spur (AUS), and has subsequently proved unable to carry a foal to full term. However, while Bint Marscay has been troubled by reproductive issues, her daughters have flourished under Vinery's management. Mannington, bred to Vinery shuttle sire More Than Ready , produced as her first foal the AAMI Victoria Derby (Aus-I) victor Benicio (AUS). Sold for AUS$525,000 at the Inglis Easter sale as a yearling, Benicio returned to Vinery Australia and his first crop are now Southern Hemisphere yearlings. In her second season at stud, Mannington produced a winning Fusaichi Pegasus filly, and in 2004 was bred to Red Ransom. In foal to that cover, she was consigned to the 2005 Inglis Spring select broodmare sale where she realized a record-breaking AUS$2,050,000 bid from new owner Darley Australia. The foal she was carrying at the time was Romneya (AUS). A 3-year-old of 2008-09, Romneya has been in good form this year, capturing The Mittys Vanity (Aus-III) in January, and on Valentine's Day, the Sportingbet Moonee Valley Fillies' Classic (Aus-II).

Meanwhile, Bint Marscay's daughter Bollinger was brought to the U.S. Her first foal, the Gone West daughter Grande Annee, won three consecutive races from five starts in England last year and is now in training in the U.S. Friesan Fire is her second foal, and her third foal is Champagne Run, a yearling filly by More Than Ready.

Despite their inherent class, in the terms of our opening analogy, A.P. Indy and Bint Marscay represent very different "metals." What has facilitated their successful combination, is arguably the influence of Dehere, the sire of Bollinger. By Deputy Minister out of a mare by Secretariat, Dehere has a pedigree that suggests he should combine well with A.P. Indy (who is also out of an Secretariat mare). Already there have been six stakes winners from 15 starters (40% stakes winners to starters) sired by A.P. Indy out of mares by Deputy Minister, most notably 3-year-old champion filly Rags to Riches. From just three starters, the A.P. Indy/Dehere cross has produced not only Friesan Fire but also Vaulcluse, a Eugene Melnyk homebred who went three-for-three, including a track record-breaking win in the Suncoast Stakes, before an injury ended her career. Incidentally, Friesan Fire and Vaulcluse are just two of the at least 10 stakes winners for A.P. Indy to feature Secretariat inbreeding.
While the potential of the combination of A.P. Indy with Dehere is one that is immediately apparant, the second part of the "brazing" – that of Dehere with Marscay – is less obvious. My particular take of this is that Deputy Minister throws to deep "clusters" of the influential mare Queen Mary. Bint Marscay's sire, Marscay, was by the Star Kingdom (IRE) stallion Biscay (AUS). However, Marscay, who stood nearly 17 hands, owed very little of his physique to the Star Kingdom line, taking far more after his U.S.-bred dam Heart of Market, a daughter of the massive To Market. In direct female line, To Market traced to the Queen Mary family, and Marscay's granddam, the King Ranch-bred Accroche Coeur, has line-breeding to strains rich in Queen Mary. This talk of accumulating distant strains might be seem a little fanciful until one notes the Dehere also sired grade I winner Defier (AUS) out of a mare by Marscay.

Friesan Fire's triumphant progress is being closely followed in Australia, and if all goes well, he's almost certain to shuttle there. It will be intriguing to see if the distaff side of his pedigree helps "braze" him with Australian bloodlines.