With his victory March 21 in the Lane's End Stakes (gr. II), WinStar Farm's homebred Hold Me Back answered one big question but raised three more. Whether he has the class to be competitive with this year's better 3-year-olds is no longer in doubt. But remaining to be answered are: First, will he be sent after the Kentucky Derby Presented by Yum! Brands (gr. I)? Second, can he transfer his synthetics form to dirt? And third, if he is in fact Derby-bound, will he enter the big race off a six-week layoff, or will Bill Mott – one of the canniest trainers in the business – try to find a spot for him in between now and then?

Hold Me Back certainly benefitted from the long layoff between his sole defeat – the Remsen Stakes (gr. II) last Nov. 29 – and the Lane's End, which gave him time to grow into himself and mature. Given the record of his sire, Giant's Causeway , it was certainly reasonable to expect that he might improve from 2 to 3. Although a grade I winner at 2, when he captured the Prix de la Salamandre (Fr-I) at Longchamp, Giant's Causeway was a vastly improved horse by the summer of his 3-year-old season. Europe's "Iron Horse" earned his nickname by winning five straight Group I races from June 20, 2000, to September 9, 2000, before a close second in the Queen Elizabeth II Stakes (Eng-I) and then going down to Tiznow by a stubborn neck in the Breeders' Cup Classic (gr. I). By the end of the year, Giant's Causeway had earned a Timeform rating of 132 pounds, a big step up from his juvenile rating of 119 pounds.

Although Giant's Causeway emphatically proved his own ability to transfer his form from turf to dirt in the Classic, not all of his progeny have proven so versatile. Since his move to Ashford Stud in 2002 (after retiring to Coolmore Stud in Ireland the previous year), Giant's Causeway has sired 20 North American graded stakes winners. Of those, 11 won their graded races on turf or synthetics while eight were graded winners on dirt and one, Fairbanks, won graded stakes on both dirt and synthetics. (Frost Giant also proved versatile, scoring on the dirt in the grade I Suburban Handicap last year after winning group III races at 2 and 3, but he did his turf racing in Ireland.) This record certainly does not preclude Hold Me Back from being able to win on more than one type of footing, but throughout racing history, the vast majority of racehorses have had a decided preference for one surface or another, and very few have been able to race at the top level on two different surfaces.

On the surface, Hold Me Back's long stride might seem better suited for grass, especially if he continues to be slow getting off the mark as he was in the Lane's End. But that long stride is also reminiscent of his maternal grandsire, Unbridled's Song, who could really cover ground when in full flight. A grade I winner at 2 and 3 in an enigmatic career hampered by foot problems, Unbridled's Song has been a consistent hit with the commercial market since his retirement to Taylor Made Stallions in 1997. Hold Me Back is his 16th stakes winner as a maternal grandsire.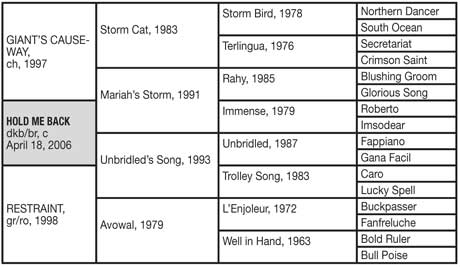 In partnership with Haras Santa Maria de Araras SA, WinStar bred Hold Me Back from Restraint, an unraced daughter of Unbridled's Song and Canadian multiple champion Avowal. Canada's best 3-year-old filly and sprinter in 1982, Avowal produced stakes winners Adarling (by Alleged) and Freedom Fleet (by Afleet), the latter runner-up to Regal Discovery in the 1995 Queen's Plate.

Avowal was sired by two-time Canadian Horse of the Year L'Enjoleur, whose resume included the 1975 Queen's Plate. A regally bred son of Buckpasser and Northern Dancer's champion daughter Fanfreluche, L'Enjoleur did not quite live up to his pedigree or his racetrack performance as a stallion but did become a perennial leading regional sire in Ohio. His best runner other than Avowal was Par Excellance, also a multiple champion in Canada.

Avowal was produced from Well in Hand, a Bold Ruler half-sister to the good stakes winner Ambiopoise (by *Ambiorix). Well in Hand was certainly well connected, for her dam Bull Poise was a Bull Lea half-sister to Gaga (by Bull Dog, sire of Bull Lea), dam of champions Aunt Jinny and Tom Fool. The latter stalwart, who served as 1953 Horse of the Year, was, of course, the sire of Buckpasser; thus, Avowal is inbred 5 x 3 to Alpoise and 5 x 4 to Bull Dog. As Alpoise was sired by Equipoise, a brilliant horse up to a mile and a quarter but probably best at a flat mile, Avowal was not short on speed in her background.

Thanks in part to Avowal, Hold Me Back has a pedigree tilted more towards intermediate distances (eight to nine furlongs) than one might think. Giant's Causeway clearly stayed 10 furlongs well, however, and Hold Me Back's long, fluid stride should stand him in good stead in getting the Derby trip, provided that he does not get stopped once he begins his run. Like Pioneerof the Nile , The Pamplemousse, and other synthetic-based Derby hopefuls, he is a huge question mark until he proves himself on dirt, but I Want Revenge has already made the step in emphatic style, and any of these others might be the next to do so. Only time will tell.

Do you read Mahubah's Corner regularly? Take three minutes to complete our BloodHorse.com Pedigree Analysis survey!