Historic Hollywood Park, under the eminent threat of redevelopment, opens for its 70th and possibly final spring/summer racing season on April 22.

Track officials have given assurance that they will race through 2009, but after that, all bets could be off. Proponents of racing hope that the stagnant economy can buy them a little more time even as anxious Inglewood officials put the plan — the largest redevelopment effort in the city's history — on the fast track for zoning changes.

Developer Wilson Meany Sullivan has put a $2 billion price tag on the 238-acre mixed-use project, which it has titled, "Hollywood Park Tomorrow." Its current scope entails 620,000 square feet of retail space (shops, restaurants and a giant movie theater complex), 75,000 square feet of general office space, a 300-room hotel and convention center, about 3,000 houses, a rebuilt casino and gambling facility (to replace the one adjacent to the racetrack) and 25 acres of park or open space.

The developer evokes images of a Southern California Eden, a village of upscale residences within easy walking distance of vibrant shopping, dining and entertainment destinations — five minutes from Los Angeles International Airport. It promises jobs and millions of dollars in revenue to the city.

Hardscrabble Inglewood sees in the current occupant only declining tax dollars and an aging, shabby facility where on-track attendance continues a relentless slide in the era of home wagering. For the first time in 2008, Hollywood Park's contribution to city tax coffers fell below $1 million as the amount of money wagered on-site plunged to about $280.2 million. That's a drop of more than 35% since 2000.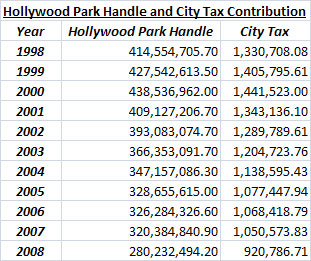 According to the California Horse Racing Information Management System, Hollywood has been on a swift downward spiral in on-track handle since 2000 when the figure stood at $438.5 million. Inglewood's share — 1/3 penny for every dollar wagered at Hollywood — generated more than $1.4 million that year.

In his recent state of the city speech, Inglewood Mayor Roosevelt Dorn, a strong supporter of the project, called it "a one-of-a-kind development that represents a fantastic opportunity to make Inglewood a regional destination spot ... A successful completion of this project would be quite a boost to Inglewood's overall livability and quality of life."

Critics, however, scoff at the notion that such a project in Inglewood, with a long history of gang activity, would attract well-heeled Angelenos who already have a wealth of shopping and entertainment options all around the region.

"What does Inglewood have, now that the Lakers and Kings are gone, other than the racetrack and an occasional concert at the Forum?" asks Diane Becker, a passionate supporter of the track who has spearheaded an effort to oppose its redevelopment. "The problem with Inglewood is that you go there for the races and you leave right afterward because there is nowhere to go. What they should do instead of getting rid of Hollywood Park is use the track as a magnet to attract people to spend some time there. There is plenty of space there to support that kind of development."

Becker says the current Hollywood Park, a three-time Breeders' Cup host, is Inglewood's real "crown jewel." She calls the developer and track owner Bay Meadows Land Company "snake oil salesmen" who are preying on a desperate city in order to get entitlements that will make the property more profitable to sell when current real estate market conditions rebound.

She points to Bay Meadows Land's 83-acre redevelopment project approved in San Mateo to replace the 74-year-old race course there, which instead turned the once-fabled facility to a heaping rubble pile. Plans to construct a mixed-use project on that Bay Area site, 400 miles north of Los Angeles, have been placed on an indefinite hold.

"Who's to say that if the city approves this, the very same thing won't happen in Inglewood?" Becker wonders. "Can Inglewood really afford to have that site sit empty for 10 years or more?"

She blames many of Hollywood Park's problems on its previous and current ownership, whom she contends were only after slot machines. Becker claims that when Bay Meadows Land purchased the track from Churchill Downs Inc. for $260 million in 2005 and promised to devote itself to make racing successful there once again, it wasn't being honest.

"Once they realized they weren't going to be able to stop the monopoly over slot machines by the tribes, they completely changed focus," Becker says.

David Israel, a member of the California Horse Racing Board, agrees with her.

"Hollywood Park has been cutting corners in marketing, promotion and fan accommodations for years," he says pointedly. "It has been committing economic suicide in a transparent attempt to justify the self-fulfilling prophecy of its inevitable doom. The intended consequence — and just about the only thing the people running it have gotten right — is it doesn't do as well as it might and it should."

The loss of Hollywood Park would cause serious ramifications to the racing circuit, especially during the summer season, but support for the track from the Thoroughbred community has yet to be demonstrated.

"What I think is really sad is that we may be about to lose a well-located track with excellent facilities and racing is doing a poor job of fighting to keep (it) in place," says John Harris, the CHRB's chairman. "Racing seems to be completely rolling over on this one. Up at Bay Meadows, there was more of a fight to keep the track in place. But in this case, it is a walk-over."

Drew Couto, president of the Thoroughbred Owners of California, says that when he attended a recent Inglewood Planning Commission hearing on the proposed Environmental Impact Report for the project, he was amazed to see only Becker, who is also a small-time owner, pari-mutuel employees guild vice president Doug Kempt, and trainer Jack Van Berg representing the racing fraternity.
Given the mess at Bay Meadows, where the real estate credit crunch stopped loans for construction cold, Couto believes BMLC will continue to operate the track "as long as Hollywood Park has a positive cash flow." He said that the track could even continue to race while the first phase of construction, a retail corridor on the southwest portion of the property, is in progress.

"I don't think we are looking at the last spring-summer season at Hollywood, but nothing would surprise me anymore," Couto says.

While disappointed by the lack of much response from within racing to what she believes is a dire threat to the state's $5 billion industry, Becker and others have been canvassing Inglewood businesses and talking to citizens. Their efforts have had some success. At the March 25 meeting attended by Couto, she said there was an overflow crowd on hand at city hall.

While many of the people wore t-shirts in support of the project, Becker says many others turned out to express serious concerns.
"If there is a time to fight, it is now," says Becker, who has formed a grass roots group to challenge demolition of the track. "I have never been an activist person, but they (the developers) sure have made me into one."

Becker has started a petition drive and a Web site (www.savehollywoodpark.com) to share information and promote preservation of racing at the facility for the foreseeable future. As of April 17, 921 people had signed the petition.

"Hardly anyone we've spoken to in Inglewood about the plan knew anything about it. If they had heard about it, very few realized that it would mean the demolition of the racetrack," Becker notes. "It's very clever marketing, naming it 'Hollywood Park Tomorrow.' When you go to their community meetings, all the developer talks about is parks and shopping, parks and shopping. And, oh, yeah, the movie theaters. They never talk about the racetrack."

Hollywood Park has had little to say about the future. Track president Jack Liebau has declined to speculate on whether racing will continue in 2010. Terrence Fancher, executive managing director of the investment group that owns Bay Meadows Land, did not respond to phone messages.

Jerry Moss, a CHRB member and Kentucky Derby-winning owner/breeder, says that in his discussions with Fancher, he believes that the businessman "is open to racing, enjoys racing. But I think he's trying to do what's right for his investors."

Moss, who stables his horses at Hollywood, says the only way to stop the track's eventual demolition is for someone to purchase it or have the state step in to protect it.

Israel agrees, saying that Inglewood and Hollywood Park have more potential than they realize and "would be making a terrible mistake" to destroy the track. "What California racing needs is for Hollywood Park to be operated by people committed to its success, not its destruction."

He adds, "The current owners assumed debt to purchase both Hollywood Park and Bay Meadows. I imagine they were highly leveraged deals. I imagine they've paid the carrying costs through the planning and entitlement process with cash thrown off from racetrack and casino operations. Well, Bay Meadows no longer throws off cash and is just an unsightly slag heap. Continued cost, no benefit.

"At some point, the lines cross, cash flow can no longer pay for the cost, and plans change. So the owners sell, or the lenders foreclose, or the politicians say there must be a better, smarter way."

"Anything's possible," says Moss, who admitted he could be forced to move his horses out of state if Hollywood Park is destroyed. "We'll never have 238 acres like that for horse racing again. I just hope something comes along. That's all."