For Sunday Racing Co., life could not be better. The partnership heads into the Derby with a colt that was not only sired by one Derby winner but is half-brother to another – talk about pedigree. And that colt won his final pre-Derby race impressively April 19 to establish himself as the probable favorite for the big race.

Those details don't fit any horse in the possible field for the Kentucky Derby Presented by Yum! Brands (gr. I). But they do describe Unrivaled (JPN), the well-named winner of the Satsuki Sho (Jpn-I). Having bested 17 rivals for the Satsuki Sho, including previously unbeaten Logi Universe (JPN), Unrivaled now heads for the Tokyo Yushun (Japanese Derby) May 31, where he will try to emulate his sire and elder sibling.

Bred by Northern Farm in Japan, Unrivaled is by Neo Universe (JPN), who is having a good spring as he is also the sire of Logi Universe. Currently ninth on the Japanese general sire list, Neo Universe is one of a slew of sons of the late Sunday Silence vying for their sire's throne. As of this writing, sons of Sunday Silence occupy six of the top 10 places on the list and 10 of the top 20, including leader Manhattan Café (JPN). While none seem likely to rival Sunday Silence's record of 13 Japanese sire titles, one son, Agnes Tachyon (JPN), was champion sire in Japan in 2008, while Fuji Kiseki (JPN) and Dance in the Dark (JPN) have both finished in the top five for the last five years.

The Japanese champion 3-year-old male of 2003, Neo Universe won both the Satsuki Sho and the Tokyo Yushun, but fell short of a sweep of the Japanese Triple Crown with a third-place finish in the Kikuka Sho (all Jpn-I). He continued racing at 4 but could not repeat his championship form and retired to stud, making his first season at Shadai Stallion Station in 2005. Unrivaled is a member of his first crop, foals of 2006.

The pedigree of Neo Universe exemplifies the cosmopolitan approach to breeding taken by the leading Japanese stud farms. Sired by the 1989 U.S. Horse of the Year, Neo Universe is out of Pointed Path (GB), a daughter of two-time English champion miler Kris (GB) and the group II-placed Shantung (FR) mare Silken Way (FR). Silken Way, in turn, was produced from 1970 Princess Margaret Stakes winner Boulevard (IRE), a daughter of 1958 Two Thousand Guineas winner Pall Mall (IRE). Miler speed is the dominant feature of Pointed Path's pedigree, which may not have helped Neo Universe in his effort to stay out the 3,000 meters of the Kikuka Sho but certainly provided him with a solid turn of foot.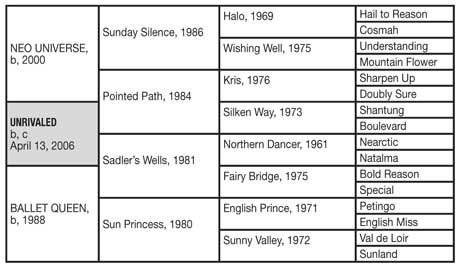 Japanese breeders have historically been quite willing to take chances on beautifully bred mares without much in the way of racing performance in order to get access to desirable bloodlines. Ballet Queen (IRE), the dam of Unrivaled, certainly fits this profile. Although unraced, she is a daughter of European supersire Sadler's Wells, who may well prove the most important sire based in the British Isles since St. Simon if he continues to match his prowess as sire with equal merit as a broodmare sire. A thirteen-time leader of the English/Irish sire list, Sadler's Wells has already earned four corresponding broodmare sire titles and is currently second on this year's list behind Danehill with all the major races in Europe still to come.

Leading Japanese breeder Shadai Farm got a major bonus when importing Ballet Queen in early 1993, for the Caerleon foal she was carrying turned out to be Fusaichi Concorde (JPN), winner of the 1996 Tokyo Yushun and third in the Kikuka Sho. In between her two Classic winners, Ballet Queen has produced Japanese stakes winner Born King (JPN) (by Sunday Silence) and stakes-placed Grace Admire (JPN) (by Tony Bin (IRE)).

A full sister to group I winner Prince of Dance, Ballet Queen was produced from the temperamental but extremely talented Sun Princess (GB), 1983 champion 3-year-old filly in both England and France. Sired by 1974 Irish Sweeps Derby (Ire-I) winner English Prince (IRE) out of the Val de Loir mare Sunny Valley, Sun Princess is a half-sister to Saddlers' Hall (IRE) (by Sadler's Wells), winner of the 1992 Hanson Coronation Cup (Eng-I).

Produced from the stakes-placed Charlottesville (GB) mare Sunland (GB), Sunny Valley was a winner of two minor events in France. Sunland was, however, a half-sister to the dam of 1971 Prix Maurice de Nieuil winner Crucible (by Crepello (GB)), and their dam, the Persian Gulf (GB) mare Sunny Gulf (GB), is also ancestress of 1971 Prix Robert Papin winner Sun Prince (GB), 1980 Canadian International Championship (gr. IT) winner Great Neck, 1985 Gilltown Stud Irish Oaks (Ire-I) winner Helen Street (GB), 2001 Yushun Himba winner Lady Pastel (JPN), 2002 Dubai World Cup (UAE-I winner) Street Cry (IRE), and 2004 European champion juvenile male Shamardal.

Having already proven that he has the foot to master the shortest of Japan's Classics, it now remains for Unrivaled to prove whether he has the stamina to capture Japan's premier test for 3-year old colts. If he can do so, it will be a good omen for the continuation of Sunday Silence's male line through at least the first half of the twenty-first century.