by Alan Porter
The results of the Belmont and Acorn Stakes (both gr. I) immediately had us thinking about "parallel lines." No, not the 1978 album by Blondie, but parallels between the sires of the two winners, and the lines that can be drawn within the classic laureates' own pedigrees.
Belmont winner Summer Bird and Acorn heroine Gabby's Golden Gal both represent second classic winners from the first crops of their sires (the Acorn being first leg of the New York Filly Triple Crown). Summer Bird is a son of Birdstone (whose Kentucky Derby Presented by Yum! Brands (gr. I) winner Mine That Bird was third in the Belmont) and Gabby's Golden Gal is a daughter of Medaglia d'Oro (whose Rachel Alexandra has this year's Kentucky Oaks and Blackberry Preakness Stakes (both gr. I) tucked under her girth). We can't find the last time a stallion had two different winners of Triple Crown events in the same crop – let alone in his first crop.
Of course, Rachel Alexandra's historic Preakness triumph was achieved at the expense of Mine That Bird, who otherwise would have been going for the Triple Crown in the Belmont. In that circumstance, it would have been somewhat ironic if Mine That Bird had been defeated by another son of Birdstone, given that Birdstone himself ended the Triple Crown bid of Smarty Jones . Of course, two years earlier, Medaglia d'Oro also contested the Belmont Stakes, but in his case he went down by 1/2-length to long-shot Sarava. What's often forgotten is that there was also a Triple Crown at stake in this race as well, but War Emblem, who had taken the Derby and Preakness with front-running performances, stumbled at the start and -- robbed of his usual pacesetting role -- never really threatened to win. In a further similarity, Birdstone and Medaglia d'Oro both went on from the Belmont to claim the "midsummer Derby" the Travers Stakes (gr. I).
The parallel lines did diverge somewhat at the start of their stud careers, as Medaglia d'Oro (by 2002 leading sire El Prado (IRE)), retired at $35,000 and sired 150 first-crop foals, while the less physically prepossessing Birdstone (by the otherwise rather disappointing Grindstone) began at $10,000 and was represented by 70 foals in his first crop.
Medaglia d'Oro has gone on to become the boom sire (as they say in Australia) of the moment. Last week it was announced that he had been purchased and would move to Darley's facility from his previous home at Stonewall Stallions. (Medaglia d'Oro initially stood at Hill'n'Dale Farm.) Medaglia d'Oro currently has seven stakes winners from his first crop, and in addition to Rachel Alexandra and Gabby's Golden Gal, they include other graded scorers Payton d'Oro and C. S. Silk. He also had another classic second with daughter Tasty Temptation taking runner-up spot June 7 in the Woodbine Oaks – Presented by Budweiser. All seven of his stakes winners are fillies, but we get the impression that his first-crop colts have tended to be big, somewhat heavier horses who have needed time.
Given that his first crop is only half the size of that of Medaglia d'Oro, Birdstone has hardly been left in the dust. He has five black type winners with Mine That Bird and Summer Bird being joined as U.S. graded winners by Livin Lovin, who won the Tempted Stakes (gr. III) and who was a close fourth in the Acorn despite a rough trip.
A parallel in the pedigrees of Medaglia d'Oro and Birdstone is that both are from arguably the pre-eminent classic branches of their sire lines (Northern Dancer through Sadler's Wells for Medaglia d'Oro, Mr. Prospector through Fappiano/Unbridled for Birdstone). In addition, Medaglia d'Oro is by El Prado (grandson of Northern Dancer out of Lady Capulet) with a second dam by Silent Screen where Birdstone is by Grindstone (dam by Drone, a similarly-bred half-brother to Lady Capulet) and his dam is by a son of Northern Dancer and out of a mare by Silent Screen. In fact 14 of the 32 ancestors (getting close to 50%) in the fourth generation of Medaglia d'Oro's pedigree are also in Birdstone's fourth generation. The instant success of the pair suggests that something in their shared background is a good fit for the genetic profile of a wide proportion of America's current broodmare population.
Some rather neat parallel lines can be drawn within the pedigrees of Summer Bird and Gabby's Golden Gal. Summer Bird's granddam is the Alysheba daughter Hong Kong Jade, a half-sister to champion sprinter Rubiano and to Tap Your Heels, a minor stakes-winning daughter of Birdstone's grandsire Unbridled. Tap Your Heels is now best-known as the dam of Wood Memorial Stakes (gr. I) winner Tapit (who joins Medaglia d'Oro and Birdstone as a star sophomore sire). Summer Bird's third dam, Ruby Slippers (by Nijinsky II), was half-sister to graded victor and useful sire Glitterman. Her dam, Moon Glitter, was a multiple stakes winner and sister to prominent sire Relaunch.
Summer Bird is inbred 3 x 3 to Storm Bird, which is particularly interesting as Storm Bird is something of a genetic relative to Nijinsky II – sire of Summer Bird's third dam – and combines very well with that horse. This also makes the mating a real triumph for parallel patterns: Summer Bird's sire and dam are reverse Raise a Native/Northern Dancer crosses (with Raise a Native coming through genetic relatives Mr. Prospector and Alydar), and Summer Bird's granddam is a Raise a Native/Northern Dancer parallel to Birdstone (with Raise a Native again through Mr. Prospector/Alydar, and Northern Dancer through genetic relatives Storm Bird and Nijinsky II).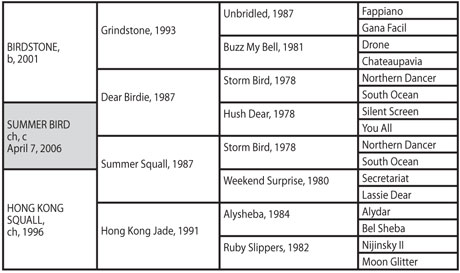 Gabby's Golden Gal is out of Gabriellina Giof (GB), an English-bred mare who was a stakes winner in Italy and the U.S. and also graded-placed on this side of the Atlantic. Gabriellina Giof is by Ashkalani (IRE), who in turn is a son of the Nureyev horse Soviet Star. Since Medaglia d'Oro is by El Prado, a son of Sadler's Wells, this means Gabby's Golden Gal has the similarly-bred Sadler's Wells and Nureyev 3 x 4 in her pedigree. Additionally, Gabby's Golden Gal's second dam is by Cure the Blues; the key here is the relationship between Cure the Blues and El Prado's broodmare sire, Sir Ivor. Cure the Blues is by a grandson of Turn-to out of a granddaughter of the mare Imperatrice. Sir Ivor's sire Sir Gaylord is by Turn-to out of a daughter of Imperatrice. In addition, Cure the Blues' sire Stop the Music is out of a mare by a son of Menow, where Sir Ivor's dam Athenia and Menow were bred on identical lines). El Prado's dam Lady Capulet adds to the combination as she is a Turn-to/Tom Fool cross like Stop the Music.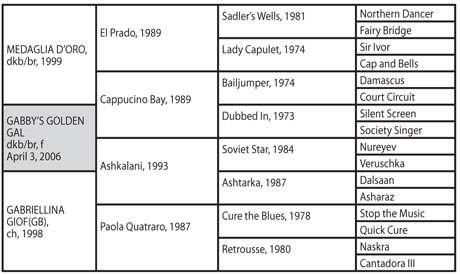 In the case of Gabby's Golden Gal, El Prado and Gabriellina Giof are complex parallel-pattern horses: El Prado is Northern Dancer/Turn-to and Gabriellina Giof is Northern Dancer/Turn-To, with Northern Dancer appearing through similarly-bred stallions and Turn-to through a pair of complex genetic relatives.
UPDATE: We should have known that saying "We can't find the last time..." would be taken as a challenge by fellow pedigree enthusiasts. Mahubah's Corner author Avalyn Hunter points out that "Count Fleet sired Count Turf (Derby) and Counterpoint (Belmont) in 1951. If you count filly classics, Man o' War also fits the bill as he sired American Flag (Belmont) and Florence Nightingale (CCA Oaks) in 1922 - his first crop. Further, both were rated champions or co-champions of their divisions." Steve Haskin also recounted the Count Fleet record in his recent Belmont Wrapup.