Following a week of intense activity at Royal Ascot, the international racing scene had a relatively quiet weekend, but it is possible a future star emerged in the shape of Grazen. The gray 3-year-old might have been making only his fourth lifetime start, but that didn't prevent him from dominating the Affirmed Handicap (gr. III) (VIDEO), leading throughout for an easy 2 3/4-length win while covering 8 1/2 furlongs of Hollywood Park's Cushion Track in a sharp 1:41.4. This was the second stakes win for Grazen, who had been unplaced in his only start at 2 but returned to break his maiden in the NTRA Stakes over 6 1/2 furlongs at Hollywood Park in late April. His only other outing saw him make all the running to take an allowance race May 23 over the Affirmed's course and distance.
Grazen was bred by his owner, Nick Alexander, from the Rubiano mare Hazen, whom he had claimed for $40,000 at Hollywood Park. She won four of her seven starts for him before losing her for $32,000 in her final start in the Alexander colors. She ran just once for her new connections, finishing third in a Bay Meadows claimer, and presumably Alexander reacquired her privately.
Hazen is just the sort of mare that often works well for a breeder on a budget: A look at her record shows a tough, hard-knocker who won eight of 30 starts for earnings of $200,188. She had sufficient class to earn black type with a second in the listed Las Madrinas Handicap and a third in the Sun City Handicap. Grazen is Hazen's second foal, the first being the winning Skimming filly Ruby Haze.

Hazen's dam, Kris' Dear Deby, was a pretty fair template for her daughter: although she never gained black type, she racked up earnings of $232,815, winning 11 races from 2 to 5. A daughter of Kris S., Kris' Dear Deby was a sister to the minor stakes winner Our Dear Krissy, and half-sister to Hold On Deby, a stakes-placed daughter of Hold Your Peace who subsequently produced two stakes winners, the better of whom, Pillaring, captured the Orange County Derby and took second in the Norfolk Stakes (gr. I) and Del Mar Futurity (gr. II).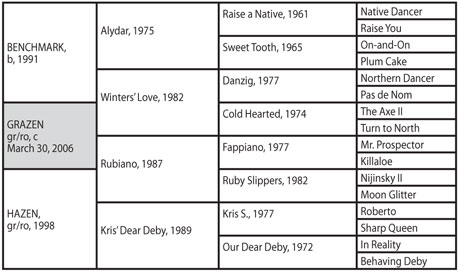 Hazen's granddam, Our Dear Deby, was a daughter of In Reality, also the sire of the granddam of Rubiano, giving Hazen a 4 x 3 duplication of that horse. Our Dear Deby failed to win in four starts but had a good pedigree. In addition to being by one of the leading stallions of the era, she was out of the talented juvenile Behaving Deby, winner of the Fashion, Rancocas, Polly Drummond, and Gulfstream Park Dinner Stakes, in her first season. The family is actually somewhat stronger than is immediately obvious from the first three dams. Our Dear Deby is a half-sister to the Petare mare Turbulent Miss. She was only stakes-placed and produced two minor stakes winners, but she established a very successful family. To the cover of Kris S., her stakes-winning daughter Untamed Spirit produced Haunting(making her a very close relative to the granddam of Grazen), winner of the Rare Treat Handicap (gr. III) and placer in several other stakes, including a second in the Top Flight Handicap (gr. I), . Untamed Spirit is also the granddam of several stakes winners, including Eishin Dover (by Victory Gallop), a major stakes winner in Japan. Another daughter of Turbulent Miss, the imaginatively named My Turbulent Miss, also visited Kris S., producing Prized (who defeated Sunday Silence in the Swaps Stakes (gr. II), and who took several other major contests, including the Breeders' Cup Turf and San Luis Rey Stakes (both gr. IT)), Japanese graded scorer Machikane Allegro and graded stakes-placed Turbulent.
Grazen's sire, Benchmark, stands at River Edge Farm in California. A son of Alydar, Benchmark is half-brother to Tranquility Lake, winner of the Yellow Ribbon Stakes and Gamely Breeders' Cup Handicap (both gr. IT). His dam, Winters' Love, is a graded stakes-placed daughter of Danzig and a half-sister to Belmont Stakes (gr. I) victor Caveat.
Benchmark didn't run until he was 3 and didn't win until the age 4. He reached his peak as a 6-year-old when he pulled off a hat trick of graded stakes victories, taking the Goodwood Breeders' Cup Handicap, Del Mar Breeders' Cup Handicap, and San Bernardino Handicap (all gr. II). He finally retired to stud at the age of 8.
Alydar sired some very good colts – Horses of the Year Alysheba and Criminal Type; champion older horse Turkoman; champion 2-year-old and classic winner Easy Goer; Kentucky Derby (gr. I) victor Strike the Gold; and undefeated grade I-winning 2-year-old Saratoga Six – all, however, disappointed in varying degrees as stallions, and relative to opportunity, one would have to say that Benchmark has been his most successful son.
Benchmark made a very bright start: His first crop of 47 foals producied five stakes winners, headed by A to the Z, winner of the Mervin H. Muniz Memorial Handicap (gr. IIT) and runner-up in the Citation Handicap (gr. IT); the Golden Gate Derby (gr. III) victor Standard Setter; and the Padua Stables Sprint victor Red Warrior. Benchmark has continued to sire stakes winners in every crop, and his total now stands at 23, among them Brother Derek, who took the Santa Anita Derby and Hollywood Futurity (both gr. I), and will bid to extend the Alydar line from Airdrie Stud in Kentucky, where he is just completing his first season; Idiot Proof, successful in the Ancient Title Stakes (gr. I) and runner-up in the Gulf News Dubai Golden Shaheen (UAE-I) and TVG Breeders' Cup Sprint (gr. I); Silent Sighs, heroine of the Santa Anita Oaks (gr. I); and Milady Breeders' Cup Handicap (gr. II) winner Proposed.
Rated A+ by TrueNicks, Grazen has pedigree similarities to a number of other good winners by his sire. He's the fourth stakes winner for Benchmark sired on the Alydar/Mr. Prospector cross. Alydar and Mr. Prospector are Raise a Native sons with similar genetic backgrounds and often combine in the pedigrees of major stakes winners. Alydar's dam also is bred on similar lines to the dam of Roberto (who appears in the distaff side of Grazen's pedigree), with Nasrullah, Bull Lea, and Blue Larkspur all prominent. Grazen is also line-bred to The Axe II, which along with the double of In Reality in his dam creates a pattern also seen in Relaunch -- and that horse appears in six Benchmark stakes winners, including grade I scorers Brother Derek, Idiot Proof, and Silent Sighs.