Between the brilliant Sea the Stars (IRE), undefeated Stacelita (FR), powerful Dubai Duty Free Irish Derby (Ire-I) winner Fame and Glory (GB), and the fleet milers Mastercraftsman (IRE) and Ghanaati, Europe appears to be blessed with an embarrassment of riches in the 3-year-old division. As if those were not enough, the Old World's treasure trove has turned up another jewel in Lady Bamford's homebred Sariska (GB), who added a galloping score in the Darley Irish Oaks (Ire-I) to her game victory in the Investec Epsom Oaks (Eng-I).
As blue as Lady Bamford's blood may be, it is no bluer than that of Sariska, who can trace her lineage back to one of the great matrons of the Thoroughbred. Selene (GB), a foal of 1919, was so small that George Lambton, trainer for the seventeenth Earl of Derby, made no engagements for her in the English Classics. He was to regret his mistake, for after winning 16 of her 22 starts at 2 and 3, Selene was widely regarded as the best filly of her crop.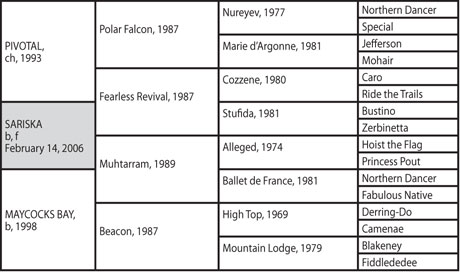 Selene was an even better broodmare than she was a racer, producing no less than four first-rate sire sons. One, Hunter's Moon (GB) (by Hurry On (GB)) made his reputation in South America, but the others are well known to Northern Hemisphere breeders: Hyperion (GB) (by Gainsborough (GB)), a six-time champion sire in England, and the full brothers Sickle and Pharamond II, both by Phalaris (GB) and both influential sires in the United States.
Selene's daughters were not as distinguished as her sons, but they were not without merit in their own right. The most important among them is All Moonshine, whose pedigree is similar to that of Hyperion as her sire, Bobsleigh (GB), was sired by Gainsborough. If not a feminine equivalent of Hyperion as a producer, All Moonshine still did well in the paddocks, her produce including Mossborough (GB). Just below Classic standard as a racer, Mossborough was the leading English sire of 1958.
All Moonshine also produced the Blue Peter (GB) mare Eyewash (GB), winner of the 1949 Lancashire Oaks, and stakes-placed All My Eye, by My Babu. The latter filly was imported to the United States and became the ancestress of multiple grade I winner Variety Road (by Kennedy Road) and of Sir Tristram, a son of Sir Ivor who atoned for a modest race record and less than ideal conformation by becoming a champion sire in Australia (six times) and New Zealand. Sir Tristram's success in the Antipodes was not unprecedented for the family, which had previously been represented by Sabaean (GB) (Blue Peter (GB)–Moon Priestess (GB), by Dastur (GB)–Selene), sire of a number of high-class runners in New Zealand.
Eyewash produced the stakes-winning fillies Collyria (GB), Varinia, Amfissa, and Sijui. But her previous successes did not keep her from being given away at age 21 while in foal to Acropolis (GB). The resulting filly, Fiddlededee (GB), proved good enough to run third in the important Park Hill Stakes as a 3-year-old in 1970. As a broodmare, she did better still, producing 1983 Jefferson Smurfit Memorial Irish St. Leger (Ire-I) winner Mountain Lodge (GB) to the cover of Blakeney (GB).
A smallish filly whose strong suit was pure stamina, Mountain Lodge was mated to 1972 Two Thousand Guineas winner High Top (GB) in 1986, perhaps in hopes of getting both more speed and more size in the resulting foal. High Top, however, had already proven more an influence for stamina than speed as a sire, and the resulting filly, Beacon (GB), never raced, making the goals of the mating moot.
Muhtarram, a son of Alleged, had shown top-class form over 10 furlongs during his racing career, but if his speed over intermediate distances was why he was chosen as a mate for Beacon in 1997, it did not come through in the resulting filly. Maycocks Bay (GB) won two of her 17 starts, including the Fosters' Silver Cup Rated Stakes, but was far from a top-class runner.
By this time, the female line had no shortage of stamina and appeared to be crying out for an injection of high-class speed. It got just that when Maycocks Bay was sent to Pivotal (GB) in 2005. A son of the Nureyev horse Polar Falcon, Pivotal proved a top sprinter at 3, when he scorched home first in the King's Stand Stakes (Eng-II) at Royal Ascot and the Nunthorpe Stakes (Eng-I) at York. But though he showed his best form at five furlongs, his pedigree suggests that at least a mile should not have been outside his scope, given that his first two damsires are Cozzene and 1974 St. Leger Stakes (Eng-I) winner Bustino (GB). His stallion career has reflected the versatility suggested by his pedigree. Currently fifth on the European general sire list, Pivotal has been represented by seven stakes winners so far in 2009 at distances ranging from sprints to 12 furlongs. Aside from Sariska, his best this year has been Virtual (GB), winner of the one-mile Juddmonte Lockinge Stakes (Eng-I).
Like many of her ancestors, Sariska appears to have stamina to spare and probably benefitted from the heavy going at the Curragh on Oaks Day, but she has demonstrated heart and the ability to unleash a powerful move as well. Should she demonstrate the same form against older females in her most likely next start, the Yorkshire Oaks (Eng-I), she will have to be considered a major player on the European stage – and possibly the world's – during the remainder of the year.