After watching the way Funny Moon stormed down the stretch in the 10-furlong Coaching Club American Oaks (gr. I), one would have to think that the filly's owner, Mrs. C. Wilson McNeely III, is wishing that there were more distance races available for 3-year-old fillies. Not only did Funny Moon appear to relish every inch of the distance, but her breeding suggests that even more distance would be right up her alley.
Bred by Mr. and Mrs. Gerald J. Stautberg, Funny Moon is a daughter of Malibu Moon , arguably A.P. Indy's best son at stud save for Pulpit. After starting his stud career at Country Life Farm in Maryland for a modest stud fee of $3,000, Malibu Moon now stands for $40,000 at Kentucky's venerable Spendthrift Farm, having moved there last year from Castleton Lyons. The reason for this rise is success: from his first six crops of racing age, Malibu Moon has sired 37 stakes winners, including 2004 champion juvenile male Declan's Moon and Princess Rooney Handicap (gr. I) winner Malibu Mint.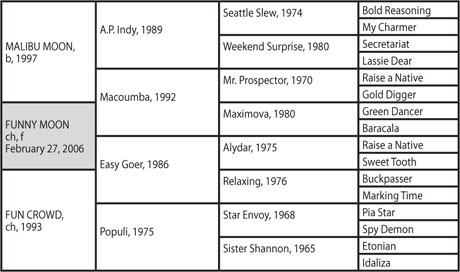 Malibu Moon might well have started his stud career at a higher fee had he not had a regrettably brief racing career of just two starts. He showed plenty of speed, though, spinning off his maiden victory in a quick :57.41 for five furlongs at Hollywood Park. That sort of early foot is probably the legacy of his female line; his dam, the Mr. Prospector mare Macoumba, was one of the best French-raced juvenile fillies of 1994, winning the Prix Marcel Boussac Criterium des Pouliches (Fr-I).
Macoumba is one of five stakes winners produced by the Green Dancer mare Maximova (FR), also a group I-winning juvenile. The best of the others is Septieme Ciel, who is closely related to Malibu Moon as he is by Seattle Slew, sire of A.P. Indy. A group II winner at 2, Septieme Ciel trained on to take the 1,400-meter Prix de la Foret (Fr-I) at 3; he also finished second to 1990 champion turf male Itsallgreektome in the nine-furlong Hollywood Derby (gr. IT). Septieme Ciel has had a modest stud career, having sired 32 stakes winners from 690 foals of racing age according to The Jockey Club. He currently stands at Dairy House Stud in England.
A half-sister to French group winners Vilikaia and Navratilovna (both by Nureyev), Maximova is out of the Swaps mare Baracala, a half-sister to 1974 Two Thousand Guineas (Eng-I) winner Nonoalco (by Nearctic). For the most part, the best representatives of this line have been milers, and this might well have proven Malibu Moon's best trip had he stayed racing sound. A.P. Indy has been one of the most reliable sources of stamina in the modern American market, however, and that might have given Malibu Moon a little more staying power. Then again, perhaps not: the average winning distance for Malibu Moon's progeny has been 6.94 furlongs, well shy of the 8.25 furlong average winning distance for A.P. Indy's get. Even allowing for the fact that Malibu Moon has not seen as many classically-oriented mares as his sire, his record seems to suggest speed as his trump card.
Miler speed over stoutness has been a classic formula in American breeding, however, and any shortfall of stamina from Malibu Moon's side is more than amply compensated for in Funny Moon's dam, Fun Crowd. A daughter of 1989 Belmont Stakes (gr. I) winner Easy Goer, Fun Crowd is a half-sister to 1985 champion older male Vanlandingham (by Cox's Ridge), a multiple grade I winner at distances from 10 to 12 furlongs. As if that were not credentials enough regarding stamina, the dam of Fun Crowd and Vanlandingham, Populi, is a Star Envoy half-sister to 1980 Belmont Stakes winner Temperence Hill.
Funny Moon is one more reason to regret the early loss of Easy Goer, who combined blistering speed over a mile with thoroughly genuine stamina. Although his stud career was hampered by a tendency to pass on his own questionable forelegs, the son of Alydar and 1981 champion older female Relaxing (by Buckpasser) sired some first-rate individuals nonetheless, his nine stakes winners from 136 foals being headed by multiple grade I winners My Flag and Will's Way.
Only 8 when he died, Easy Goer left behind just 53 producing daughters. Too few in numbers to rank their sire high on the broodmare sire lists, they have nonetheless compiled a solid record. From 325 foals of racing age, they have produced 21 stakes winners, including 2002 champion juvenile filly Storm Flag Flying and grade/group I winners Magical Fantasy, Monba, Corinthian, Astronomer Royal, and, of course, Funny Moon. Given Easy Goer's own superb pedigree and the quality of mates he received during his four seasons at Claiborne, there is every reason to believe that he would have made an even more significant contribution as a broodmare sire had be lived longer.
Funny Moon is similarly bred to Corinthian and to multiple graded winner Parading, who are by Pulpit out of a daughter and a granddaughter of Easy Goer, respectively. The good results are not surprising, given the affinity that A.P. Indy and his sons have shown for mares returning Buckpasser: 27 graded or group stakes winners have resulted from this pattern so far, with the most effective single cross being that of A.P. Indy to daughters of Seeking the Gold. Similarly bred to Easy Goer, as he is by a son of Raise a Native (Mr. Prospector) out of a daughter of Buckpasser, Seeking the Gold is the maternal grandsire of 54 of A.P. Indy's foals of racing age; eight of those foals (14.8%) have become stakes winners, and five of those are graded/group winners, including 2007 Hopeful Stakes (gr. I) winner Majestic Warrior.
Given the stoutness of her female family and her own demonstrated stamina, Funny Moon should do very well with matings to miler speed when her time comes to pass on her heritage. In the meantime, here's hoping that more conquests – and, perhaps, a meeting with the brilliant Rachel Alexandra – lie in her future.