In America, the time-honored pattern for breeding top horses has been miler speed over stamina in the female family. In Europe, however, the pattern has often been reversed, with stamina coming through the sire and speed through the dam. Granted, the European pattern often seems to need two or even three crosses of stoutness over speed to infuse enough stamina into a speed-oriented female line to contend at distances over a mile. Nonetheless, it can work, and work well. Nor have such successes been confined to Europe.
Consider Bullsbay , recent winner of the Whitney Handicap (gr. I) for Mitchell Ranch LLC. Although he has taken some time finding his best form, the strapping bay son of Tiznow is having his best season yet as a 5-year-old, having won the Harrison E. Johnson Memorial Handicap and the Alysheba Stakes (gr. III) earlier this year. There is no question about where he gets the stamina to stay nine furlongs with authority; his sire was a two-time Breeders' Cup Classic (gr. I) winner over 10 furlongs and likely could have gone further had he been asked to do so.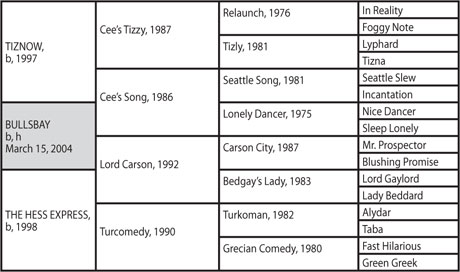 Now the sire of 21 stakes winners from his first four crops, Tiznow has plenty of staying power on both sides of his pedigree by American standards. His sire, Cee's Tizzy, stayed well enough to finish a decent third behind Home At Last and Unbridled in the 1990 Super Derby (gr. I), then at 10 furlongs, before being forced into retirement by injury. The next stallion in the male line, Relaunch, was a grade III winner at eight and nine furlongs but could carry his speed much further, forcing the great John Henry to tie a world record for 12 furlongs on turf in the 1980 San Luis Rey Stakes (gr. I). Through his dam, Cee's Tizzy is a grandson of Lyphard, who proved a notable influence for class and stamina during a long career at stud.
On the distaff side, Tiznow is a maternal grandson of Seattle Song, who scored his biggest win in the 12-furlong Washington, D.C. International Stakes (gr. IT) as a 3-year-old in 1984. A son of Seattle Slew, Seattle Song is out of a daughter of Prince Blessed, a winner of the 10-furlong Hollywood Gold Cup. (The dam of Prince Blessed, Dog Blessed, was apparently one of those mares who throw according to the dominant influence of their mates, for while a mating to Princequillo (IRE) produced Prince Blessed, a mating to the speedy Olympia produced Decathlon, a two-time champion sprinter.)
Tiznow never won over distances less than a mile, nor did he mature quickly, reaching top form late in his 3-year-old season. Not surprisingly, his progeny have reflected his own proclivities. Only 44 of his 453 foals of racing age have been winners at 2, and only three of those have been stakes winners, though two of those – champion juvenile filly Folklore and grade II winner Tiz Wonderful – were very nice runners by anyone's standard. Neither Folklore nor Tiz Wonderful were able to train on at 3, however, both falling victim to injury early in their sophomore seasons, and in general, the Tiznows have been better with time to mature. Some have been determined front runners, generally best at about a mile, but the ones that have been willing to rate have usually been more effective with a bit more distance.
Not unnaturally, Tiznow has been bred to a good many mares with more of an orientation towards speed than he had himself. Among them is The Hess Express, who produced Bullsbay for breeder Brad Anderson. Stakes-placed in listed events at 2 and 3, The Hess Express was a consistent sprinter who scored five wins and five placings from 13 starts.
Sired by 1996 Boojum Handicap (gr. II) winner Lord Carson (by the good speed sire Carson City), The Hess Express is out of Turcomedy (by Turkoman), who placed in three stakes as a juvenile. More precocious and speedy than most of Turkoman's progeny, Turcomedy took more after her dam, the Fast Hilarious mare Grecian Comedy. With an average stakes-winning distance of about six furlongs, Grecian Comedy was a confirmed sprinter but a good one, racking up a dozen stakes wins at ages 2 to 4.
Although his stamina did not emerge in Turcomedy's racing form, Turkoman may well have been a key to the favorable blending of this quick female line with Tiznow. A big, rugged son of Alydar who scored both his grade I wins over 10 furlongs, Turkoman shares some interesting pedigree elements with Seattle Slew and seems to have an affinity for that stallion, as pointed out by Alan Porter in an earlier column. Both stallions' maternal grandsires are by Round Table out of mares by Nasrullah, and both stallions are sired by horses combining the Nasrullah and Polynesian male lines, though Alydar (Polynesian over Nasrullah) reverses the combination found in Seattle Slew's background. In addition, Alydar and Bold Reasoning, sire of Seattle Slew, share lines of Discovery, Blue Larkspur, John P. Grier, Ultimus, Man o' War, and multiple strains of Teddy, meaning that their pedigrees overlap through many high-class bloodlines.
Bullsbay is the second grade I winner produced by crossing a mare carrying Turkoman to Tiznow; the first, of course, is Colonel John, whose dam, Sweet Damsel, is a daughter of Turkoman. In addition, the cross has produced grade I-placed Mr. Hot Stuff (a full brother to Colonel John), so given the tiny number of foals produced by crossing Tiznow to Turkoman daughters and granddaughters, these results are most encouraging.
In any event, Bullsbay has now shown that on the right day, he can be a dangerous horse. The next few months will tell whether his Whitney performance marks the peak of a lifetime or the emergence of a new star.