The 2009 National Museum of Racing and Hall of Fame inductions, held on Aug. 14, came together like a great American tapestry, highlighted by the irrepressible Bob Baffert, who rose from the Quarter Horse ranks in and around his hometown of Nogales, Ariz., to become one of the top big-money Thoroughbred trainers of all time and winner of eight Triple Crown races; his star filly, Silverbulletday, winner of 13 graded stakes, whom Baffert purchased as a yearling for his good friend Mike Pegram; and Tiznow, the California-bred from obscure parents who singlehandedly repulsed back-to-back European invasions of the Breeders' Cup Classic (gr. I) in dramatic fashion.
Also honored were "Steady" Eddie Maple, who won 4,398 races over a 34-year career; Janet Elliot, the first woman trainer to be inducted into the Hall of Fame; and jumper Ben Nevis II, winner of England's grueling Grand National.
When such an eclectic cast of characters, all five with their own special story, share their sport's most distinguished honor in front of family and friends, it is sure to inspire a wide gamut of emotions.
While some people wear their heart on their sleeve, Baffert, like the quintessential showman, usually keeps his heart concealed, shielded by quips, jokes, and other comments that some may find outrageous. But on this occasion, he knew well in advance that his defenses would crumble as soon as he stepped up to the podium at the Humphrey S. Finney Pavilion in Saratoga Springs, N.Y., and saw his mother and father in the audience. With his brothers and sisters and longtime friends also in attendance, Baffert tried his best to hold his emotions in check. He failed miserably.
On three separate occasions, Baffert was unable to speak, once after looking out at his daughter, Savannah, who was in tears.
"I still can't believe I'm here," Baffert said. "It didn't hit me until I arrived in Saratoga and saw this pavilion. That's when it hit me, and I thought, 'I don't know how I'm going to get through this.'"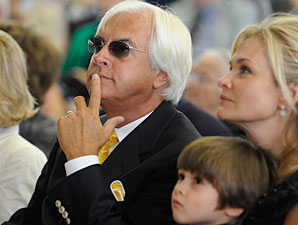 Bob Baffert watches the Hall of Fame ceremonies. Photo by Skip Dickstein.
Baffert talked about shadowing his father, Bill, who would pick him up at school and take him to ride in match races. They had to make a pact, however.
"I'd tell him, 'Dad, if you don't tell Mom about me riding I won't tell her about you drinking beer,'" Baffert recalled.
He then addressed his mother, Ellie, whom he called the backbone of the family:
"She used to say, 'I didn't send you to college for six years to train horses.' So, Mom, I hope this day makes up for all the years worrying about me."
What made the day even more special for Baffert was being inducted along with Silverbulletday, who was represented by owner Mike Pegram. It was Pegram who convinced Baffert to leave Quarter Horse racing and try Thoroughbreds.
"I wouldn't be here if not for one man – Bobby," Pegram said. "We've had a lot of fun and lot of wins, and to be here with my pal is as good as it gets. Silverbulletday took us on a magic carpet ride – 10 tracks in 26 months. And now, she's one of the greatest fillies of all time."
Another popular inductee was Eddie Maple, who has waited years for this moment to finally come.
"The first time I was nominated was in 1992," he said. "I didn't get in that year. Then, two years came and went, then three, four, five, and six. Everyone told me the seventh is the charm, and they were right."
Pamela Ziebarth, daughter of the late Cecilia Straub Rubens, represented Tiznow. Her mother had put up $360,000 to supplement Tiznow to the 2000 Breeders' Cup Classic. Three days after the colt's victory, she passed away, losing her battle to cancer.
"Nothing was more gratifying than to have my mother witness Tiznow's first Breeders' Cup win," Ziebarth said. "He was a special gift to my mother and not a day goes by that I don't think of her and Tiznow and the great times we all shared."
Two steeplechase legends were also inducted – Ben Nevis II and trainer Janet Elliot.
"It was such a thrill watching Ben win the Grand National," said Ann Stewart, daughter of owner Redmond Stewart. "That race was the supreme challenge, and it had rained for almost a month leading up to the race and they had the deepest course ever. And there was Ben show jumping around there to win by 20 lengths, never even leaving a hoofprint. That was a life-altering experience."
Elliot, from Cobh in County Cork, Ireland, was introduced by her mentor Jonathan Sheppard. "This is an honor beyond my wildest dreams," she said. "I've always loved animals, and have always had a passion for horses, but I had no idea it would be my life. I came to America and soaked in all I could from Jonathan Sheppard. When I started training on my own I had no idea what an adventure it would be."