By Alan Porter
What's going on with the fillies this year? We've seen Rachel Alexandra in several wide-margin romps. Then, Careless Jewel gave a pretty good imitation of Rachel August 22 when demolishing her Alabama Stakes (gr. I) opponents by 11 lengths. Now we have Icon Project, who has delivered near 14 lengths drubbings to the opposition in June's New York Stakes (gr. III) and again August 30 in the Personal Ensign Stakes (gr. I).
One factor might be stamina. These days, relatively few horses are bred to go a route, and Rachel Alexandra, Careless Jewel, and Icon Project are by stallions that either possessed considerable stamina (within the somewhat narrow North American confines of that definition) and/or have staying backgrounds. Rachel Alexandra's sire, Medaglia d'Oro , was a close second in the Belmont Stakes (gr. I) and won the Travers Stakes (gr. I) at 10 furlongs. His sire, El Prado (IRE), is by Sadler's Wells, who was Europe's dominant source of classic stamina for more than a decade, out of a mare by Epsom Derby winner Sir Ivor.
Careless Jewel is by Tapit -- like Medaglia d'Oro, one of this year's tremendous group of second-crop sires -- who ran only six times, but won the Wood Memorial Stakes (gr. I) at nine furlongs. Tapit is by Pulpit, a son of Belmont winner A.P. Indy, and is out of a mare by Kentucky Derby and Breeders' Cup Classic (both gr. I) winner Unbridled, with a second dam by English Derby winner Nijinsky II (who is doubled 5 x 3 in his pedigree).
Icon Project is a member of the first crop of Empire Maker , who won the Belmont Stakes and who is by Unbridled, out of a mare by Joe McGrath Irish Sweeps Derby (Ire-I) winner El Gran Senor. The Unbridled line also tallied in the other "route" grade I of the weekend, as the Shadwell Travers Stakes (gr. I) fell to Summer Bird. He therefore emulated his sire, Birdstone -- another second-crop stallion -- as a winner of the Belmont and Travers Stakes, and of course Birdstone is by Unbridled's Kentucky Derby-winning son Grindstone. That Unbridled, who is by Fappiano -- a brilliant miler son of Mr. Prospector – should establish the branch of the Mr. Prospector line most associated with classic distance performance fits the pattern we see above, that of the impact of European classic influences on dirt racing. Unbridled came from a Tartan Farm/Genter background, and his granddam was by In Reality, out of a half-sister to Dr. Fager, who appears in Unbridled's pedigree as the broodmare sire of Fappiano. However, his broodmare sire, Le Fabuleux, was a stoutly-bred European import who gained his most prestigious victory in the Prix du Jockey Club, then run at the European classic distance of 1 1/2 miles.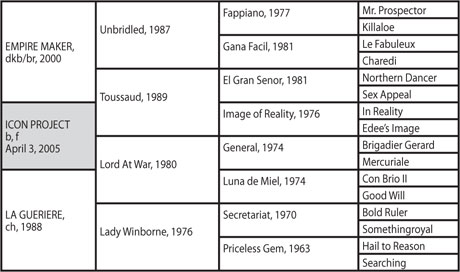 The presence of El Gran Senor and Le Fabuleux close up in his pedigree might also have something to do with the fact the Empire Makers are showing quite a lot of versatility for track surface. Icon Project made her first eight starts on turf, winning twice and taking third in the La Prevoyante Handicap (gr. IIIT) on that surface. Her debut on the dirt came when the New York Stakes was rained off the turf, and destroyed the opposition in there. Her only other start between that race and the Personal Ensign saw her take second in the Delaware Handicap (gr. II).
Another member of Empire Maker's first crop, Acoma, broke her maiden on the all-weather, and has two graded wins on dirt and three on turf, switching back and forth between the two surfaces with no apparent problem.
Icon Project and Acoma are two of the eight stakes winners to emerge so far from the first crop of Empire Maker. The others include the Darley Alcibiades Stakes and Hollywood Starlet Stakes (both gr. I) victress Country Star, and Mushka, who took the Demoiselle Stakes (gr. II) and is graded-placed three times on turf. Empire Maker already has three stakes winners from his second crop, headed by Pioneerof the Nile , who established himself as one of the best of his crop with wins in the Santa Anita Derby and Cashcall Futurity (both gr. I), Robert B. Lewis Stakes and San Felipe Stakes (both gr. II), and a second in the Kentucky Derby. His second-crop filly Charity Belle recently took the Darley Prix de la Nonette (Fr-III) at Deauville.
Icon Project and Pioneerof the Nile have more in common than their sire and records that shows top-class performances on more than one surface, as both are out of mares by Lord At War (ARG) (in fact, they are the only starters for Empire Maker out of mares by Lord At War, so the cross is two-for-two in grade I winners-to-starters). Lord At War, a champion miler in Argentina, won five graded stakes in the U.S., including the San Antonio and Santa Anita Handicaps (both gr. I). He actually continues the European classic theme, as he's by a son of the great English runner Brigadier Gerard (GB), out of a mare by a son of other European immortal Ribot.
We'd have to note that the dams of Icon Project and Pioneerof the Nile were also very capable runners with quality pedigrees, so the class factor can't be overlooked here. Icon Project's dam La Gueriere herself was a talented turf runner, winning the Queen Elizabeth II Challenge Cup (gr. IT), Bewitch Stakes (gr. IIIT), Valley View Stakes, and Audubon Oaks (the last on dirt). Her previous foals include Lasting Approval, a With Approval son who gained graded victories in Oak Tree Derby (gr. IIT) and Maker's Mark Mile (gr. IIIT), and stakes-placed Warrior Song and Taiki Zillion. She's also granddam of Munnings, winner earlier this year of the Woody Stephens Stakes and Tom Fool Handicap (both gr. II), and a good third, despite appearing not to relish the sloppy track, in the recent NetJets King's Bishop Stakes (gr. I).
La Gueriere is a sister to Long War (graded-placed) and Lord of Warriors (group III winner in Hong Kong) and half-sister three other stakes winners, including grade I scorer Al Mamoon (by Believe It, a close relative to the granddam of Unbridled) and Lost Soldier, who subsequently earned fame as the sire of ill-fated champion sprinter Lost in the Fog. She is also a sister to the dam of multiple graded stakes winner Master Command, and when Lord At War was mated to a daughter of La Gueriere's half-sister Benguela, the result was another grade I winner, Honor in War. La Gueriere's dam, Lady Winborne, was group-placed while racing in Ireland, but her racing credentials pale in comparison to her pedigree. A daughter of Secretariat, she is a half-sister to Allez France, one of the most magnificent mares to race in Europe in the last century, and she is out of Priceless Gem, winner of the Frizette and Futurity Stakes (defeating Buckpasser in the latter). Priceless Gem is a sister to Arlington-Washington Lassie Stakes winner Admiring, and half-sister to multiple champion Affectionately. Searching, the dam of Priceless Gem, was a major stakes winner at 3, 4, 5, and 6 years of age, and is one of the legion of important runners and producers sired by War Admiral out of daughters of La Troienne. Empire Maker has three War Admiral/La Troienne crosses (through Busanda, dam of Buckpasser, who appears twice; and through Mr. Busher) and two crosses of Aspidistra, whose sire Better Self also combines La Troienne and War Admiral.