If the old saw is true that no one ever killed himself with a good 2-year-old in his barn, Hall of Fame trainer D. Wayne Lukas won't be calling Suicide Prevention any time soon. Fourth behind Sanford Stakes (gr. II) winner Backtalk in the colts' mutual debut June 11, Dublin returned the favor on Labor Day with a solid victory in the Three Chimneys Hopeful Stakes (gr. I).
Dublin, who races for Robert C. Baker and William L. Mack, has been considered a colt with a lot of promise from the get-go. From the first crop of 2005 champion 3-year-old male Afleet Alex , the muscular, long-striding colt was a $525,000 purchase at last year's Keeneland September sale, fetching more than four times the average for Afleet Alex's yearlings. The first stakes winner for his sire, Dublin is one of seven winners so far for Afleet Alex, who stands at Gainesway.
Given his own pedigree and racing performance, Afleet Alex's record as a sire should only improve as his first crop matures and gets a bit more distance to run. By multiple grade II winner Northern Afleet , a horse effective at up to nine furlongs, Afleet Alex was produced from Maggy Hawk, whose sire Hawkster set a new world record for 12 furlongs on turf in the 1989 Oak Tree Invitational (gr. IT). The second dam of Afleet Alex is Qualique, a daughter of 1969 champion turf horse Hawaii who won the nine-furlong Demoiselle Stakes (gr. I) as a juvenile in 1983 but was never able to run back to that form.
Afleet Alex was a good 2-year-old, winning the Hopeful Stakes and finishing second in the Bessemer Trust Breeders' Cup Juvenile (gr. I), but he was better still as a sophomore. Beaten only about a length for the prize in the 2005 Kentucky Derby (gr. I), in which he ran third behind longshots Giacomo and Closing Argument, he won the Preakness Stakes (gr. I) in dramatic fashion after nearly going to his knees at the top of the stretch in a collision with eventual second-place finisher Scrappy T. He was just as impressive if less dramatic in the Belmont Stakes (gr. I), coming home seven lengths on top, but never raced again after developing an area of necrotic bone in his left front cannon that failed to respond to treatment.
The distaff half of Dublin's pedigree is also reason to think he will be better with maturity. Bred by Peter E. Blum and Gerry Dilger, Dublin is the tenth foal but first stakes winner for the Storm Bird mare Classy Mirage, a tough sprinter-miler who highlighted her career with a win in the 1995 Ballerina Handicap (gr. I) as a 5-year-old. Her half-sister Missy's Mirage (by Stop the Music) also improved with age, winning the 1992 Hempstead and Shuvee Handicaps (both gr. I) as a 4-year-old.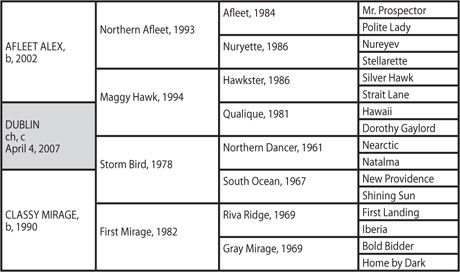 Produced from the unraced Riva Ridge mare First Mirage, Classy Mirage hails from the family of Sunday Evening (by Eight Thirty), a modern foundation mare whose family includes 1968 champion 3-year-old filly Dark Mirage, 1969 champion 2-year-old male Silent Screen, European champions Indian Skimmer and Bluebird, and leading second-crop sire Medaglia d'Oro , a multiple grade I winner who was just below championship class on the track. Classy Mirage, in fact, is closely related to Indian Skimmer, as both mares are daughters of Storm Bird out of daughters of the Bold Bidder mare Gray Mirage.
Winner of the 1972 Pinafore Stakes as a 3-year-old, Gray Mirage is one of three stakes winners produced from unraced Home by Dark (by Hill Prince–Sunday Evening), the best of which was the aforementioned Dark Mirage. Sadly, Dark Mirage dislocated a fetlock as a 4-year-old and eventually had to be euthanized, but Home by Dark also produced Dusky Evening, whose Nijinsky II filly Javamine became a multiple grade II winner before producing Java Gold. A handsome son of Key to the Mint who was plagued by bad feet, Java Gold nonetheless proved himself as one of the best colts of a very good crop, winning the Remsen Stakes (gr. I) as a juvenile, and three grade I races as a 3-year-old in 1987. Javamine also produced 1985 Doncaster Cup (Eng-III) winner Spicy Story to the cover of Blushing Groom (FR). Another daughter of Home by Dark, Timely Tammy (by Tim Tam), became the granddam of grade I winners Timely Writer (by Staff Writer) and Timely Assertion (by Assert (IRE)), both produced from her daughter Timely Roman (by Sette Bello).
Generally speaking, the family of Sunday Evening has tended to throw speed. Nonetheless, it has repeatedly demonstrated that it can produce horses capable of going classic distances when crossed with more stamina-oriented sires. It is now up to Dublin to prove himself a worthy heir of both sire and dam and demonstrate that he can go the distance with the speed he has already proven to possess.