By Scot T. Gillies
The first race on a Sunday card at Ontario's Fort Erie Race Track is an unlikely source of inspiration for a pedigree review, especially when that event is a maiden claiming contest for 3-year-olds and up. But the two horse, best by a length in that race September 13, was a local gelding making a small mark in history.
Jousting Prince is an unassuming chestnut gelding from a modest family that boasts only a smattering of black type in recent generations. In fact, one has to delve back 11 generations to find greatness in the direct female line, here in the shape of the classic English racemare Sceptre. Jousting Prince's own dam, Suzy Queen, was an unraced daughter of Rhythm, a Mr. Prospector stallion better known as a champion racehorse (with wins in the grade I Breeders' Cup Juvenile and Travers Stakes) than as a sire, although he did produce several group I winners in New Zealand during his shuttle career. The gelding's second dam is one of just 27 foals by the unknown Damascus son Jet to Damascus, and his third dam is by the similarly-obscure Dark Star stallion My Dad George.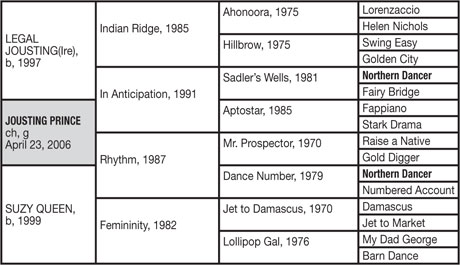 The small footnote of Jousting Prince's maiden win concerns his sire line. He is the first winner for the young sire Legal Jousting (IRE), who represents Kingsgate Stud in Ontario. In turn, Legal Jousting is a son of the group winner Indian Ridge (IRE), making him a rare representative of the Byerly Turk male line in North America.
In Europe, the Irish National Stud's Indian Ridge was the most prominent recent purveyor of the Byerly male line, and although he died in 2006 he did leave behind several sire sons throughout Europe. In a post on The Five-Cross Files blog at the end of 2008, I commented that "shy of a standout son or grandson of Indian Ridge (IRE) developing in the next few years, the line of Ahonoora and Djebel and Tourbillon and My Babu might have waned permanently." A sheaf of grey pages published annually in the back of The Blood-Horse Stallion Register helps to tell the tale: the most recent stallion directory's sire descent charts show no Byerly/Herod-line stallions of commercial note in the U.S. and Canada in 2009. It's necessary to refer to the 1995 edition to find the most recently advertised stallion (in that year, it was the New York stud My Memoirs, like Legal Jousting a grandson of Ahonoora). While Byerly's male line has not been overwhelmingly prominent any time in recent history, the same chart in the 1982 Stallion Register boasted no fewer than 22 active sires from four different branches of Tourbillon (the sixth-great-grandsire of Indian Ridge).
Whether it was a factor of male-line descent or other influences, stallions from Herod's lineage historically have tended towards late development, turf orientation, and a stayer's physique – traits that have become less desirable in Europe and completely objectionable in the States. Breeders seeking precocity and speed favored the early-developing lines of certain Eclipse male-line descendents; its Phalaris branch now dominates the breed, accounting for more than 90% of foals born each year.
Legal Jousting, a solid miler, was group-placed in Ireland and graded-placed in the U.S. Interestingly, his pedigree represents speed over stamina: His sire won group stakes from five furlongs to one mile and was a repeat winner as a juvenile; his dam broke her maiden as an older horse at 12 furlongs and a month later took her only other win, this time at 14 furlongs. In Anticipation (IRE) is a daughter of Sadler's Wells, whose progeny average winning distance is a spectacular 12.05 furlongs.
Kingsgate Stud owner Krista Kocot indicates that most of the interest in Legal Jousting has been because of Sadler's Wells as his damsire. She has found that many breeders have high regard for the son of Northern Dancer while being generally unfamiliar with Indian Ridge, despite his two Breeders' Cup Mile (gr. I) champions Domedriver (IRE) and Ridgewood Pearl (GB). Legal Jousting has had small books each breeding season. He is represented currently by his first crop of 3-year-olds: six named foals of which three are runners of 2009.
A single maiden win is not reason enough conclude that the Byerly sire line will return to any degree of prominence on this side of the Atlantic, much less whether Legal Jousting could become the line's savior in the New World. But that victory is an oddity, as Legal Jousting is the only Canadian sire tracing back to this line. Others south of the border are few. Ben's Ridge (GB) and Final Row (GB) in Texas are both lightly-bred sons of Indian Ridge with a few regional runners. French Seventyfive in Oklahoma is a 22-year-old stud who represents the Tourbillon branch through Ambiorix; his Thoroughbred progeny are often pointed towards off-track sporting campaigns.