When the books close on the 2009 yearling sales, another chapter will have come to an end. Storm Cat, a perennial leader among sales sires, is represented by his last full crop this year, and his departure from the commercial scene is an appropriate symbol of a Thoroughbred market in transition.
Now pensioned at his birthplace, Overbrook Farm, Storm Cat will live out his life in the familiar surroundings of his home, where he served his entire stud career. At his peak, he was North America's most expensive stallion, commanding $500,000 in 2002–2007. The reasons for that astronomical fee were manifold: two titles as leading sire, seven titles as leading juvenile sire, six titles as North America's leading sire of auction yearlings by sales average, and a reputation as a top sire of sires.
Like most stallions, Storm Cat began seeing declines in his production during his last years at stud. Even so, his overall numbers remain impressive. According to The Jockey Club, from 1,393 foals of racing age worldwide through Sept. 23, Storm Cat has sired 728 winners (52%) and 168 black-type stakes winners (12%), including 13 champions or divisional highweights. Only a few active sires are in the same ballpark, with A.P. Indy, Distorted Humor , Dynaformer, and Lemon Drop Kid hovering near or above the 10% ratio of stakes winners to foals that historically has been considered the benchmark for a top stallion. Storm Cat is also showing strength as a broodmare sire, currently ranking eighth in that department; to date, his daughters have produced 111 stakes winners.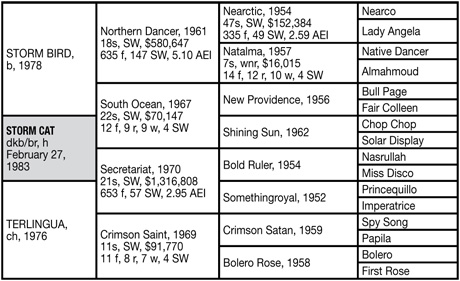 Storm Cat is represented this year by grade I winners Life Is Sweet and Mr. Sidney , and his auction numbers this year suggest that buyers still believe that the old boy can deliver the right stuff. With six days of the marathon Keeneland September yearling sale completed, Storm Cat leads all sires with three or more yearlings sold, averaging $427,500. That figure might seem low for the last available yearlings of a top sire, but the prolonged economic downturn has to be figured into the equation. Last year, when there were still hopes the recession might be short-lived, Storm Cat led the same sale with an average of $584,736. Two years earlier, towards the end of the last bull market, Storm Cat averaged $1,270,208 at the 2006 Keeneland September sale and was topped only by the final crop of Danzig at $1,465,833. At Storm Cat's peak in 2005, he averaged $1,763,750.
Storm Cat departs the scene at a time when the entire Thoroughbred market is contracting. Not only are prices down across the board at sales across the country, but as of September 9, 2009, The Jockey Club had received 8.2% fewer live foal reports than at the same time last year. Clearly, many breeders are either abandoning the game — at least for now — or are taking their more marginal mares out of production. While the latter move probably needed to be made anyway, the process of cutting back is still painful.
Like the market, Storm Cat's reputation has also undergone some revision. While his standing as a sire of winners, especially juveniles, is secure, his reputation as a sire of sires has diminished — understandably so, as very few stallions could live up to the level of hype that surrounded Storm Cat and his sons after a few initial successes.
This is not to call Storm Cat a failure as a sire of sires by any means. He has had a goodly number of sire sons that have enjoyed at least some level of success — names such as Forestry, Stormy Atlantic , Storm Boot, Forest Wildcat, Catienus, and Tabasco Cat all come to mind — and also has a number of other sons that have shown early promise. But none have truly established themselves as heirs to their sire's mantle, although Storm Cat does have two sons among the current top 10 sires.
Giant's Causeway , Storm Cat's best son as a racehorse, currently leads the general sire list by some $650,000 over second-place Tiznow . While he has repeatedly proven the ability to get a top-class runner, particularly on turf, he is not as consistent as was his sire. From 1,149 foals of racing age worldwide, he has sired just 457 winners (40%). Sixty-five of those winners are black-type stakes winners, which isn't bad, but his strike rate of 6% is only half that of Storm Cat, and this with substantially better early mates than Storm Cat enjoyed. Tale of the Cat , currently ninth on the general sire list and the sire of leading turf male contender Gio Ponti, has also been plagued by inconsistency, getting 648 winners (45%) and 59 stakes winners (4%) from 1,445 foals of racing age as recorded by The Jockey Club.
Still, hope springs eternal, and the interest shown in Storm Cat's final crop suggests, among other things, that buyers have not given up hope of finding a Storm Cat son who will be the equal of his sire as a stallion. John Ferguson went to $2.05 million on behalf of Sheikh Mohammed bin Rashid al Maktoum — the top price of the sale — for a handsome Storm Cat colt out of 2006 champion female Fleet Indian. Perhaps this colt, or one of the others from Storm Cat's final full crop, will be the one to take center stage as Storm Cat himself takes his final bows.