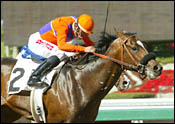 Empire Maker/Bobby Frankel; Unbridled-Toussaud, by El Gran Senor
Sometimes a horse does live up to his hype, and as a result, we finally have a standout Derby favorite. Talk about improving with blinkers. Didn't change leads until two strides from the wire, but still was a powerful force out there. Don't expect anything like this in the Wood.2--Atswhatimtalknbout/Ron Ellis; A.P. Indy-Lucinda K., by Red Ransom
With the progress he's shown with each race, he's right on target to peak on Derby Day. It wasn't so much the ground he made up on a bunch of longshots, it was the way he looked doing it, with long, fluid strides. Deep, drying out track was rough on closers, but he overcame that. Hard to find any flaws in him.3--Kafwain/Bob Baffert; Cherokee Run-Swazi's Moment, by Moment of Hope
He'll have his chance against Atswhatimtalknbout in the Santa Anita Derby. Many feel his move fizzles out the farther he goes, but the Louisiana Derby was merely a prep and he should be sharp and tight for the next one. He has the class, but the big question now is, does he have the natural talent and stamina to run with these rapidly improving colts. Baffert says he won't know the answer until he goes 1 1/8 miles.4--Peace Rules/Bobby Frankel; Jules-Hold to Fashion, by Hold Your Peace
Frankel had mentioned pointing for the Preakness, but is leaving the decision up to owner Edmund Gann. Questions are, did he return with too much of a bang, and will two starts be enough? Frankel wasn't crazy about his blistering speed figure first time out, so it will interesting to see how he trains him up to the Blue Grass Stakes, if he and Gann decide to go that route. Going 1 1/4 miles off only two starts, you'd like to see more stamina in his pedigree.5--Badge of Silver/Ronny Werner; Silver Deputy-Silveroo, by Silver Hawk
This colt has way too much talent to give up on him now. Werner said the myectomy went perfect and the horse is doing so good, he's thinking of moving his first work up ahead of schedule, in 3 or 4 days. Not only is the colt "hitting the ground super" and "sound as a dollar," but he's been aggressive in the feed tub, and after dropping from 1,070 pounds to 1,000 pounds after the Louisiana Derby, he weighed in at 1,086 this past Sunday.6--Brancusi/Patrick Biancone; Deputy Commander-Treize, by Alysheba
The feeling here is that he is a lot more than just a longshot who got lucky. Liked everything we saw in his third-place finish in the San Felipe. He's made tremendous strides in his last two races; love the way he moves, and love his pedigree. You have to remember, he was coming off a maiden race and still has a lot of room for improvement. Classic and stamina influences all through his pedigree.7--Domestic Dispute/Bob Baffert; Unbridled's Song-Majestical Moment, by Magesterial
The ability is there, but Baffert says he has to work on his mind. Got a bit too hot before the race and basically ran when he felt like it. Baffert said he gave bad instructions to Bailey and is confident the colt can rebound. Was close up early, dropped back, then rallied wide on the far turn. Raced erratically from the whip and when Logician was shoved into his path. Finished all on his own, with Bailey just sitting on him the final sixteenth, but still was beaten only 3 lengths. Deserves another shot, but needs to get his act together quickly.8--Indy Dancer/Todd Pletcher; A.P. Indy-Dance With Grace, by Mr. Prospector
Pletcher had toyed with the idea of training him up to the Derby, but now will likely run him in the Wood Memorial, with the Blue Grass as an alternative. He also will try blinkers in an attempt to keep the colt at least within telescopic view of the field. But most important, he was impressed with the amount of ground he made up on everyone but the winner in the Florida Derby. There is no doubt the talent is there, but he does have to find a way to stay close enough to the pack to give himself a chance to win.9--Buddy Gil/Jeff Mullins; Eastern Echo-Really Rising, by For Really
He went into the San Felipe razor sharp, coming off the 6 1/2-furlong Baldwin Stakes on the turf and a :57 4/5 work. Showed a lot of grit and determination coming between horses and getting bumped around pretty good. It's difficult to get a real good gauge on his true ability. Didn't handle the wet tracks at Golden Gate, but obviously had no problem with the drying out track on Sunday. His pedigree seems to be geared more for 1 1/8 miles, but 1 1/4 miles certainly is within his scope. 10--Lion Tamer/Todd Pletcher; Will's Way-Tippecanoe Creek, by Olympio
His ranking is based purely on his raw talent. And he's going to need every ounce of it and then some to go into the Kentucky Derby off one two-turn race and a six-week layoff. He's a lightly made colt, and Pletcher doesn't want to do too much with him, so it puts him in a difficult situation having to get him ready to go 1 1/4 miles on the first Saturday in May. Lane's End Stakes is not coming up strong, so he should run a big race, even stretching out from 7 furlongs to 1 1/8 miles. But, then it gets tough after that.11--Funny Cide/Barclay Tagg; Distorted Humor-Belle's Good Cide, by Slewacide
If he can give Empire Maker any sort of a tussle in the Wood Memorial, it'll send him on to Louisville. He has a lot more pedigree than most people think, but still needs to show what he can do coming from off the pace. The Wood is a perfect opportunity for Tagg to take him back and see how effective he is running that way. It's his only chance of turning this fast, talented horse into a Derby contender.12--Ocean Terrace /Bob Hess; Saint Ballado-Crystal River, by Black Tie Affair
Don't like the four lifetime starts going into the Derby, but he is undefeated and has to be respected for that. He's going to have to show an awful lot in the Santa Anita Derby to prove he's ready to tackle a mile and a quarter with so little foundation under him. What we do like a lot about him is the way he refuses to let horses get by him in the stretch.Continued...