By Alan Porter
Second-crop sire
Toccet
completed a most unusual double at the weekend when his his daughter
La Rocca
captured the British Columbia Oaks, and his son
Winning Machine
followed-up a day later by taking the British Columbia Derby (gr. III). Toccet had completed 2008 in twenty-first position on the first-crop sire table, but his runners have progressed this year, and following the weekend, he's vaulted into a position among the top-10 of his sire class.
While his runners have been generally showing improvement with age, Toccet himself earned most of his fame – and his purse money – during a stellar juvenile campaign. Bred by his owner Daniel Borislow (founder of discount long-distance phone service company Tel-Save (now Talk America), and inventer of the magicJack telecommunications device), Toccet was named for former Philadelphia Flyers' hockey player Rick Tocchet, although his name was misspelled on the Jockey Club name application.
Toccet was quick to demonstrate his potential, winning a seven-furlong maiden race at Laurel Park by 10 lengths on his second start. After adding an 8 1/2-length triumph in a Pimlico allowance race, Toccet took his win streak to three when defeating Icecoldbeeratreds by 1 1/2 lengths in the Champagne Stakes (gr. I). Unplaced behind
Vindication
in the Bessemer Trust Breeders' Cup Juvenile (gr. I), Toccet rebounded to end his juvenile season with campaign reminiscent of the stars of a much earlier era. In the space of five weeks he captured the Laurel Futurity (gr. III) by 6 1/4 lengths; the Remsen Stakes (gr. II), by 2 1/4 lengths (with
Empire Maker
back in third); and the Hollywood Futurity (gr. I), by a head over the subsequently disqualified Kafwain. Prior to the Hollywood Futurity,
Borislow
, who was never reticent when it came to promoting Toccet's abilities, gained a degree of notoriety by taking out a full page advert in the
Daily Racing Form
challenging Padua Stables, the owner of Vindication, to run against Toccet to decide the year's champion 2-year-old honors.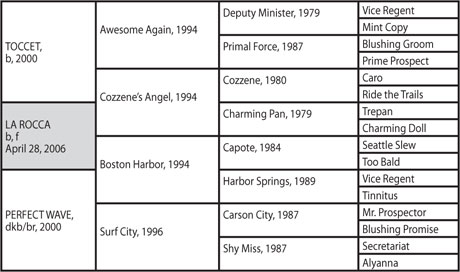 The stresses of Toccet's 2-year-old season may have come at a price, as remodeling to a right hind cannon bone sent him to the sidelines for most of his 3-year-old career. He reappeared in mid-August in the Widener Stakes at Philadelphia Park – a race written specifically for him as a prep for the Pennsylvania Derby (gr. III) – and tallied by a very comfortable half-length as a 1-10 shot. Two weeks later he returned in the Derby, but failed to handle a sloppy track, and finished off the board. The rest of Toccet's sophomore year resembled the end of his juvenile season in one respect: it was very busy. Unfortunately, it was also far less successful. Starting October 4, when he finished off the board in the Goodwood Breeders' Cup Handicap (gr. II), and finishing December 26, when he wound up eleventh in the Malibu Stakes (gr. I), Toccet ran five times. His other races were the John Deere Breeders' Cup Turf (gr. IT), in which he finished a distant eighth; the Hail Emperor Stakes, in which he missed by a nose; and the Cigar Mile (gr. I), where he finished third. Toccet did start his 4-year-old season with a good second in the San Fernando Breeders' Cup Stakes (gr. II), but subsequently it appeared that the efforts asked of him early in his career had taken their toll. He started seven more times, but only once, when second in an Allowance/Optional Claiming event at Saratoga, did he make the frame.
In November 2004, Toccet was offered at Fasig-Tipton's Kentucky fall mixed sale, and realized $3,350,000, the winning bidder being Castleton Lyons Farm. Retired at an advertised fee of $12,500, Toccet proved so popular at the start of his stud career that his asking price was bumped up to $15,000 in a matter of days.
Despite his exploits as a juvenile, Toccet did not have the pedigree of a precocious 2-year-old. His sire,
Awesome Again
, was unraced at 2, and although he won the Queen's Plate and Jim Dandy Stakes (gr. II) at 3, it was during his undefeated 4-year-old season – which culminated in a win in one of the most strongly-contested renewals of the Breeders' Cup Classic (gr. I) – that he really came into himself. Although he has sired Breeders' Cup Juvenile winner
Wilko
, Awesome Again's offspring have tended to improve with age.
Toccet's dam, the stakes-placed Cozzene's Angel, is by another later-maturing runner, the champion turf horse Cozzene. Toccet comes from a relatively unheralded branch of a family that traces to Frizette (best know as ancestress of Tourbillon (FR), Djeddah, and more recently Seattle Slew and Mr. Prospector), with second and third dams by Bold Ruler-line stallion Trepan (FR) and Don (ITY) (by Grey Sovereign (GB)). Toccet's fourth dam, Charming Friend (FR), has a rather interesting pedigree as both her sire and her dam go back to Frizette's daughter Princess Palatine. Founder of a branch of the family whose descendents also include Ferdinand, Elusive Quality, and Artie Schiller, Princess Palatine appears 6 x 5 in Charming Friend's pedigree.
Last year, 44 of Toccet's first crop made it to the races, with 15 of them winning. He wasn't represented by a 2-year-old stakes winner, but as his pedigree suggests his offspring have improved with age. Toccet now has 47 individual first-crop scorers, and La Rocca and Winning Machine are joined as stakes winners by Awesome Rhythm and Toccet to Me. Also in the crop are six stakes-placed horses including graded-placed Gretsky and Dubinsky. Toccet also has a 2009 juvenile stakes winner Toccet's Charm, who captured the Jamestown Stakes at the end of July.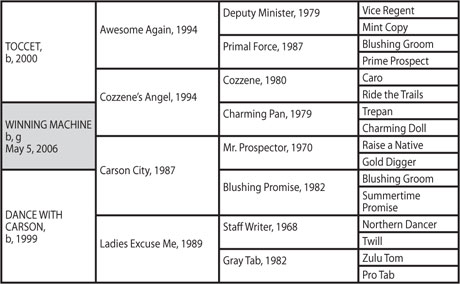 La Rocca was a $32,000 Fasig-Tipton Kentucky select yearling, but realized $310,000 when resold at the Ocala Breeders' Sales Company's selected sale of 2-year-olds in training. She didn't break her maiden until her fourth start, which came in a seven-furlong contest on Keeneland's all-weather surface in April, although she'd earlier been second in the Darley Ocala Breeders' Sale Championship Stakes. After her maiden win, she took second in the Little Silver Stakes, fourth in the Perfect Sting Stakes, and second in a Woodbine allowance. She broke through on her most recent outing prior to the British Columbia Oaks with a win in the Sonoma Handicap at Northlands Park.
While La Rocca was running stakes competition as early as her second outing, Winning Machine made a more humble beginning to his career. Three of his first four starts came in maiden claiming contests at Emerald Downs. After fairly modest showings in his first few efforts, Winning Machine suddenly came to life when entered to be claimed for $12,500, leading throughout to win by 9 3/4 lengths in 1:09.8. After this victory, Winning Machine ended the year with fourths in the WTBA Lads Stakes and a sprint allowance, and a third in the Gottstein Futurity. This year he has won four of his six starts, with additional stakes wins coming in the Tacoma Handicap and Emerald Downs Derby.
La Rocca (TrueNicks rated A++) is the second winner for her dam, Perfect Wave, a daughter of Boston Harbor who won twice in four starts.
Winning Machine (TrueNicks rated A) is also the second winner for his dam, Dance With Carson, a juvenile scorer by Carson City.
Sharp-eyed readers will have noted that Carson City appears as Winning Machine's damsire and as second damsire of La Rocca. It's not particularly surprising to see Carson City working here, as Toccet's sire, Awesome Again, is by a son of Vice Regent (by Northern Dancer) out of a mare by Blushing Groom (FR), with a second dam by Mr. Prospector. Carson City is a Mr. Prospector/Blushing Groom cross with a second dam by a son of Northern Dancer, and the dams of both Winnning Machine and La Rocca also reinforce the Northern Dancer. Of course Awesome Again and Carson City respectively sired two their most important runners,
Ghostzapper
and
City Zip
, out of the same mare, indicating similar affinities. On the basis of that evidence, one would also have to think that Ghostzapper will be well-suited by Carson City mares.