Breeders' Cup races often turn into East-versus-West showdowns, and this year's Grey Goose Breeders' Cup Juvenile (gr. I) seems likely to be another of the same. In the Eastern corner: Saratoga Special and Futurity Stakes (both gr. II) winner D'Funnybone, who may end up sharing the limelight as the East's top hopeful with the winner of the upcoming Champagne Stakes (gr. I) October 10. In the Western corner, one colt stands alone: undefeated Lookin At Lucky , who cemented his status as California's best with his win October 4 in the Norfolk Stakes (gr. I) at the same track and distance as the Juvenile.
A $475,000 Keeneland April 2-year-old-in-training purchase from breeder Gulf Coast Farms LLC, Lookin At Lucky has already more than repaid owners Karl Watson, Mike Pegram, and Paul Weitman with a bankroll that now stands at $483,000. He is the top runner this year for Lane's End stallion Smart Strike, who has been represented in 2009 by graded or group stakes winners in the United States, Canada, France, and Japan – nine all told, with wins on dirt, turf, and synthetics.
While Smart Strike is best known as the sire of two-time Horse of the Year Curlin , who lifted him to two titles as leading sire, he has been much more than a one-horse sire. To date, he has been credited with 69 stakes winners, including champions Soaring Free, English Channel , Eye of the Sphynx, Portcullis, Gold Strike, Added Edge, Dr Arbatach, and Silver Streaker. He has sired everything from top sprinters to turf stayers, mirroring the versatility shown by his sire, Mr. Prospector.
Whether Smart Strike will eventually match Mr. Prospector's total of 22 champions or highweights is open to question, given that he will be 18 when the breeding shed opens in 2010. But he has plenty of good ones in the pipeline, and if he takes after his sire in longevity as well as sire power, there will be plenty more good ones to come.
A plainer, less elegant individual than fellow Lane's End stallion Kingmambo – his chief rival for top honors among Mr. Prospector's later sons – Smart Strike lacks Kingmambo's sale appeal for European and Japanese buyers but yields nothing to any stallion out there in strength of pedigree. A grandson of the great Canadian broodmare No Class, he is out of Canadian champion 3-year-old filly and Canadian Broodmare of the Year Classy 'n Smart (by Smarten) and so a half-brother to Canadian Horse of the Year and Canadian Broodmare of the Year Dance Smartly (by Danzig). Like his close maternal relative Sky Classic (by Nijinsky II out of No Class), he tends to get a horse that performs better with maturity, but Lookin At Lucky's precocity is not unprecedented, as Smart Strike's son Square Eddie galloped off with last year's Lane's End Breeders' Futurity (gr. I).
Lookin At Lucky does not have quite the distaff pedigree of his sire, but then few horses do, and he hails from a more than respectable female line. A scion of the family of Rose Leaves (dam of five-time leading sire and four-time broodmare sire Bull Lea), he traces his lineage through the Northern Dancer mare Sleek Dancer. Herself unraced, Sleek Dancer produced three stakes winners, among them the Mr. Prospector filly Sue Babe, whose son Sir Harry Lewis (by Alleged) won the 1987 Budweiser Irish Derby (Ire-I). Another daughter of Sleek Dancer who distinguished herself in the paddocks was Sleek Belle (by Vaguely Noble), dam of four stakes winners, three of them by Mr. Prospector.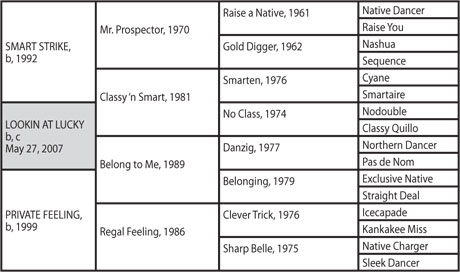 Sue Babe's stakes-winning full brother Northern Prospect proved a useful speed sire, but the best of Sleek Dancer's three stakes winners was Sharp Belle (by Native Charger), winner of the 1978 Monmouth Oaks (gr. I). Sharp Belle was not as good a producer as her half-sisters, however, and her best American runner from nine named foals was Regal Feeling (by Clever Trick), runner-up in the listed Bay Meadows Lassie Stakes.
Regal Feeling got off to a good start in her own broodmare career, producing 1995 Pucker Up Stakes (gr. IIIT) winner Grand Charmer (by Lord Avie, and later the granddam of 2006 champion 3-year-old filly Wait a While) as her first foal. She never quite managed to live up to that standard during the rest of her time in the paddocks, but nine of her 10 named foals eventually proved winners, among them the Belong to Me filly Private Feeling, whose 2006 son Kensei (by Mr. Greeley) won this year's Dwyer and Jim Dandy Stakes (both gr. II).
Kensei, of course, reached the racetrack far too late to influence the decision to mate Private Feeling to Smart Strike, but the mating surely had some appealing aspects. Not only has this female line historically done well with Mr. Prospector, but the mating is a reverse combination of some of the same elements that produced Dance Smartly, uniting a granddaughter of Danzig with a son of Classy 'n' Smart. The fact that Dance Smartly produced Queen's Plate winners Scatter the Gold (2000) and Dancethruthedawn (2001) to the cover of Mr. Prospector also suggests a favorable combination of bloodlines – fortunate, perhaps, in coming up with a colt as good as Lookin At Lucky, but in Thoroughbred breeding, luck tends to strike where luck has been found before.