Ever since the Garden of Eden, it's been human nature to want to pass on blame — fast. But Adele Dilschneider and Claiborne Farm are happy exceptions to the rule; after watching their homebred 3-year-old colt Blame run down his elders October 31 in the Fayette Stakes (gr. II), they seem quite inclined to keep him.
Blame is a son of Claiborne Farm stallion Arch, who has as good a pedigree as any in the American Stud Book. The 1998 Super Derby (gr. I) winner is by Kris S., a stakes-winning son of Roberto who worked his way up from relatively modest beginnings in Florida to a position among the nation's leading sires by the time of his death in 2002. Produced from the Princequillo mare Sharp Queen, Kris S. sired 93 stakes winners from 863 foals, including champions Hollywood Wildcat, Soaring Softly, and Action This Day, and proved a solid influence for size, stamina, and bone.
Aurora, the dam of Arch, has equally fine credentials, if not better. A stakes-winning daughter of Danzig and 1983 champion juvenile filly Althea (by Alydar), she is the dam of four stakes winners and a full or half-sister to three more, including 1994 Japanese champion juvenile filly Yamanin Paradise. Althea, in turn, is one of eight stakes winners — seven of graded/group class — produced from 1983 KTOB Broodmare of the Year Courtly Dee, and is also half-sister to Foreign Courier (by Sir Ivor), dam of the fine stallion Green Desert (by Danzig).
Since his first foals arrived in 2000, Arch has developed a reputation as a quite useful sire. Most of his runners do better as they mature and prefer a distance of ground, but he is also the sire of top sprinters Les Arcs (2006 Darley July Cup and Golden Jubilee Stakes (both Eng-I)) and Overarching, the latter a three-time champion in South Africa. Like most sires of late-maturing stock, he does not have an exceptionally high rate of winners from foals of racing age (222 of 430, or 51.6%), but he has 26 stakes winners to his credit so far and boasts an Average Earnings Index of 1.78 against a Comparable Index of 1.66 for his mates.
Blame is the second stakes winner to be produced from the stakes-placed Seeking the Gold mare Liable, the first being the Dynaformer colt Tend. Both Blame and Tend represent the cross of Roberto on the sire's side over Mr. Prospector on the dam's side, which has produced at least 104 graded/group stakes winners to date. More specifically, both Dynaformer and Arch have had previous success with Seeking the Gold mares, as evidenced by multiple grade I winners Riskaverse (Dynaformer–The Bink) and Pine Island (Arch–Matlacha Pass).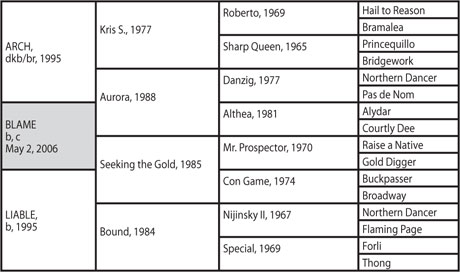 Blame and Tend also represent the ever-increasing slew of good horses whose broodmare sires are sons of Mr. Prospector out of Buckpasser mares. Miswaki, Woodman, and Seeking the Gold, all of which are bred on that cross, currently stand at second, third, and fourth on the 2009 broodmare sire list. While Seeking the Gold is the junior member of the trio, with 80 stakes winners to his daughters' credit as opposed to 151 each for Miswaki and Woodman, it must be remembered that Seeking the Gold has so far had but 308 producing daughters, against 494 for Miswaki and 749 for Woodman; further, Seeking the Gold's oldest daughters are only 18, while Woodman's are 21 and Miswaki's 26.
A half-sister to 2008 Audemars Piguet Queen Elizabeth II Cup (HK-I) winner Archipenko (by Kingmambo) and to listed stakes winner Limit (by Cox's Ridge), Liable is out of the stakes-winning Nijinsky II mare Bound. Bound, in turn, is a full sister to multiple grade II winner Number and a half-sister to champion racehorse and sire Nureyev. She is also a half-sister to Irish champion juvenile filly Fairy Bridge, dam of the great European sire Sadler's Wells and 1996 French leading sire Fairy King. The family, of course, is that of Rough Shod II, whose history has been entwined with that of Claiborne Farm ever since "Bull" Hancock imported the mare in 1951. Nureyev took his fist halting steps at the famed Thoroughbred nursery, and other members of the family bred by Claiborne include champions Thatch, Apalachee, Gamely, and Belted Earl.
Whether Blame ever ascends to such distinguished heights remains to be seen, but he appears to be progressing in the right direction, having won three of his last four starts. If he continues to develop as a 4-year-old, no one will be able to blame his connections for dreaming of bigger victories to come.