So far in his career, Medaglia d'Oro has shown a bias towards siring good distaff runners. Through November 17, he had sired 12 black type stakes winners, of which 10 – including Horse of the Year candidate Rachel Alexandra – were fillies. Indeed, before Al Khali 's win September 6 in the Saranac Stakes (gr. III), Medaglia d'Oro had not a single male stakes winner to his credit. (Juvenile colt Self Dealin' Man's win November 15 in the Christopher Elser Memorial Stakes gave Medaglia d'Oro his most recent progeny black type.) But to judge by the healthy prices paid for his colts at the recent Keeneland September sale (they averaged $194,761), plenty of people had faith that it would only be a matter of time before the stallion came through with a top colt. They were right. On November 14, Godolphin colorbearer Passion for Gold came through in a big way, sailing home by six lengths in the Criterium de Saint-Cloud (Fr-I) and establishing himself as a legitimate candidate for next year's European classics.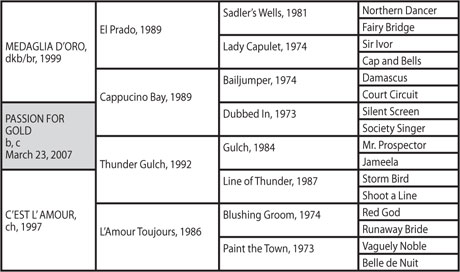 That could hardly be better news for Sheikh Mohammed's Darley operation, which purchased Medaglia d'Oro from Stonewall Farm last June 5. The stallion is one of the very few who will see his fee rise substantially next year, going from $40,000 at the beginning of the 2009 breeding season to $100,000 in 2010. The day after the sale, Gabby's Golden Gal (Medaglia d'Oro–Gabriellina Giof (GB)) won the Acorn Stakes (gr. I), and the stallion has added another six stakes winners to his tally since then.
By El Prado (IRE) out of the Bailjumper mare Cappucino Bay, Medaglia d'Oro is a scion of the great Northern Dancer sire line out of a mare from the family of Sunday Evening, a pattern similar to that found in the pedigree of the good Australian and European sire Bluebird (Storm Bird–Ivory Dawn, by Sir Ivor). Medaglia d'Oro stayed far better than did the sprinting Bluebird, however, winning three grade I races at nine and 10 furlongs. His initial stud fee of $35,000 reflected not only his fine racing performance but an exceptionally handsome physique, flawed only by being slightly back at the knee.
Given his bloodlines, it was only reasonable that Medaglia d'Oro would be seeing a lot of mares from the Mr. Prospector male line, and half of his black type stakes winners so far are from Mr. Prospector-line mares, including Rachel Alexandra and Passion for Gold. He also has three winners and two stakes winners from three foals out of mares by Capote, including Al Khali, whose third dam is by Mr. Prospector, and stakes winner Renda, whose second dam is by Mr. Prospector's son Miswaki.
Passion for Gold was bred by Mr. and Mrs. M. Roy Jackson from their mare C'Est L' Amour (by Thunder Gulch), a speedy sort who won the seven-furlong Nassau County Stakes (gr. II) as a 3-year-old and finished second in the one-mile Acorn Stakes (gr. I). Passion for Gold is her first winner in a major racing jurisdiction from five foals of racing age (her 2003 Dixieland Band colt raced and won in Barbados), but C'Est L' Amour is a half-sister to restricted stakes winner Passion Flower (by Deputy Minister), whose Mizzen Mast colt Madeo won the 2008 Del Mar Derby (gr. IIT).
The female family has enjoyed previous success in France, as C'Est L' Amour was produced from L'Amour Toujours, winner of the 1989 Prix Charles Laffitte. A daughter of Blushing Groom (FR), himself a French champion and classic winner, L'Amour Toujours was, in turn, produced from 1977 Grand Prix d'Evry (Fr-II) winner Paint the Town, by 1968 French champion 3-year-old male and Horse of the Year Vaguely Noble out of 1966 Test Stakes winner Belle de Nuit (by Warfare). The last-named mare was a half-sister to 1953 champion juvenile filly Evening Out (by Shut Out), both having been produced by the Eight Thirty mare Evening Belle. The female line traces to the Meddler mare Crepuscule, a foal of 1914 who is also the ancestress of 1936 champion 3-year-old filly High Fleet, 1943 champion 3-year-old filly Stefanita, and the high-class Sailor, rated third among American handicap males of 1956 after Hall of Famers Swaps and Nashua.
Having now won on heavy going over 2,000 meters, Passion for Gold would have to stretch out only a little to have next year's Prix du Jockey Club (Fr-I) in his sights, since that classic is now contested at 2,100 meters. With Belmont Stakes (gr. I) winner Thunder Gulch as damsire and Prix de l'Arc de Triomphe winner Vaguely Noble as third damsire, that should not be out of reach. However, it is also quite possible that he may be pointed instead to the 12-furlong Investec Derby Stakes (Eng-I), and the decider may well be footing; the colt was not nearly as effective on good going in the one-mile Juddmonte Beresford Stakes (Ire-II), finishing third. Still, the colt may prove himself able to handle faster ground as he matures, and he will certainly be one to watch next year wherever he goes.