By Alan Porter
As befits a two-time winner of the Breeders' Cup Classic (gr. I), Tiznow has rapidly developed into one of our most reliable sources of quality stamina. All but one of his grade I winners aged 3 and up have scored over their victories at nine furlongs or more (the exception being Tough Tiz's Sis, who took the Lady's Secret Stakes and Ruffian Handicap (both gr. I) at 8 1/2 furlongs.
In addition to being a source of stamina, Tiznow really came good in the latter half of his own 3-year-old season, and the majority of his runners do best with a little time. Ironically, however, the horse who first drew attention to his merits as a sire was Folklore, who scored her first black type victory in the Adirondack Stakes (gr. II) over six furlongs in the summer of her juvenile career, and who went on to add the Matron Stakes and Alberto VO5 Breeders' Cup Juvenile Fillies (both gr. I), to earn an Eclipse Award as the best of her age and sex.
Tiznow's current 2-year-olds are from the first crop sired following Folklore's juvenile campaign. Since Folklore was out of a mare by Storm Cat, it didn't take a genius to work out that breeders with good Storm Cat mares were going to beat a path to Tiznow's door in 2006. That such a move might be worthwhile was borne out when Tiznow's son American Lion followed up an impressive 6 3/4-lengths maiden win at Keeneland by overcoming some still-apparent greenness to take the Hollywood Prevue Stakes (gr. III) at the weekend.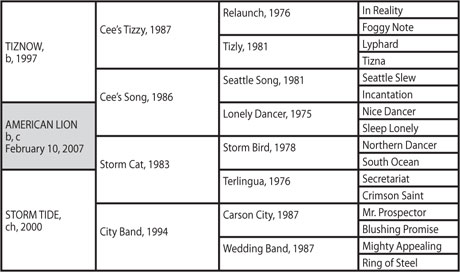 American Lion's dam, Storm Tide, was a winner at 2 in her only lifetime start. American Lion is her second named foal and first starter. Storm Tide is a sister to Weather Warning, who picked up some minor black type with a win in the Manitoba Lotteries Derby at Assiniboia Downs. She's also half-sister to Foolishly, a Broad Brush filly who took the Snow White Stakes at Charles Town at 2. American Lion's granddam, City Band, was an excellent 2-year-old, winning four of her eight starts at that age, including the Oak Leaf Stakes (gr. I). She remained in training for two more seasons, but never again captured a graded event, although she placed three times at that level a three, and took the Queen Breeders' Cup Stakes at 4.
American Lion's third dam, Wedding Band (by the Valid Appeal horse Mighty Appealing, a grandson of Tiznow's great-grandsire, In Reality) was another precocious runner, taking the Cameo Stakes at Laurel as a juvenile. Her dam, Ring of Steel (by turf champion Assagai), was half-sister to four stake swinners, and to the dam of another good In Reality-line runner in the Adirondack Stakes (gr. II) victress Really Quick.
American Lion, whose next target is the Cashcall Futurity (gr. I), is already being talked about as a classic candidate for next year. If he does go on to distinguish himself on the Triple Crown trail it won't be without precedent for this family: in tail-female line he goes back through the Black-Eyed Susan captress Spinning Top to a Calumet Farm family that also produced the charismatic Whirlaway, winner of the 1941 renewal of the Triple Crown.
Folklore, American Lion, and the Kentucky Jockey Club Stakes (gr. II) and Iroquois Stakes (gr. III) winner Tiz Wonderful are the only 2-year-old graded stakes scorers to represent Tiznow to date. Besides their high-class juvenile performances, the three have something else in common: all are out of Storm Cat-lines mares (Folklore and American Lion are out of daughters of Storm Cat, and Tiz Wonderful is out of a mare by Hennessy). For good measure, Tiznow also has recent Clasico Gran Promesa winner Golden Vivian out of a Storm Cat mare and multiple graded stakes winner Informed out of a mare by Tabasco Cat, another son of Storm Cat.
While Tiznow no doubt benefits from the speed and precocity of the Storm Cat line, the success of Tiznow with mares by Storm Cat and his sons may well be influenced by a link between the pedigrees of Storm Cat and Tiznow's granddam, Lonely Dancer. Both are by sons of Northern Dancer, and Storm Cat's second dam, Crimson Saint, has considerable similarities to Sulenan, the granddam of Lonely Dancer. Crimson Saint is by Crimson Satan, who is a great-grandson of Black Toney, and her second dam, First Rose, is a Menow/Sir Gallahad III cross. Sulenan is a granddaughter of Tom Fool (by Menow out of a mare by Bull Dog (brother to Sir Gallahad III)), and her dam Blue Canary is a half-siser to Crimson Satan, and like that horse, is by a grandson of Black Toney.
It would be remiss to leave American Lion's pedigree without also noting that Tiznow seems to be developing something of an affinity for Carson City, sire of American Lion's second dam. He has grade I winner Bullsbay out of a mare by Carson City's son Lord Carson, and stakes winner Lady Chace out of a mare by Carson City himself.