By Alan Porter
The evolution of inbreeding to a major sire tends to follow three predictable stages: from controversial, to accepted, to commonplace. Northern Dancer was perhaps the most notable recent example of the huge interest, and hot air, that the subject once generated, all of which seems rather disproportionate when viewed a decade up the road, when stakes winners with four crosses of Northern Dancer pass without comment, and when recent black type winner Big Glen owned no less than six crosses of the Canadian patriarch in the first six generations of his pedigree.
North America's next superstar sire-of-sires following Northern Dancer was Mr. Prospector. Perhaps it was because his influence was initially less internationally pervasive than Northern Dancer's -- or maybe because the pundits had used up all their energy on the son of Nearctic -- but the subject of inbreeding to Mr. Prospector generated much less furor. Still, there were some who generated concern about where the all inbreeding to Northern Dancer and Mr. Prospector would lead, and what would happen to such horses in the next generation.
It wasn't until the new century that we had a chance to find out. The first group or grade I-winning colt with inbreeding to Mr. Prospector, El Corredor, was a foal of 1997, and didn't retire to stud until 2002. El Corredor quickly dispelled fears that his pedigree pattern would inhibit his career, and has sired a grade I winner in each of his first three crops (and on dirt, turf, and all-weather). He also quickly put to rest the notion that additional crosses of Mr. Prospector or Raise a Native would not work for him, siring Wanna Runner, a graded winner of more than $650,000 out of a mare by a son of Mr. Prospector, and graded stakes winner Itty Bitty Pretty out of a mare by Raise a Cup (a Raise a Native son who is closely related to Mr. Prospector).
Five years after El Corredor was born, a mating between his dam, the Silver Deputy mare Silvery Swan, and Mr. Prospector's son Fusaichi Pegasus came up with Roman Ruler, a horse bred on similar lines but with Mr. Prospector one generation closer (giving him that horse 2 x 4).
Given that Bob Baffert described Roman Ruler as "the fastest 2-year-old I've ever trained," it's not surprising that the Hill 'n' Dale Farms stallion is getting sharp juveniles. Of course with good late-season 2-year-olds two questions immediately spring to mind: do they have enough class (or potential improvement) to become a classic candidate; and do their running style and pedigree suggest that they will have a shot at staying 10 furlongs?
More important than precocity, Roman Ruler is already showing that he can get considerable class. Earlier this year his son Homeboykris took the Champagne Stakes (gr. I), and son Zacatlan annexed the Clasico Anahuac (Mex-I). Another Roman Ruler colt, the 2-year-old Rule, recently followed up a spectacular score in the Jean Lafitte Stakes with a game win in the Boyd Gaming's Delta Jackpot Stakes (gr. III).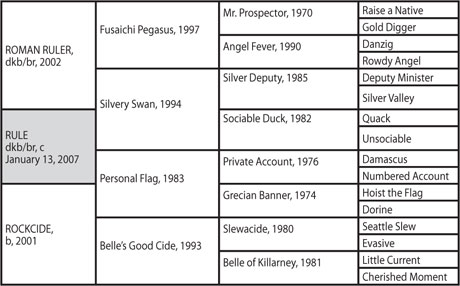 The answer to whether they can stay is, from a pedigree standpoint, a strong affirmative. Roman Ruler himself, in addition to winning the Norfolk and Best Pal Stakes (both gr. II) at 2, came back to add the Dwyer Stakes (gr. II) and Haskell Invitational (gr. I) at 3, so there is no reason to think that his offspring won't train on and stretch out next year. Roman Ruler was grade I-place at 10 furlongs and his sire, Fusaichi Pegasus, won the Kentucky Derby (gr. I).
Rule's dam, Rockcide, never won, but she is a daughter of Personal Flag. A full brother to Personal Ensign – who concluded her unbeaten career with a victory in the Breeders' Cup Distaff (gr. I) at 44 – Personal Flag was a late developer, who took the Widener Handicap (gr. I) at 4 and the Suburban Handicap (gr. I) at 5. What is even more interesting from the classic perspective is that Rockcide is a half-sister to champion Funny Cide, winner of the Kentucky Derby and Preakness Stakes (both gr. I) at 3, and of the Jockey Club Gold Cup (gr. I) at 4. Funny Cide is by Distorted Humor (who is by a son of Mr. Prospector out of a Danzig mare), where Roman Ruler's sire, Fusaichi Pegasus, is by Mr. Prospector out of a Danzig mare). Belle's Good Cide, the dam of Rockcide and Funny Cide, is by Slewacide (a son of Triple Crown winner Seattle Slew), and her dam is by Little Current, winner of the Preakness and Belmont Stakes (both gr. I).
A fun piece of trivia: In tail-female line, the family of Rule and Funny Cide goes back to Bravura (an imported daughter of Italian Derby winner Niccolo Dell'Arca (GB)), who is fourth dam of Belle's Good Cide, and also fifth dam of Empire Maker , who defeated Funny Cide in the 2003 Belmont.
Read more of Alan Porter's comments about the three stages of inbreeding acceptance: Nureyev Up Close.