Steve Haskin's Road to the Kentucky Derby: Will Peace Follow War?
by Steve Haskin
Date Posted: 3/10/2003 10:39:16 AM
Last Updated: 5/8/2003 12:17:17 PM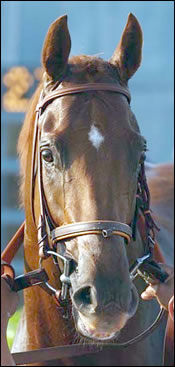 Peace Rules' stock rises after gritty win in the Louisiana Derby.
Photo: AP/Alexander Barkoff

What better named horse to follow War Emblem than Peace Rules? Although Peace Rules dominated the Louisiana Derby, there's a lot more to this race. We'll also try to figure out where the Santa Anita Oaks and El Camino Real Derby fit in the Derby picture.Even when Peace Rules was winning stakes on the grass, his pedigree shouted dirt. And his action shouted dirt. And his workouts shouted dirt. They all finally shouted loud enough for the world to hear on Sunday. Yes, this was as impressive a 3-year-old debut as you could ask for. But the highlight of the Louisiana Derby was not the time or the 2 1/4-length margin or beating horses like Kafwain and Badge of Silver off a 10-week layoff. It was watching this colt stride so effortlessly and fluidly down the long stretch, getting stronger the farther he went. We thought his stride in the Generous was impressive, but it was a thing of beauty to watch on Sunday. The key was Edgar Prado getting him to change leads smoothly, then switching from a left-handed to right-handed whip. The second he did, Peace Rules found another gear and shot forward. When he hit him again right-handed, he gave another burst, building up momentum with each stride. As the expression goes, he was running through the wire at the finish.The questions now are, can he stay a mile and a quarter and can he win the Derby off two starts at 3? His pedigree certainly doesn't shout 10 furlongs, and Frankel has expressed doubts about his ability to go that far, but it is a solid nine-furlong pedigree. His sire, Jules, was a gorgeous individual who never had a chance to reach his potential, and Jules, it must be noted, is inbred to major stamina influence Tom Rolfe. As for the two starts, it's a tough task, but is there anyone you'd rather have attempt it than Bobby Frankel? After all, look what he accomplished getting him to beat the two top-ranked 3-year-olds in his first start of the year. Peace Rules could make his next start in the Toyota Blue Grass Stakes, as long as stablemate Empire Maker remains on schedule for the Wood Memorial.Now, for the other observations of the Louisiana Derby. First off, we said before the race that Kafwain could benefit from a defeat as much as a victory. Coming off seven furlongs in 1:21 and a monster 115 Beyer Speed Figure, and traveling across the country and stretching back out to two turns over an unfamiliar surface, he certainly could be excused for getting beat. This is a massive, heavy-striding colt, and he was ripe to get beat over a track where speed was holding up all day. If the intent was to go all out to win this race, then Kafwain probably should have been right up there with the leaders, where he could use his size, strength, and class.But the main question that is most bothersome is why Victor Espinoza, in a race clearly designed as a step toward Louisville, felt compelled to whip the horse at least 30 times, starting at the five-sixteenths pole. We counted four right-handed whips, followed by 16 left-handed whips and another 13 right handed. And none of them were exactly love taps. If you're an anti-whip advocate, this was not a pretty sight. We understand the concept of whipping, but we can't recall a horse being hit like that so many times.It must be mentioned that in the San Vicente, Espinoza did not even whip him once, merely waving his stick at him with his right hand. Espinoza might have felt the colt was laboring a little, as he was unable to make a dent on the leaders midway around the turn. But this was only only a prep race, and going two turns off a brilliant sprint effort often spells bounce. Kafwain was not in need of a hard race. He's had plenty of them already. Sure, they wanted to win; no one travels thousands of miles to get beat. But this was the race in which Kafwain should have been allowed to do what he could pretty much on his own, with limited encouragement just to keep his mind on business. There was no reason why the horse had to be hit like that and so often. If there is one thing Kafwain has proven it is his consistency. He's never ducked a fight yet. He's right there in every race he runs, and in our mind he's the most accomplished and toughest 3-year-old and still worthy of the top spot...if indeed any horse is worthy of the top spot right now.Perhaps the biggest surprise of the race was realizing that was Funny Cide running on well late to finish third. This colt was very impressive, shooting to the lead and outrunning everyone to the turn with his ears pricked. He held the lead until almost the quarter pole, where he gave it up to Badge of Silver, then dropped back to fourth. Just when you thought he had called it a day, he found his second wind and came battling back along the rail, finishing a length behind Kafwain and holding off the strong late charge of Lone Star Sky. If only we knew this New York-bred son of Distorted Humor could rate kindly off the pace. There is no 3-year-old we've seen who has a stronger distance pedigree on his tail-female side. It is all Darby Dan and pure classic staying power. He had been working sensationally at Palm Meadows and looked great in the saddling area and post parade. As we said, if shows he can rate in his next start and runs big again, he could be a serious horse on Derby Day.Another horse who left a big impression was Lone Star Sky, a classic example of a horse who is making great strides with every start. He demonstrated class at 2, he won his only start at Churchill Downs brilliantly, and has a solid foundation under him. Like Peace Rules, his dosage index is over 4.00, but there is no reason why he can't get a mile and a quarter. His tail-female family is brought to you by John Nerud, who basically bred every horse you see there, and Nerud has always bred for class. The family is like a Tartan Stable/Nerud Hall of Fame – Dr. Fager, Rough N Tumble, Fappiano, Minnesota Mac, and Funistrada.In the Louisiana Derby, he came off the fence turning for home and wound up out near the middle of the track. Had he stayed inside he would have been a lot closer, instead of having to run sideways. But better to be safe than sorry. He lost even more ground and valuable momentum when he drifted out under left-hand whipping, then came back in. But despite that, he closed strongly, making up 3 1/2 lengths in the final furlong over a speed-favoring track. Trained by Tom Amoss, he definitely looks to be heading in the right direction. We also like the fact that Amoss has been giving him nothing but half-mile breezes and letting each race move him a step closer. That also was Nerud's school of training, which he learned from Ben Jones.As for Badge of Silver, he was so wiped out from the Risen Star, he didn't go to the track for six days. Ronny Werner seriously considered withdrawing from the race. But when the colt worked brilliantly, he was back in. Apparently, however, it was too much too soon, as the colt looked like he was cruising along beautifully at the head of the stretch, but spit the bit out as soon the real running began. Owner Ken Ramsey said he scoped clean after the race, and was physically fine, but again was a "tired puppy." "I know the bubble has burst, and he no longer looks like the budding superstar, but this is a long-term project, and our goal is still to make it to the Derby," Ramsey said. "He needed to get in two more races, and he now has 27 days to the Illinois Derby, then 31 days to the Kentucky Derby. We're disappointed, but not destroyed."Ramsey said he had talked to D. Wayne Lukas, who told him that Ten Cents a Shine is doing great. His coat looks super, he's eating well, and he's put on 30 pounds. He'll run next in the San Felipe, with Pat Valenzuela aboard, then likely the Santa Anita Derby. He showed his sharpness by working 5 furlongs in :59 2/5.Continued...



Copyright © 2015 The Blood-Horse, Inc. All Rights Reserved.