"Oh, East is East, and West is West, and never the twain shall meet..." said Rudyard Kipling. Although he spoke of the cultures of England and India, his poetry could well have been written with California and Florida in mind, for the two states seldom see eye to eye on much of anything, be it national policy, agricultural issues, or horse racing. Indeed, the rich Sunshine Millions series was inaugurated to play on the states' rivalry in the last-named area. But had Kipling been more of a student of Thoroughbred breeding, he might had been forced to rewrite his immortal line, for East and West have met in the pedigree of California-bred M One Rifle, winner of the December 26 Malibu Stakes (gr. I) .
Owned by a partnership headed by Ed Bernstein, Brian Greenspun, and trainer Bruce Headley (which the three co-bred the gelding in partnership with Irwin Molasky), M One Rifle is one of only a few stakes winners sired by stakes-placed One Man Army, a Kentucky-bred whose pedigree screams "Florida" – or, more specifically, "Hooper," as in Fred W. Hooper. Master of one of the Sunshine State's most successful long-term breeding programs, Hooper made canny use of horses with race records and pedigrees somewhat off the beaten trail during the six decades of Hooper Farm's existence.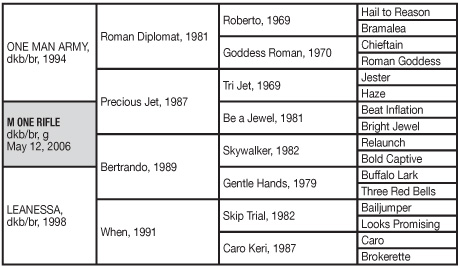 Both Roman Diplomat and Precious Jet – the sire and dam, respectively, of One Man Army, were bred by Hooper, as were the dams and granddams of both. The former, a son of Roberto and the stakes-winning Chieftain mare Goddess Roman, was a disappointing racehorse, winning just two of his 24 starts. His family was one that had produced very well for Hooper, however. His granddam, Roman Goddess, was a stakes-placed daughter of Hooper's foundation sire, Olympia, and produced five stakes winners from eight foals for Hooper. Two, Goddess Special and 1973 Hollywood Lassie (gr. II) winner Special Goddess, were sired by Hooper's stallion Specialmante, a son of Argentine champion Nigromante who proved Hooper's knack for spotting potential in odd places by siring 39 winners and five stakes winners – among them, 1974 Acorn Stakes (gr. I) winner Special Team – from just 51 foals.
Given a chance at stud by his breeder, Roman Diplomat did not prove the equal of Specialmante. Nonetheless, he compiled a respectable record, siring 70 winners and eight stakes winners from 118 foals. His best runner was the hardy Diplomatic Jet, who reached his peak at age 4 with wins in the 1996 Early Times Manhattan, Man o' War, and Turf Classic Invitational Stakes (all gr. IT). Retired to stud at Hooper Farm, with nine wins from 51 starts and earnings of $1,267,202, Diplomatic Jet has not been a successful sire, his chances of making good at stud probably compromised by Hooper's death in August 2000.
Nonetheless, Diplomatic Jet has played a role in the story of M One Rifle, as it was probably his racing prowess that helped earn his full brother One Man Army a chance at stud. The fact that the brothers existed at all is a tribute to Hooper's patience with his own breeding plans, for the brothers' dam, Precious Jet, never raced, nor did her dam or granddam. She had two things going for her, though, that helped keep her in Hooper's broodmare band: her great-granddam, Bright Holly (by Olympia) had been a nice stakes winner for Hooper in the early 1960s, and her sire was Tri Jet (by Jester), a multiple grade II winner who carried on the legacy of his maternal grandsire, Olympia. The premier stallion at Hooper Farm for over two decades, Tri Jet sired 375 winners (72.4%) from 518 foals, including 48 stakes winners.
As if that were not enough, Precious Jet carried two additional crosses of Olympia through her sire, Beat Inflation (a son of Hooper's good racer and sire Crozier), so she was inbred 3x5x5x4 to Hooper's lifelong favorite through strains that Hooper was intimately familiar with. The matings to Roman Diplomat added yet another line to Olympia, giving her sons crosses of 4x4x6x6x5 to the Hooper foundation sire.
Sent to California (where he now stands at KingsWay Farm), One Man Army placed third in the 1997 Oceanside Stakes at Del Mar before retiring to stud. His mating to M One Rifle's dam, Leanessa, was likely influenced by the fact that Bruce Headley had trained both. It certainly wasn't a matter of repeating previous success, as neither of the foals produced by previous matings of One Man Army and Leanessa have raced. And it wasn't a case of reinforcing the dominant lines in One Man Army's pedigree, for Leanessa, like most of California's broodmare pool, is an outcross to Hooper breeding. A winning daughter of 1993 champion older male Bertrando, a California-bred who has been a good regional sire in his native state, Leanessa is completely free of Olympia and other Hooper strains despite the fact that her dam, When (by Skip Trial), is the product of another noted Florida breeding program, that of the late Arthur Appleton. Leanessa is also free of any inbreeding within five generations, so she is about as far removed from One Man Army's pedigree as possible in the North American population.
Outcrossing away from a parent's dominant inbreeding can infuse new vigor into a bloodline, but it can also yield highly inconsistent results, especially when other parts of the pedigree are not reinforced for either parent. This may be a reason for the complete hit-or-miss pattern seen in M One Rifle and his siblings. Still, one hit of the magnitude of M One Rifle is more than most matings ever have, and reason enough to call this marriage of East and West a huge success.