"Better late than never," goes the old saw. Jerry and Ann Moss would certainly agree. While their homebred Neko Bay always has shown the potential that one would expect from his royal pedigree, winning at first asking as a 3-year-old in March 2006, various physical issues and a somewhat delicate constitution have kept him from getting to the races much. But when Neko Bay does get to the track, he has consistently demonstrated both talent and gameness, winning five of his 13 lifetime starts and finishing out of the money just twice. And everything finally came together January 9 when Neko Bay's determined stretch drive carried him to victory in the San Pasqual Handicap (gr. II).
Neko Bay's consistency and determination echo those of his sire, Giant's Causeway , who earned the nickname of the "Iron Horse" in Europe after winning five Group I events and finishing second in three more as a 3-year-old in 2000. He closed out a demanding season with a thrilling runner-up finish to Tiznow in the Breeders' Cup Classic (gr. I) and retired to Ashford Stud as one of the most highly regarded stallion prospects in years.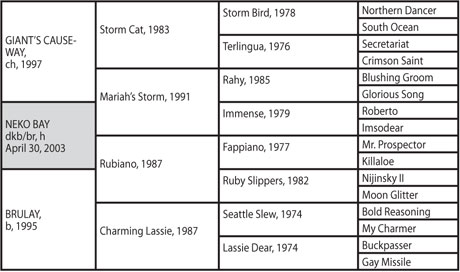 While Giant's Causeway has not been as consistent a stallion as was his sire, the now-pensioned Storm Cat, he must still be considered as one of Storm Cat's most important sons at stud, if not the most important. As of January 11, he has been represented by 1,149 foals in his first six crops of racing age (his seventh crop, foals of 2008, has not yet had the opportunity to race). Of those foals, 504 (43.9%) have become winners, 78 (6.8%) have become stakes winners, and 42 (3.7%) have become graded/group stakes winners, including 2004 European champion 2-year-old male Shamardal, 2006 Italian highweight Primary, and last year's Stanjames.com One Thousand Guineas (Eng-I) heroine, Ghanaati.
With his eldest sons being only 8, Giant's Causeway is still unproven as a sire of sires, but few would want to bet against his having at least one top-class sire son with prospects like Shamardal, Primary, multiple grade I winners Aragorn (IRE) and First Samurai , 2005 Ultimatepoker.com Two Thousand Guineas (Eng-I) winner Footstepsinthesand (GB), and grade I winners Heatseeker (IRE), Red Giant, and Frost Giant already at stud. While Neko Bay has not earned quite the same level of credentials, he too must be considered an above-average stud prospect when he finally does retire, thanks to a family that is as strong in sire power as any in the world.
Neko Bay has a close connection to a good stallion right off the bat through his dam Brulay, a Rubiano half-sister to 2000 champion older male Lemon Drop Kid (by Kingmambo). Sixteenth on last year's general sire list, the Lane's End resident has sired 49 stakes winners (15 at the graded/group level) from 430 foals in his first six crops of racing age, headed by grade I winners Citronnade, Richard's Kid , Lemons Forever, Christmas Kid, and Santa Teresita.
Brulay was no slouch as a racer in her own right, winning the 1998 Railbird Stakes (gr. II). Her dam, Charming Lassie (by Seattle Slew), might well have had similar talent but never got the opportunity to prove it as she was forced into retirement by injury after winning her only start. In addition to Brulay and Lemon Drop Kid, she is the dam of 2002 Coventry Stakes (Eng-III) winner Statue of Liberty (by Storm Cat).
Charming Lassie is a half-sister to four stakes winners, including English highweight Wolfhound (by Nureyev) and multiple grade III winner Weekend Surprise (by Secretariat).
While the former proved a disappointing stallion, the latter proved a broodmare of the highest class, earning KTOB Broodmare of the Year honors in 1992 after producing 1990 Preakness Stakes (gr. I) winner Summer Squall and 1992 Horse of the Year A.P. Indy. Summer Squall became a very good sire before being pensioned due to fertility issues in 2004, his progeny including 1999 Horse of the Year Charismatic and 1996 champion juvenile filly Storm Song, and A.P. Indy has been a still better one, leading the general sire list in 2003 and 2006 while standing at Lane's End Farm. Weekend Surprise also produced stakes-placed Honor Grades (by Danzig), a useful stallion; grade III winner Welcome Surprise (by Seeking the Gold); listed stakes winner Eavesdropper (by Kingmambo); Tiger Ridge (by Storm Cat), who met with some success as a regional sire in Florida before being exported to South Africa; grade I stakes-placed Weekend in Seattle (by Seattle Slew), whose son Mambo in Seattle (by Kingmambo) missed winning the 2008 Travers Stakes (gr. I) by less than an inch; and unraced Weekend Storm (by Storm Bird), whose four stakes winners include multiple grade I winner Court Vision (by Gulch).
This family traces back to the remarkable matriarch Missy Baba, whose descendants also include Raja Baba, leading sire in 1980; Toll Booth, Broodmare of the Year in 1991; Al Mufti, a stakes-placed half brother to Charming Lassie who has been a good sire in South Africa; and 1977 Arlington-Washington Futurity (gr. I) winner Sauce Boat, a useful stallion. With that kind of heritage backing him, there is no question that Neko Bay will get a chance at stud somewhere when he finally retires. It will be a late start in an age when most horses begin their stud careers at age 4 or 5, but should he prove a success, "better late than never" will once more apply.