By Alan Porter
A decade-long fad for something called the "international outcross" started in the mid-1970s, probably stemming from the success of imports such as Forli from Argentina and Noholme II from Australia. A subsequent rash of importations from Europe into the U.S. followed. At the time, the industry was booming, and there existed a good rationale for the importation of stallions from all over the globe to fill the burgeoning market.
Of course, the international outcross turned out to be a false grail. To start with, despite what one frequently sees in advertisements, "outcross" is not a synonym for "good cross." For example, just because a horse is free of Mr. Prospector or Northern Dancer, it doesn't stand to reason that he'll have an affinity for those strains. The international outcross did frequently provide some hybrid vigor – useful for covering up recessive negatives – in the short-term, but would have proved a disaster in the long-term as its principal achievement would have been to dilute valuable gene groupings that are better maintained by prudent inbreeding and line-breeding (as great breeders through the ages have demonstrated consistently). Mating distinct outcrosses is also something of a guessing game as they often have little history with the dominant local strains, leaving the best course of action to locate deeper concentrations of bloodlines that are also found in the domestic breed and hope that the "genetic goodies" come through from there.
What put all of this in mind was the Jan. 17 victory of Pretty Unusual, who upset Champion Stardom Bound in the El Encino Stakes (gr. II). Pretty Unusual, a near 30-1 shot, had won the state-bred Melair Stakes at Santa Anita in April 2009, but had been out of form since. From a pedigree standpoint, she's something of an upset too, as the eight horses in her third generation were foaled in six different countries: Canada, Denmark, England, France, and two each in Brazil and the U.S.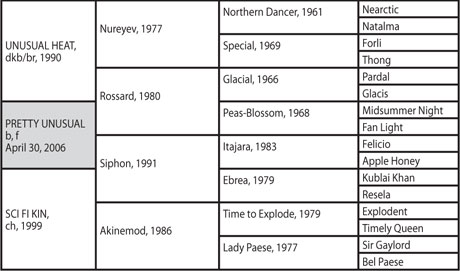 Pretty Unusual is a daughter of the West Coast stallion Unusual Heat. Virtually unheard of a few years ago, Unusual Heat has benefitted from his runners competing the lucrative restricted Cal-bred program, and he has emerged as a very serious sire.
Unusual Heat is also a horse with an interrnational background. He's a son of Nureyev (by Canadian-bred Northern Dancer out of a mare by Argentine-foaled Forli), and his dam Rossard (DEN) was born in Denmark. Scandinavian horses have not made much impact on the world scene, but Rossard was something different. The daughter of Glacial (by the Boussac-bred Pardal (FR)) became a legend in Scandinavia, ranking as as the finest distaffer ever to race in the region. Winner of five classic events, including both the Swedish and Danish Derbies, Rossard subsequently proved she was of the highest international quality when brought to the U.S., where she captured the Flower Bowl Handicap (gr. IT).
Unusual Heat wasn't as talented as his sire or dam but he was a useful miler in Ireland, where he won several stakes. Transferred to the U.S. Unusual Heat took second in an allowance race at Santa Anita first time out but didn't score again until his fourth U.S. outing where he was claimed for $80,000 in a winning effort at Hollywood Park. He raced just twice more, adding other Hollywood Park claimer, before retiring to stud.
Initially used as a virtually private stallion, Unusual Heat sired just 92 foals in his first four crops, but found immediate success with black type winners from each of those seasons. Despite never having the opportunity to cover high-class mares – his Average Earnings Index is twice that of the Comparable Index of his mates – Unusual Heat has sired 47 stakes performers from 293 starters (16% stakes horses to starters), 24 of them stakes winners (8.2% stakes winners to starters), and eight graded stakes winners.
Pretty Unusual's dam, Sci Fi Kin, is a winning daughter of Siphon (BRZ). Bred in Brazil, Siphon was as good an example as you might want to find of the sort of problem an international outcross stallion can present. Good-looking, versatile, talented, and sound, he earned more than $3.1 million , scoring grade I victories in the Hollywood Gold Cup and Santa Anita Handicap. Siphon is by Itajara (BRZ), by Felicio, by Shantung (FR), a son of Prix du Jockey-Club winner and champion sire Sicambre (FR). From a nicking standpoint, there was virtually no evidence for his sire line with the overwhelming majority of broodmare sire lines prevalent in the U.S., and his pedigree offered virtually no opportunities for inbreeding or line-breeding with common U.S. strains. Ironically, Siphon himself is not an outcross, having the close relatives Irish Song (BRZ) and Eridan 3 x 3 in his pedigree. Behind this are some deeper strains that connect to U.S. bloodlines and can be effective if matched in sufficient concentrations, but it tends to be a rather hit-and-miss technique. For Siphon, this has been reflected in a somewhat hit-and-miss stud career that has seen him sire just 14 stakes winners in nine crops, but has supplied grade I winners Siphonic and I'm the Tiger and many additional graded scorers.
Pretty Unusual's granddam, Akinemod, preceded Pretty Unusual as an El Encino Stakes winner by 20 years, taking the 1990 renewal of that race as well as the La Brea Breeders' Cup Stakes (gr. III). She never produced a stakes winner, but is also granddam of the Pleasanton Stakes winner Obermeister. Her dam, the Sir Gaylord mare Lady Paese (FR), also produced Seven Lords, a son of Silent Screen whose 21 victories included the Northern Wolf Handicap.
Despite the international background to her pedigree, Pretty Unusual (TrueNicks rated A++) probably owes her ability to her rather interesting inbreeding and line-breeding patterns. Unusual Heat's sire, Nureyev, is by a son of Nearctic, and his dam is by Forli, out of a mare by a son of Nasrullah. Akinemod is by a grandson of Nearctic, and her granddam is by Forli out of a Nasrullah mare. We can note that to go with the double of Nearctic, Siphon carries a line of the European-bred Falkland (GB), a reverse Hyperion (GB)/Nearco (ITY) cross to Nearctic. Falkland is also a reverse cross to Forli as he's by a Hyperion-line stallion out of a Pharos-line mare, and Forli is by a son of Hyperion out of a mare from the line of Fairway (brother to Pharos). So despite appearing to be an "international outcross" at first glance, Pretty Unusual's pedigree is held together by strong genetic ties.