By Alan Porter
On a weekend that was virtually devoid of Triple Crown-prep stakes events, the horse that drew most attention as a classic prospect was Drosselmeyer, who'd been on the radar as a bright prospect since winning a Churchill Downs maiden by six lengths in November. Returning nearly 11 weeks later for a nine-furlong Gulfstream Park allowance, Drosselmeyer handled the step up in class and distance with aplomb, drawing away late for a 1 3/4-lengths victory. The race lost some interest with the scratch of the highly-rated Include colt Pulsion, but the style of Drosselmeyer's victory was sufficient for most observers to credit owner WinStar Farm with a fourth serious Derby prospect along with graded winners Rule, Super Saver , and American Lion .
A $600,000 Keeneland September Yearling purchase, Drosselmeyer is a son of WinStar sire Distorted Humor . Although he is by juvenile champion Forty Niner, Distorted Humor didn't run at 2. At 3, he was a six-furlong stakes winner, and he was a grade III winner at 4. However, it was as a 5-year-old that he really blossomed, taking three graded stakes at seven and 7 1/2 furlongs–including the Churchill Downs Handicap (gr. II) in a new track record.
Distorted Humor was the leading freshman sire of 2002, when his first crop included juvenile filly Awesome Humor, who remains an anomaly as his only juvenile grade I winner. In general his offspring are progressive types, doing their best work at 3 and up. Drosselmeyer himself didn't break his maiden until his fourth start, having finished third and second in maiden turf events and then second by a head in a Keeneland all-weather event.
With any promising 3-year-old on the classic trail, one major question is that of potential stamina. Of course, Drosselmeyer is one of the first potential classic contenders to score over nine furlongs, and his pedigree also gives plenty of encouragement that he has a good chance to see out the Derby trip. Looking at Distorted Humor's best offspring we find many major winners at nine and 10 furlongs. In fact the only one of Distorted Humor's grade I winners to date that did not win a major stakes at a distance in excess of 8 1/2 furlongs is Awesome Humor, and she was runner-up in the 10-furlong Alabama Stakes (gr. I).
Drosselmeyer's dam Golden Ballet was a versatile and talented performer. A California-bred, she broke her maiden in the Hollywood Nursery Stakes at 4 1/2 furlongs on her fourth outing after beginning her career with a couple of starts in quarter-mile dashes. On her only other juvenile start she took the 5 1/2-furlong Cinderella Stakes by eight lengths. Golden Ballet continued her progress at 3, capturing four seven- to 8 1/2-furlong graded events. Golden Ballet has already produced another accomplished runner in the Unbridled's Song filly Stage Luck, winner of the Affectionately Handicap and also third in the Ruffian Handicap (gr. I).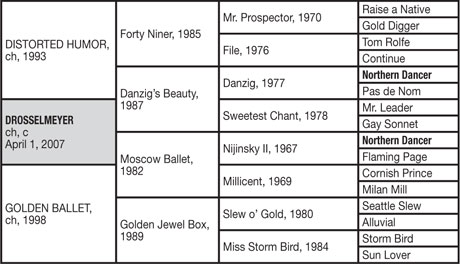 Golden Ballet's sire Moscow Ballet had a true classic pedigree, as he was by English Triple Crown winner Nijinsky II, out of a half-sister to Paul Mellon's great runner Mill Reef, winner of the Epsom Derby the year after Nijinsky II. Trained in Ireland, Moscow Ballet only ran four times, winning twice, and gaining a black-type win in the P. J. Prendergast Railway Stakes (Ire-III) at 2. Moscow Ballet went on to be a useful regional sire in California, and sired five other graded winners in addition to Golden Ballet.
When considering Drosselmeyer's pedigree, the first and most obvious thing it has going for it is the sheer class of Distorted Humor as a sire and Golden Ballet as a runner. That said, there are some patterns worth noting. The most obvious is that Distorted Humor's dam Danzig's Beauty (herself a graded stakes winner) and Moscow Ballet have a similar background. They are by Northern Dancer sons (Danzig and Nijinsky II), whose dams descend from one or other of the brothers Sir Gallahad III and Bull Dog, and are inbred to the siblings. In addition, Danzig's Beauty's dam is a Royal Charger/Eight Thirty cross, and Moscow Ballet's dam a cross of Nasrullah (same Nearco/Mumtaz Begum cross as Royal Charger) over Eight Thirty.
In addition, Golden Ballet's dam is by Slew o' Gold, a son of Seattle Slew, a horse who has been a tremendous foil for Distorted Humor, horses produced on the cross including Funny Cide, Any Given Saturday, and graded/group winners Z Humor and Gaudeamus.