When favored Eightyfiveinafifty blew the first turn of the Whirlaway Stakes , he left a wide open race for the other four entrants. Philip J. Messina's Peppi Knows took full advantage of the opportunity. Already a seasoned stakes performer–he won last year's Finger Lakes Juvenile Stakes and ran second to Buddy's Saint in the 2009 Remsen Stakes (gr. II)–the bay gelding nailed down his first two-turn stakes victory in a manner as workmanlike as Eightyfiveinafifty's was erratic (VIDEO).
Bred in Kentucky by G. Watts Humphrey, Jr., Peppi Knows is from the sixth crop of the A.P. Indy horse Stephen Got Even, who stands alongside his sire at Lane's End. To date, Stephen Got Even has sired 249 winners (51%) and 21 stakes winners (4.3%) from the 485 named foals of his first six crops of racing age, including 2005 champion juvenile Stevie Wonderboy, multiple Panamanian champion Excellent Shine, and impressive 2009 Wood Memorial (gr. I) winner I Want Revenge .
Winner of the 2000 Donn Handicap (gr. I), Stephen Got Even comes from a female family that has been more notable for producing good runners and broodmares than sires. A full brother to the stakes-winning fillies Indy Glory and Grand Merger, he was produced from Immerse, a grade I-placed daughter of Cox's Ridge and 1986 Las Flores Handicap (gr. III) winner Baroness Direct. The last-named mare was by Blushing Groom (FR) out of Avum, by Umbrella Fella, and so a half-sister to 1986 Seminole Handicap (gr. II) winner Minneapple (by Riverman) and French stakes winner Lyphard's Princess (by Lyphard). The best stallion produced by this family in modern times is 1980 champion juvenile Lord Avie, a Lord Gaylord half-brother to Avum who sired 84 stakes winners from 854 foals.
Peppi Knows is one of two stakes winners from 15 foals (12 of them winners) by Stephen Got Even out of Seeking the Gold mares, the other being 2007 Lazaro Barrera Memorial Stakes (gr. III) winner Time to Get Even. Runners from this cross have average earnings of $80,137, substantially better than Stephen Got Even's overall average of $50,624 per runner. These results are good but not surprising, for A.P. Indy has also crossed well with Seeking the Gold mares, getting 31 winners and eight stakes winners–five of them of graded class–from 59 foals so bred.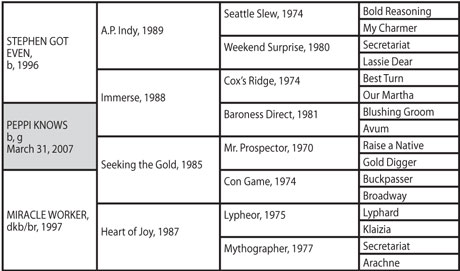 Seeking the Gold is, of course, no stranger to success as a maternal grandsire. He is bred for the part, being by nine-time leading broodmare sire Mr. Prospector out of a mare by four-time leading broodmare sire Buckpasser, and if he has yet to equal the record of his forefathers, he is still doing well on his own account, finishing third on the 2009 broodmare sire list. His daughters have produced 84 stakes winners, headed by 2000 champion 3-year-old filly Surfside, and he seems certain to pass the century mark as a maternal grandsire of stakes winners within the next year or two. Miracle Worker, the dam of Peppi Knows, has been doing her part to contribute to Seeking the Gold's record, as Peppi Knows is her fifth winner and first stakes winner from her first five foals.
A full sister to multiple Japanese stakes winner Meiner Love, Miracle Worker is out of 1993 Palomar Handicap (gr. IIT) winner Heart of Joy (by Lypheor (GB)). The best of three stakes winners produced by the Secretariat mare Mythographer, Heart of Joy won three grade/group III races in addition to her grade II score and was runner-up in both the 1990 Goffs Irish One Thousand Guineas (Ire-I) and the General Accident One Thousand Guineas (Eng-I).
Athough unable to win in eight starts, Mythographer is a half-sister to three stakes winners, including 1983 United Nations Handicap (gr. IT) winner Acaroid (by Big Spruce), and has lived up to her pedigree as a producer. In addition to her immediate accomplishments, she is the granddam of 2006 San Fernando Breeders' Cup Stakes (gr. II) winner Unbridled Energy, multiple grade III winner Inexplicable, and 2003 Stonerside Forward Gal Stakes (gr. III) winner Midnight Cry.
On pedigree, Peppi Knows should have no problems whatsoever with longer distances, which will stand him in good stead as Aqueduct's series of preps for the Kentucky Derby Presented by Yum! Brands (gr. I) stretches out. He will have to step up his game considerably to be more than a longshot for the Run for the Roses, however, as neither his time for the Whirlaway (1:47.10 on a fast track for the 8 1/2 furlongs) nor his previous performances suggest the kind of speed that the leading early contenders have shown. Still, he has proven professional and consistent in his career so far, and has proven to be a great value for his $6,500 price as a yearling. His next couple of races should tell the tale as to whether or not he is a potential contender for America's premier Classic.