By Les Brinsfield
I am a linebreeder. For our purposes, linebreeding will be considered the duplication of any ancestor in both parents. The reasons and techniques are legion. The payoff is predictability at the direct expense of random chance. One linebreeding technique was imparted to me by Olin Gentry, a legendary horseman who left Kentucky Derby winners every place he went. He said "return to the sire the best blood of his dam."
Last year's champion juvenile filly She Be Wild is by Offlee Wild, whose damsire is Seattle Slew, he a son of My Charmer, who has sisters Striking and Busher 3X3. Broodmare of the Year and champion, respectively, they are by War Admiral from Baby League, a daughter of the immortal La Troienne, who is a distaff force in the Thoroughbred gene pool. We can get little argument by calling the double of La Troienne through these two the best blood of the dam of both Seattle Slew and Offlee Wild.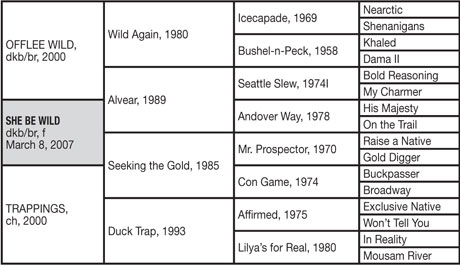 Offlee Wild is tail female to Golden Trail, by Preakness winner Hasty Road, he by Roman, a very powerful and under-appreciated influence in modern pedigrees. Roman tracks with La Troienne like ham and eggs. Both are packing a cross of full siblings, Ormonde and Ornament. One is an undefeated Triple Crown winner and the other is the dam of Sceptre, she the winner of four English classics. Enough said. Crossing horses that are crossed on the same full siblings is a good thing. It surely did not hurt Alvear, the dam of Offlee Wild.
We do not have to go far to find the "return." Trappings, the dam of She Be Wild has La Troienne through Buckpasser in her sire Seeking the Gold and Cohoes, who is the sire of her third dam. Broadway gives Roman, again through Hasty Road. While I will not survey the gene pool for who is packing Ormonde, Ornament, or any of their many other siblings, Mr. Prospector has four, and both parents of She Be Wild are laced with them. Consider La Troienne the mother lode and Roman her willing and able ally—the other horses carrying any combination of Ormonde and Ornament's siblings are at least helpers. The sheer numbers alone insure most anything afoot will appreciate the introduction of the La Troienne/Roman connection: Crossing it top and bottom got a Breeders' Cup victress.
Take three things away from this article: the power of La Troienne along with her helpers; the fact that very few pedigree factors are as explosive as crossing full siblings; and that judicious linebreeding can produce any kind from modest stock.