Predicting how a young horse will react to a change of surface is never easy. Sometimes a runner may work impressively over the new footing, only to flop under the pressure of real competition; at other times, such a change may just transform an also-ran into a star.
Awesome Act may not quite have lived up to his name yet, but his first start on dirt after six races on turf certainly looked like a dress rehearsal for bigger things to come. Sent off as the favorite for the Gotham Stakes (gr. III), the colt justified his status with an effortless dusting of his nine rivals. Granted, the winning margin was only 1 1/4 lengths over a modestly credentialed field, but Awesome Act was under absolutely no pressure to do more.
For Vinery, which co-owns Awesome Act with Susan Roy, the colt's win was surely enough to spark dreams of the future, for Awesome Act comes from one of the finest sire-producing families on the planet. His fifth dam is Almahmoud, who counts two of the finest sires of the post-World War II era among her grandsons; her stakes-placed daughter Natalma (by Native Dancer) produced the legendary Northern Dancer, while her stakes-winning daughter Cosmah (by Cosmic Bomb) produced two-time leading sire Halo. A third daughter, Bubbling Beauty (by Hasty Road), came up with French group I winner Arctic Tern, a good sire if not on the same plane as his "cousins."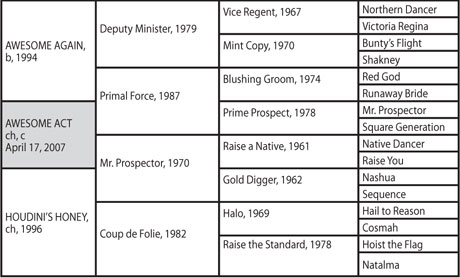 Cosmah's branch of the family is represented by another exciting Triple Crown prospect in Eskendereya, winner of the Fasig-Tipton Fountain of Youth Stakes (gr. II) February 20. As mentioned in a previous column (February 24, Will Eskendereya Mature Beyond Youth?), Eskendereya descends from Queen Sucree (by Ribot), whose son Cannonade won the 1974 Kentucky Derby (gr. I). This is a line that is well proven on American dirt. Northern Dancer, of course, had no trouble with the dirt either, winning the 1964 Derby and Preakness Stakes, but he was a good stakes winner on turf as a juvenile, and it is perhaps no coincidence that the best modern branch of Natalma's family has excelled on the grass in Europe.
Awesome Act is in the second generation of horses bred by Flaxman Holdings from the line of Natalma's granddaughter Coup de Folie. Sired by Halo out of the unraced Raise the Standard (Hoist the Flag–Natalma), Coup de Folie was inbred 3x3 to Almahmoud. As Coup de Folie won the 1984 Prix d'Aumale (Fr-III), one presumes that her inbreeding did not slow her down any. It certainly did not hurt her in the breeding shed, where she threw five group stakes winners, including French champion juveniles Machiavellian (a very good sire) and Coup de Genie, both by the great sire and broodmare sire Mr. Prospector.
Houdini's Honey, the dam of Awesome Act, is a full sister to Machiavellian and Coup de Genie – reason enough for any stallion manager to start salivating over her son's potential. Trace the family a little further back, though, and still another top sire can be linked in – Danehill, whose granddam Spring Adieu is a Buckpasser half sister to Raise the Standard. (As Danehill was sired by Danzig, by Northern Dancer, he was actually inbred 3x3 to Natalma.) And Natalma's family continues to breed on quite merrily, with French group I winners Way of Light, Denebola, and Orpen tracing to her line.
Despite the close inbreeding to Almahmoud along his damline, Machiavellian did well with mares tracing to Northern Dancer, and this line-breeding pattern has also worked for his full sisters. Coup de Genie threw the best of her four stakes winners, 2003 Prix Marcel Boussac (Fr-I) winner Denebola, to Northern Dancer's grandson Storm Cat, while another full sister, Rafina, carried the line-breeding a step further by producing 2006 Juddmonte Royal Lodge Stakes (Eng-II) winner Admiralofthefleet to the cover of Danehill.
Awesome Act is another example of the same pattern, as his sire, Awesome Again , is a great-grandson of Northern Dancer. Sired by two-time leading sire Deputy Minister (by Vice Regent, by Northern Dancer), Awesome Again capped a perfect six-for-six season as a 4-year-old with an upset over Silver Charm and Swain in the 1998 Breeders' Cup Classic (gr. I), an accomplishment that led to his induction into the Canadian Horse Racing Hall of Fame in 2001.
Since his retirement to owner Frank Stronach's Adena Springs Kentucky, Awesome Again has not been the most consistent of stallions, but his best have been very good indeed, headed by 2004 Horse of the Year Ghostzapper and 2007 champion older female Ginger Punch. From the 585 foals of his first eight crops of racing age, Awesome Again has sired 276 winners (47.2%), 38 stakes winners (6.5%), and 23 graded stakes winners (3.9%).
Of course, a potential stud career is still at least a year off for Awesome Act, who still has to prove himself against the best of this year's sophomores to be considered a truly top-class stallion prospect. But if he can follow up the show he put on in the Gotham with an equally convincing performance in the Wood Memorial (gr. I), look for him to be among the favorites when the curtain rises for this year's Triple Crown series.
To read more about the Almahmoud family's history of turning out great stallions, read
Sire-Producing Families: Almahmoud
in the September 2009 edition of
The Blood-Horse MarketWatch
.