By Alan Porter
In his epic The Odyssey, the poet Homer recounts how it took Odysseus 10 years, and many strange adventures, to return home to Ithaca following the siege of Troy. The recent journey of the equine Odysseus to the winners' enclosure in the Tampa Bay Derby (gr. III) was less eventful, but it was quite an unusual trip all the same.
Winner of a maiden at Gulfstream Park – his second start – January 14, Odysseus exploded into classic reckoning with a 15-length win in an allowance/optional claiming event February 17 at Tampa. In the March 13 Tampa Bay Derby, he stalked the solid early fractions cut out by Super Saver , but flattened out when asked for more on the turn. Dropping to third, then fourth early in the stretch, it appeared that Odysseus could be discounted as Schoolyard Dreams took the measure of a game Super Saver. Remarkably, however, Odysseus then re-rallied, and switched inside horses he produced a finishing effort that saw him gain a most unlikely victory in the very last stride.
A $110,000 yearling Fasig-Tipton Saratoga select yearling, and pinhooked as a $250,000 purchase at the 2009 OBS select sale as a 2-year-old in training, Odysseus is by Malibu Moon , a horse whose rise through the ranks has taken almost as long as the literary Odysseus' voyage home.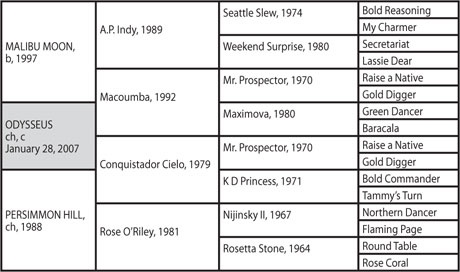 By A.P. Indy out of the Mr.Prospector mare Macoumba – winner of the Prix Marcel Boussac (Fr-I) at 2 – Malibu Moon was far more precocious than the majority of his sire's get. Second in a 4 1/2-furlong Hollywood Park maiden in April, he returned the following month to take a five-furlong maiden special weight at the same track in a sharp :57.41. Unfortunately, that proved to be the end of his racing career.
Retired to stand for $3,000 at Maryland's Country Life Farm, Malibu Moon was quick to advertise his merits. His first crop produced seven stakes winners, headed by the Best Pal Stakes (gr. II) victor Perfect Moon. When his second crop came up with 2-year-old champion Declan's Moon (and subsequently the grade I-winning filly Malibu Mint), the die was cast, and Malibu Moon was off to Kentucky, standing first at Castleton Lyons and then Spendthrift. His first Kentucky foals – born in 2005 – were sired at a fee of $10,000, and include graded winners Raw Silk, Luna Vega, and Sweet August Moon. The 2006 crop, sired at a $30,000 stud fee, is headlined by last year's CCA Oaks (gr. I) heroine Funny Moon, and also contains graded winners Malibu Prayer and Sara Louise. The current 3-year-old crop – also conceived at $30,000 – boasts not only Odysseus, but also the Frizette Stakes (gr. I) captress Devil May Care. Malibu Moon's current 2-year-old crop, his first sired at a fee of $40,000 bears careful watching. They certainly proved popular last year, even in a depressed market, with 60 yearlings selling for an average of $91,453.
Analyzing Malibu Moon's crops sired in Maryland and Kentucky, it is interesting to note the distribution of good colts and fillies. In his four Maryland-sired crops there were five graded stakes winners, of which three are males and two females. From his first three Kentucky crops, he has so far sired nine graded stakes winners, and yet Odysseus is the first colt in that category. We've seen this sort of phenomenon before with certain regional stallions moving to Kentucky, and we wonder if it's something to stallions that are bigger, more robust individuals (as is Malibu Moon), covering bigger and stronger mares in the Bluegrass. It's likely breeders will adjust, or have already done so, and we'll expect to see more good Malibu Moon males in short order.
Odysseus's dam, Persimmon Hill, a daughter of Conquistador Cielo, won four times at 3 and 4. She was 19 years old when Odysseus was born, and she'd previously produced five other winners, including the Junior Champion and Revidere Stakes winner Once Around (by You and I), and stakes-placed Persimmon Honey (by Colonial Affair). The granddam, Rose O'Riley, a winner in France, was a less impressive producer, her best runner being the graded stakes-placed Honour and Glory colt Dayton Flyer, although she is also granddam of a couple of black type winners.
If Rose O'Riley's performance as a runner or broodmare is not particularly distinguished, the same can't be said about her pedigree. By Nijinsky II out of the Round Table mare Rosetta Stone, she is a sister to champion turf mare De La Rose, and to Upper Nile, whose victories included the Suburban Handicap (gr. I).
Having scored over nine furlongs, the obvious question is how will Odysseus fare over the Derby distance should he make the race. We think that Malibu Moon trends somewhat towards speed, although he clearly can get good winners at classic distances. The dam is by Conquistador Cielo, who did take a Belmont Stakes (gr. I), but was probably more of a fast miler type who could stretch out. More significant, however, is stoutness of the pedigree of Rose O'Riley, whose siblings De La Rose and Upper Nile were both major winners at 10 furlongs.
We'd be particularly remiss if we left Odysseus without noting that he is the product of an extremely interesting pedigree pattern. While A.P. Indy and A.P. Indy-line stallions often have crossed well with mares descending from Mr. Prospector, the cross with Conquistador Cielo-line mares has been one of the less prolific versions, with just four stakes winners from 64 starters. All four are inbred to Mr. Prospector, with two by Malibu Moon, one by Rock Slide (a brother to Mineshaft , who like Malibu Moon is out of a Mr. Prospector mare), and one by Stroll (by Pulpit, who is bred on the same cross as Malibu Moon and Mineshaft). The Malibu Moon duo are bred in rather similar ways. The first, Declan's Moon, is out of a mare by Norquestor, a parallel Mr. Prospector/Northern Dancer cross to Macoumba, the dam of Malibu Moon. Odysseus, the second, has an even closer parallel pattern. Macoumba is by Mr. Prospector out of a mare by Green Dancer (by Nijinsky II), and of course Odysseus's dam, Persimmon Hill, is by a son of Mr. Prospector out of a Nijinsky II mare.