When the Florida Derby (gr. I) moved to six weeks before the Kentucky Derby Presented by Yum! Brands (gr. I), many trainers eyed the new calendar with a jaundiced eye. Six weeks was too long a layoff before the first Saturday in May, yet too short to fit in another prep. As a result, when the names were dropped in this year's entry box, Rule emerged as the only graded stakes winner in the field, making him the automatic favorite. But the scheduling change had its bright side as well, as the lack of established names practically guaranteed a large field of hopefuls willing to take a shot at earning a sure ticket to the big dance.
Two of those hopefuls were from the Nick Zito barn, both owned by Robert LaPenta, who knows a thing or two about having a longshot come through after his Da' Tara upset Big Brown in the 2008 Belmont Stakes (gr. I). One of the pair, Miner's Reserve, was actually fairly well fancied at 6-1, but it was the other, 20-1 Ice Box , who sprang the upset. Coming from last to first, the chestnut just got up in the final strides to nip another longshot, 29-1 Pleasant Prince, who may have punched his ticket for Kentucky as well.
Bred by Denlea Park, Ice Box is from the ninth crop of Pulpit, who stands at Claiborne Farm. The leading son of A.P. Indy by number of stakes winners, number of graded stakes winners, and lifetime progeny earnings, Pulpit has two graded stakes winners so far in 2010, the other being Sabin Stakes (gr. III) winner Aurora Lights. To date, Pulpit has sired 322 winners (55.4%) and 46 stakes winners (7.9%) out of 581 foals from his first nine crops; 72 2-year-olds of 2010 have yet to start racing. His best besides Ice Box have included grade I winners Pyro, Rutherienne, Corinthian, Purge, Stroll , Mi Sueno, Sky Mesa , and Tapit , and the latter two have given notice that Pulpit is likely to continue the Seattle Slew-A.P. Indy sire line into the next several decades.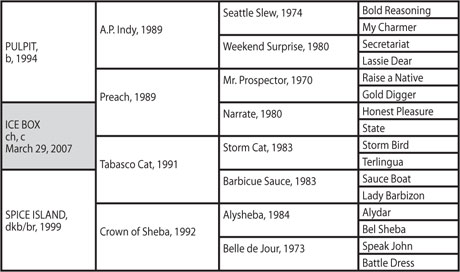 Pulpit represents the successful cross of A.P. Indy over mares from the Mr. Prospector male line – his dam is the Mr. Prospector mare Preach, winner of the 1991 Frizette Stakes (gr. I) – and is from the family of Monarchy, a stakes-winning full sister to the great Round Table whose other descendants include Tale of the Cat (by Storm Cat) and Johannesburg (by Hennessy, by Storm Cat). Given this apparent affinity of his female line for Storm Cat, it should not be too surprising that Pulpit has gotten some good results from Storm Cat-line mares. Besides the aforementioned Sky Mesa, Pulpit is also the sire of grade II winners Parading and Mini Sermon from daughters of Storm Cat, while Mi Sueno is out of a mare by Hennessy. Soundness can be an issue with this cross, but when it works, it works well indeed.
Tabasco Cat, the broodmare sire of Ice Box, is another Storm Cat son, but not a typical Storm Cat when it came to the track. With stamina from broodmare sire Sauce Boat and a hardy Argentine family added to the miler speed typical of Storm Cat, Tabasco Cat won both the 1994 Preakness Stakes (gr. I) and the Belmont over Kentucky Derby winner Go for Gin. As a sire, Tabasco Cat did not quite live up to expectations and was sent to Japan, where he died in 2004, but he did get 25 stakes winners from 478 foals, headed by grade I winners Snow Ridge, Habibti, and Island Sand.
If the female family of Ice Box looks rather familiar, there's a reason – his second dam, Crown of Sheba, is an Alysheba half sister to 1985 Kentucky Derby winner and Horse of the Year Spend a Buck (by Buckaroo–Belle de Jour) and to Jode (by Danzig), dam of 1999 Entenmanns Irish One Thousand Guineas (Ire-I) winner Hula Angel. Like a number of Alysheba's progeny, Crown of Sheba showed some aptitude for turf, winning one of her three starts in England, and this aptitude was passed down to her daughter by Tabasco Cat, Spice Island. A foal of 1999, Spice Island apparently inherited the stamina of her sire and broodmare sire as well, as she scored her biggest wins in the Long Island Handicap (gr. IIT) and the Rood and Riddle Dowager Stakes, both at 12 furlongs, as a 4-year-old. Ice Box is Spice Island's second foal and second winner, her first being the 2006 Gone West gelding Urban Jungle.
Fans of deep linebreeding will no doubt have noticed that, like Spend a Buck and Hula Angel, Ice Box springs from the cross of a female line tracing to 1934 Prix de Diane winner Adargatis with a stallion carrying multiple crosses of Adargatis's famous half sister, the great broodmare La Troienne. (Adargatis and La Troienne were actually closer than half sisters as Adargatis' sire, Asterus, was a son of La Troienne's sire, Teddy.) This pattern can also be seen in the pedigree of Vindication, champion 2-year-old male of 2002, who traces back to Belle de Jour's great-granddam, Tellaris. In Ice Box's case, the pedigree is also reinforced by the pairing of the similarly bred Nijinsky II and Storm Bird 5x4; by inbreeding to Secretariat and Raise a Native 4x5; and by linebreeding to another great broodmare, Missy Baba, 6x5 (dam of Sauce Boat and ancestress of A.P. Indy). None of these crosses are close enough to have a huge genetic impact alone, but taken together, they point out a match between two highly compatible pedigrees that, in this case, have come up with a viable Kentucky Derby candidate. One could do far worse.