By Alan Porter
On the same weekend that Distorted Humor 's son Drosselmeyer lost some ground in his bid to establish his Triple Crown credentials – his third-place finish in the Louisiana Derby (gr. II) leaves him potentially short of the graded earnings necessary to qualify – another colt by WinStar's top stallion likely earned a trip to the Kentucky Derby Presented by Yum! Brands (gr. I). The previously unheralded colt Endorsement solved any potential qualifying dilemma in one fell swoop, taking the weekend's most valuable prize, the winner's share of $800,000 on offer March 28 in the newly graded Sunland Derby (gr. III).
Endorsement actually escaped earlier attention, as he had yet to break his maiden through mid-February. In fact at that stage of his career he had run just twice, taking runner-up spot in a Fair Grounds maiden in his second start. Next time out, stepping up to 8 1/2 furlongs, he led throughout to win a maiden special weight at Oaklawn Park by 2 1/2. An 11.7-1 shot for the Sunland Derby, Endorsement tracked the favored Conveyance until the Indian Charlie colt's non-staying pedigree expressed itself nearing the mile pole, and from then on Endorsement was never threatened, drawing off for an easy three-length tally.
A $450,000 Keeneland September yearling, Endorsement is out of the A.P. Indy mare Charmed Gift, a winner of four races and runner-up in the Silverbulletday and Dogwood Stakes (both gr. III). Endorsement is her third foal and second winner. Charmed Gift's dam is the Argentine-bred Potridee, winner of the Premio de las Estrellas de Potrancas and Gran Premio Jorge Atucha (Arg-I) in her native country and the Vanity Invitational Handicap (gr. I) in the U.S. The mating of Potridee's sire, Potrillazo (a grandson of the U.S.-bred import Good Manners, a son of Nashua) and her dam, Chaldee, proved to be an exceptionally profitable one. In addition to Potridee, it also produced Potrizaris, 1998 Argentine Mare of the Year and winner of both the Argentine Derby and Oaks (both Arg-I); Potrichal, successful in the Gran Premio Copa de Plata (Arg-I) and dam of two-time San Juan Capistrano Invitational Handicap (gr. IIT) victor T. H. Approval; and Potrinnner, successful in the Mil Guineas (Arg-I). We can also note that Chaldee produced the General San Martin (Arg-I) victor Potro Rex to Potrillon, a close relative of Potrillazo.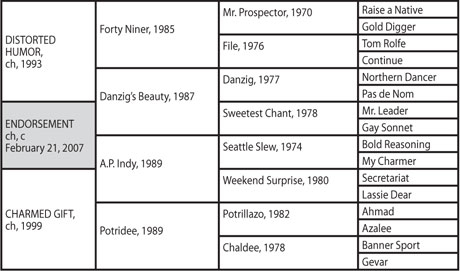 Chaldee is a daughter of the U.S.-bred Banner Sport (by Raise a Native from the Baby League branch of the La Troienne family), out of Gevar, a mare foaled in Argentina but possessing an almost entirely European pedigree, much of it derived from lines developed by Marcel Boussac. The female line arrived in Argentina in the early part of the last century, with the importation from France of Nell, a 1902 foal by Upas.
Rated A by TrueNicks, Endorsement is the third graded winner from 18 starters by Distorted Humor out of mares by A.P. Indy, and Distorted Humor has a total of 11 stakes winners from 54 starters out of mares by A.P. Indy's sire, Seattle Slew, and his sons. This a version of the celebrated Mr. Prospector/Seattle Slew pattern, both horses being from a female line descending from the famous Boussac mare Frizette. Distorted Humor's affinity for Frizette is probably intensified by the sire of his second dam, the Hail to Reason stud Mr. Leader, who is out of a mare by the Boussac-bred Djeddah., who is inbred to Frizette through the sisters Durban and Heldifann, who are 3x2 in his pedigree.
The South American bottom line of Endorsement's pedigree also strongly reinforces Frizette. His fifth dam, Zaris, is by the Boussac-bred Cardanil. Very closely related to Djeddah, he is inbred 2x3 to Tourbillon (out of Frizette's granddaughter Durban) and has Tourbillon's sire Ksar 3x3x4 and the sisters Durban and Heldifann 3x4x3. Cardanil's granddam, Coronis, is a particularly extreme example; she is by Tourbillon out of Heldifann, so has Durban/Heldifann 2x1. Incidentally, this inbreeding did Cardanil no harm as he won three of his four starts, including the Prix de la Grotte and Prix d'Arenberg, and subsequently did well as a sire in Argentina.