Lookin at Lucky was anything but lucky April 3 in the Santa Anita Derby (gr. I). But while the favorite did very well to finish third after a terrible trip, Sidney's Candy could not have had a sweeter run. Controlling the pace all the way, the handsome chestnut solidified his status as a rising star in the sophomore division and a leading candidate for the Kentucky Derby Presented by Yum! Brands (gr. I).
The colt is named in honor of the late Sidney Craig, who co-bred the colt with his wife, Jenny Craig. The sire is Candy Ride , who won the Pacific Classic (gr. I) in the Craigs' silks as the climax of a brief but spectacular career. Unbeaten in six starts in his native Argentina and the United States, Candy Ride was named Argentine champion miler for the 2002/03 season and ranked among the top American older males of 2004 despite making only three starts that year.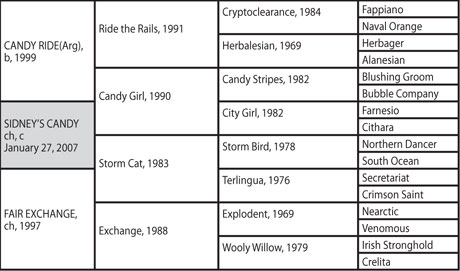 Despite his obvious talent as a racehorse, Candy Ride started his stud career at Hill 'n' Dale Farms at a modest $10,000, thanks in no small part to questions about his pedigree. His sire, Ride the Rails, is a stakes-winning son of Cryptoclearance out of Herbalesian, a Herbager half sister to 1966 Santa Anita Derby winner and successful sire Boldnesian (by Bold Ruler) and 1968 Hollywood Gold Cup Handicap winner Princessnesian (by Princequillo). Although the sire of some good horses in South America, including 2007 Uruguayan Horse of the Year Good Report and 2007 Argentine champion juvenile filly Inca Noble, Ride the Rails sired nothing memorable during his single season in California in 2004.
The distaff side of Candy Ride's pedigree is less familiar. A half brother to Argentine group III winner Candy Apple (by Halo Sunshine), Candy Ride was produced from unraced Candy Girl, a full sister to dual Argentine Classic winner City West. Candy Girl is by the Blushing Groom horse Candy Stripes, familiar to North Americans as the sire of 2006 Horse of the Year Invasor, and out of the unraced Farnesio mare City Girl. The female line entered Argentina from France in the 1970s and has been a good source of group winners since its introduction.
Despite the economic downturn, Candy Ride (who now stands at Lane's End), has better than doubled his initial stud fee to $25,000, and with good reason. Although he has not exactly set the world afire as a sire of winners, getting just 84 so far from the 217 foals of his first two crops (38.7%), he has gotten 10 stakes winners (4.6%), six of them of graded class. Sidney's Candy is his fourth grade I winner, following in the hoofprints of NetJets King's Bishop Stakes (gr. I) winner Capt. Candyman Can and La Brea Stakes (gr. I) victress Evita Argentina in 2009, and 2010 Santa Anita Handicap (gr. I) winner Misremembered. His forte appears to be the transmission of speed (the average winning distance of his progeny is 6.86 furlongs, compared to 8.28 furlongs and 8.74 furlongs, respectively, for stamina sources A.P. Indy and Dynaformer), but with the right mare, Candy Ride has proven that he can get a 10-furlong horse.
The question with Sidney's Candy is whether his dam, Fair Exchange, is the right mare. Bred by Sidney Craig, the daughter of Storm Cat failed to win in five starts, and her sire is better known for transmitting speed than stamina. He does transmit quality, however. Currently fifth on the broodmare sire list, Storm Cat has 124 stakes winners to his credit as a maternal grandsire, including 2005 U.S. champion juvenile filly champion Folklore, 2004 U.S. champion sprinter Speightstown , and grade/group I winners Sky Mesa , Unfurl the Flag, Nobiz Like Shobiz, Randy Cat, and Rocking Trick.
Storm Cat is not the entire pedigree for Fair Exchange, however. Her dam, Exchange, was a very good turf mare who won the 10-furlong Santa Barbara Handicap (gr. IT) in 1993 and the 12-furlong Orchid Handicap (gr. IIT) in 1995. A daughter of the good Nearctic horse Explodent, Exchange was produced from the Irish Stronghold mare Wooly Willow, a half sister to two Canadian classic winners in 1979 Queen's Plate winner Steady Growth (by the Nearctic horse Briartic) and 1983 Breeders' Stakes winner Kingsbridge (by Icecapade, also by Nearctic). Wooly Willow, in turn, was produced from Crelita, a Canadian-bred daughter of 1957 Epsom Derby winner Crepello. This is a stamina-oriented family that has tended to produce staying horses even when bred to speedier sires.
Sidney's Candy, of course, has yet to prove that he can handle 10 furlongs, especially under conditions when he is unlikely to be able to coast along on an easy lead. But he has done everything asked of him so far and done it competently, and that is all anyone can expect of a colt on the way to the Kentucky Derby.