By Alan Porter
It is admittedly some ways removed from its original context, but the biblical assertion that "to whom much is given, much will be required" certainly applies to exceptional racehorses and their stud careers. High profile performers are under the spotlight from the start, and woe betide those bestowed with great gifts who do not quickly match market requirements and expectations.
Few runners in recent years have been as gifted as Ghostzapper . Although he was raced sparingly – 11 starts in four seasons – and managed carefully, the form book and speed figures suggest that Ghostzapper is worthy of a place alongside the all-time greats. Indeed, a record that includes wins in the 6½-furlong Vosburgh Stakes (gr. I); the seven-furlong Tom Fool Handicap (gr. II), which he captured in 1:20.42; the one mile Metropolitan Handicap (gr. I), which he took by 6¼ lengths; the nine-furlong Woodward Stakes (gr. I); and the 10-furlong Breeders' Cup Classic (gr. I), which he took by three lengths in a new track record, demonstrates a versatility that harkens back to an earlier era.
As we said, such brilliance carries with it both the weight of great expectations and the prospect of swift condemnation, and Ghostzapper has been as good an illustration as one might wish to find. He retired to stud at a fee $200,000 – at a time when his sire, the very successful Awesome Again , stood at $125,000 – which made it hard for him to build momentum, and there never was quite the buzz about his young stock one might have expected. So, when he ended 2009 in 21st place on the first-crop sires list with just eight winners and one minor stakes winner, the verdict of the market was swiftly delivered. Some promising winter maiden special weight winners could have helped the cause, but, by-and-large, they failed to materialize, and after initially being offered at $50,000 for the current breeding season, Ghostzapper's fee was dropped to $30,000.
In the current climate, one can understand breeders' being unwilling to take a risk on an unproven commodity, but looking at the race records of Ghostzapper and his sire Awesome Again, it was always on the cards that it was going to prove a little early to give up on the champion. Awesome Again was unraced at 2 and although he captured the Queen's Plate in June of his 3-year-old campaign, he didn't land his first graded win until taking the Jim Dandy Stakes (gr. II) at Saratoga, and his first grade I wasn't achieved until he took the Whitney Handicap (gr. I) at 4. Ghostzapper did break his maiden in the first of two starts at 2, but again didn't really come to the the fore until Saratoga, at 3, where he took a seven-furlong allowance race and was third, flying at the finish, in the King's Bishop Stakes (gr. I). He captured the Vosburgh Stakes (gr. I) later that year but he was definitely better the following season when he went four-for-four. An interesting note is that Ghostzapper's dam, Baby Zip, also produced four-time juvenile graded winner (and now a successful sire in his own right) City Zip, but he was by speed and precocity influence Carson City – perhaps indicating that Baby Zip tended to throw to the stallion to which she was bred.
While the possibility of Ghostzapper coming up with a major winner as his first crop matured was not one that could be dismissed, few thought that the 2010 Toyota Blue Grass Stakes (gr. I) would provide the occasion. His representative there, Stately Victor, did win a juvenile maiden at Saratoga, but he was a last-minute entry to the Keeneland stakes and was coming off five consecutive unplaced efforts. Sent off as a 40-1 longshot – a price that appeared none too generous under the circumstances – Stately Victor powered clear in the stretch for a 4¼-lengths tally. Though he is the longest-priced winner in the history of the Blue Grass, Stately Victor's connections might take comfort from the fact that the previous owner of this dubious distinction, Dust Commander, followed up his Blue Grass win with a victory in the 1970 Kentucky Derby.
Despite his starting price, Stately Victor – a $110,000 Keeneland September yearling RNA and $250,000 purchase at the Adena Springs March 2-year-olds in training sale – did make a promising start to his career. He impressed some knowledgeable observers in his first two starts at Saratoga at 2, finishing second to the highly-regarded Winslow Homer on his debut, then switching to the turf to take an 8½-furlong maiden by 4½ lengths.
Stately Victor is out of the Queen Elizabeth II Challenge Cup Stakes (gr. IT) victress Collect the Cash. She is a daughter of the Roberto stallion Dynaformer, a horse who is emerging as a promising broodmare sire, especially considering that his early daughters were conceived at a modest stud fee. Collect the Cash has produced four winners from her first five starters, including the stakes-placed Red Bullet filly Money My Honey. Collect the Cash's dam, the Valid Appeal daughter Worldly Possession, won the West Long Branch Stakes and was graded-placed, and is half sister to three other stakes winners. Stately Victor's third dam is Cricket Club, a stakes-winning daughter of Dr. Fager – whose range and talents are something of a parallel to Ghostzapper's – out of the Arlington-Washington Lassie Stakes heroine Clover Lane.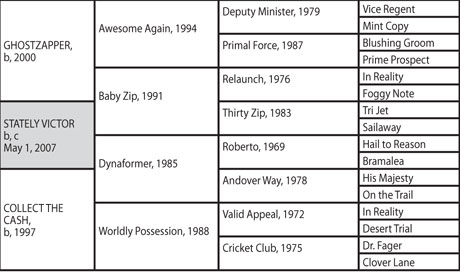 Stately Victor is the product of the Deputy Minister/Roberto cross, not a pairing that subjectively impresses as being particularly outstanding, so it came as something of a surprise to find that Stately Victor is TrueNicks-rated A++. This discrepancy between perception and reality is explained by some notably success of the nick. The first is the cross of Deputy Minister-line stallions specifically with Dynaformer mares, which has produced seven stakes winners from 43 starters (16% stakes winners to starters). In addition to Stately Victor, they include previous grade I winner Spring At Last. He is a son of Silver Deputy, a Deputy Minister horse who sired seven stakes winners out of mares by sons of Roberto. Overall, the cross of sons of Deputy Minister – Ghostzapper is a grandson of course – with mares by sons of Roberto produced 21 stakes winners, but 11 of those feature Silver Deputy and/or Dynaformer, and 13 Silver Deputy and/or Silver Hawk. It might be relevant that Silver Deputy is out of a mare by Mr. Prospector (who also appears in the pedigree of Aweseome Again, and whose dam is a genetic relative to the dam of Roberto) and that his second dam is by Road At Sea (reverse cross to Roberto).
The mating of Ghostzapper and Collect the Cash introduces a couple of points to consider. One is that his dam is by Relaunch, who has enjoyed some success under Roberto, most notably grade I winner Starrer, a daughter of Dynaformer. Another point to note is that Stately Victor is inbred 4 x 4 to Relaunch's sire, In Reality, himself a very inbred horse, and that Dr. Fager, the sire of the third dam, is by In Reality's broodmare sire, Rough'n Tumble. One challenge that Ghostzapper faces as a stallion is that he is an outcrossed son of a relatively outcrossed sire, which can mean that important genes are widely dissipated through the genome. Is it significant that his first grade I winner is inbred to the most inbred horse in his pedigree? In closing, we'd be remiss if we did not also note that Stately Victor's fourth dam, Clover Lane, is a half sister to the granddam of Deputy Minister (grandsire of Ghostzapper). The background of this female line is another with intense inbreeding, including via Pilate, a genetic relative to War Relic (an intensely-inbred individual, who is 3x3 in the pedigree of In Reality, himself the most closely duplicated relative in the pedigree of Stately Victor).